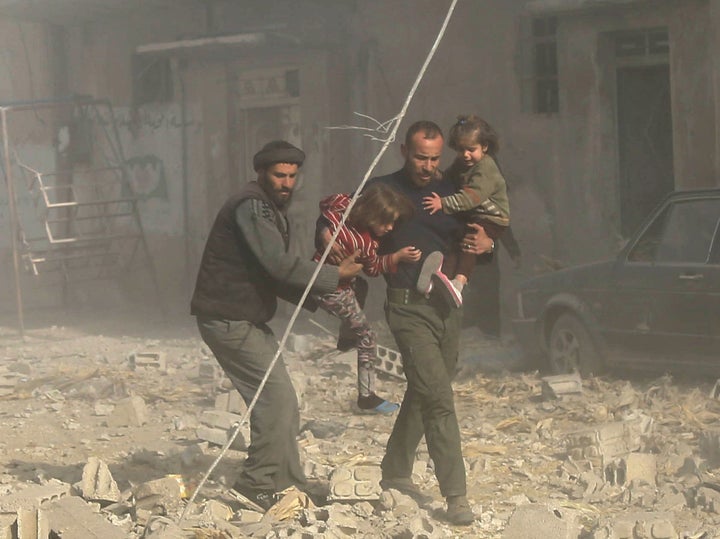 Nearly 745,000 men, women and children in Syria are trapped inside the war-torn country's 33 besieged communities, living in desolate conditions at the mercy of President Bashar Assad's authoritarian regime and its armed opponents.
The latest Siege Watch report, released Thursday by The Syria Institute and PAX, reveals that a population larger than all of Washington, D.C., is trapped, while more than 1 million additional Syrians are living in "watchlist" areas, under threat of intensified siege and abuse.
As Syria's government and its allies tighten their blockades, they have continued to carry out a "surrender or die" strategy, which "amounts to a campaign of widespread collective punishment," according to the quarterly report. Many of the atrocities are war crimes and crimes against humanity, Siege Watch charges.
Siege warfare is among the cruelest tactics in Assad's playbook ― it restricts civilian access to urgently needed food, water and medical supplies and leaves residents especially vulnerable to targeted attacks. It's a strategy the Syrian leader uses to exert dominance while defying those who oppose his rule.
In the rebel-held enclave of Eastern Ghouta, desperate Syrians have resorted to eating garbage to survive. The 424,000 people in the dilapidated Damascus suburb have been under complete siege since 2013, shortly after a sarin gas attack by Assad's forces claimed an estimated 1,429 lives in the region.
The Siege Watch report recorded two new suspected chemical attacks ― one by pro-government forces against opposition fighters in Eastern Ghouta, and another by the self-described Islamic State against opposition fighters outside of Damascus.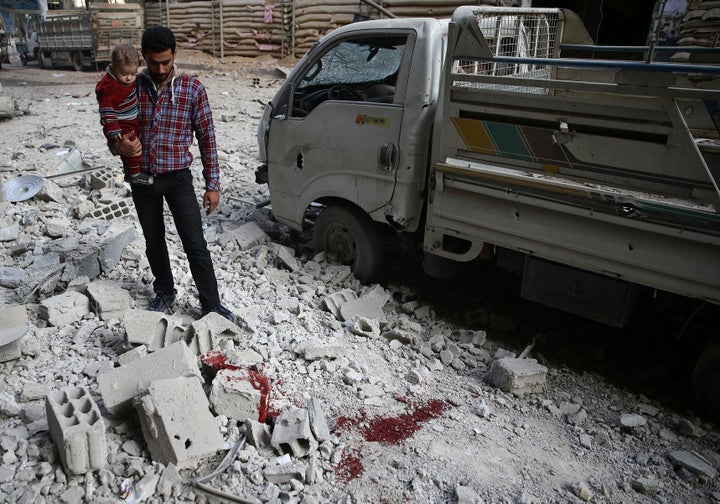 "There is a sense of anger towards the international community that is unable to save half a million people from starvation under the bombardment by the Assad militias," a source in Syria, who declined to disclose their identity out of fear of regime reprisal, told Siege Watch authors.
Despite numerous ceasefire agreements and United Nations resolutions demanding unobstructed humanitarian access, forces loyal to Assad have continued to target civilian residential areas, including hospitals and schools, by air. The international community's inadequate response has only emboldened the Assad regime, the report asserts.
"One of the most shocking aspects of the sieges remains the inability of international stakeholders to end them," it notes. "Long-term sieges, such as those in Eastern Ghouta, northern Homs, and the Southern Damascus Suburbs, are testaments to the impotence of the international community to prevent, deter, or seek accountability for crimes against humanity."
When, the U.S.-backed Syrian Democratic Forces encircled the city of Raqqa in a deadly showdown to reclaim it from ISIS, trapped fighters "held thousands of civilians as human shields" as the battle raged on, the report states. By the time Raqqa was liberated in October, the former ISIS stronghold was "in ruins and almost entirely depopulated."
Siege Watch authors now fear that people in Eastern Ghouta will meet a fate similar to those in Aleppo. Thousands died in the beleaguered city as Syrian and allied forces demolished it with airstrikes and barrel bombs, turning the once-vibrant metropolis into a ghost town of rubble and bodies.
"The current trajectory of developments will lead to deepening humanitarian crises in besieged areas, as hundreds of thousands of civilians face suffering, loss, and forced displacement at the hands of the Syrian government, armed opposition groups, and ISIS," Siege Watch warned. "International community stakeholders must take real steps towards ending the sieges to avert the looming catastrophe."
Related
Popular in the Community