Today, the 15th of March, is the third anniversary of the start of the Syrian uprising and marks a time for reflection on the four years and nearly 150,000 people lost to war.
What started as a series of peaceful protests amid the hope and fervor of the Arab Spring has now become one of the most horrific and intractable conflict in modern times. Child soldiers, millions of refugees, and rampant atrocities are just some of the terrible products of a war that shows no signs of stopping. Below is a small retrospective on these years of strife, seen through a series powerful images taken by photographers who often risk their lives to capture events in the war torn country.
(WARNING: some of these images are graphic)
A terrible humanitarian crisis unfolded in Yarmouk, the Palestinian refugee camp in Damascus. On Jan. 31, 2014, thousands of hungry people lined up for aid. (AP Photo/Manu Brabo, File)
Aida cries as she recovers from severe injuries suffered as a result of shelling by the Syrian army in August 2012. Her husband and two children were killed in the blasts. (AP Photo/Rodrigo Abd)
A Syrian child holds an AK-47 in the besieged city of Aleppo on April 14, 2013.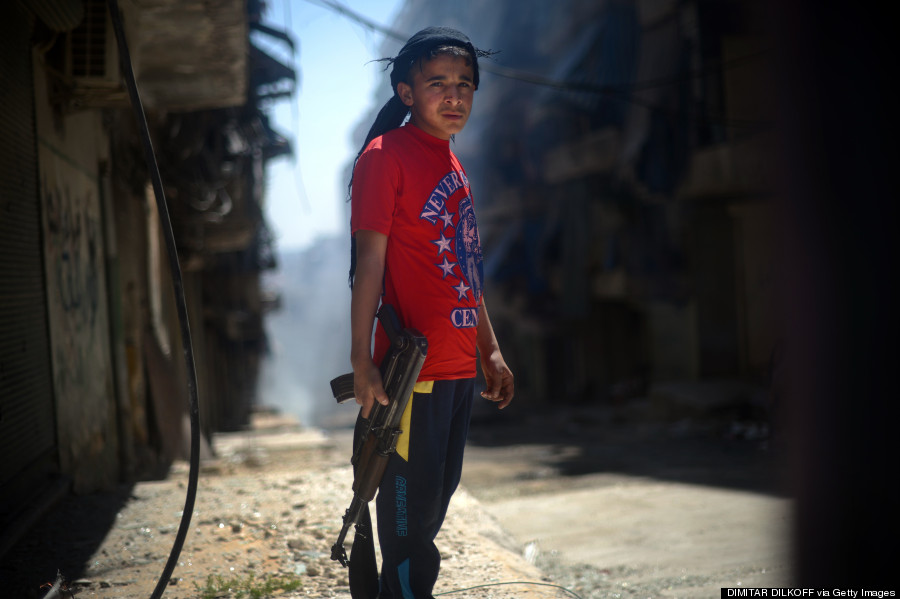 (DIMITAR DILKOFF/AFP/Getty Images)
A boy climbs on a tank in Aleppo, August 2012.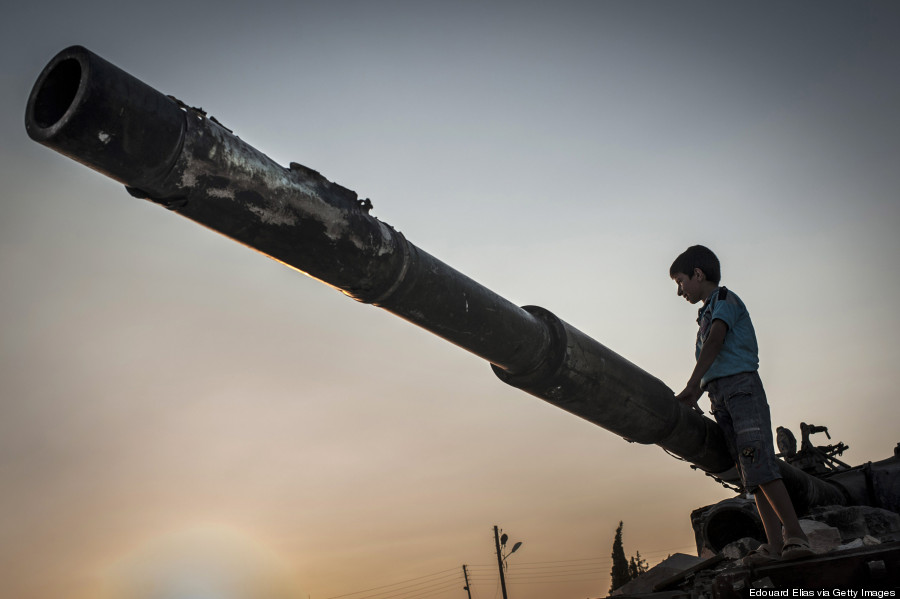 (Photo by Edouard Elias/Getty Images)
A Syrian man cries while holding the body of his son near Dar El-Shifa hospital in Aleppo, Syria, Oct. 3, 2012. (Photo by Edouard Elias/Getty Images)
Two Syrian rebels take sniper positions at the heavily contested neighborhood of Karmal Jabl in central Aleppo on Oct. 18, 2012.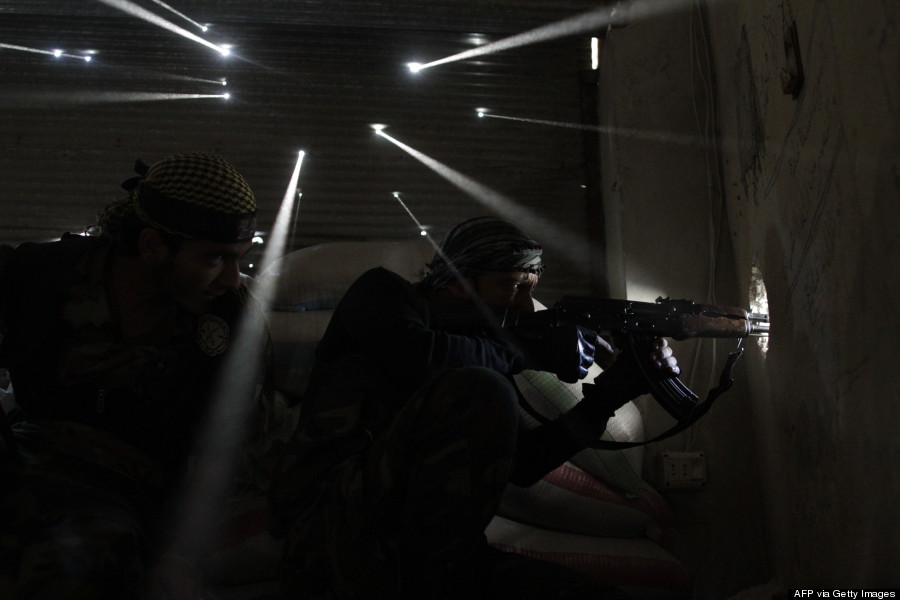 (Javier Manzano/AFP/Getty Images)
The conflict has resulted in millions of refugees, some of which live in the sprawling Zaatari camp in Jordan.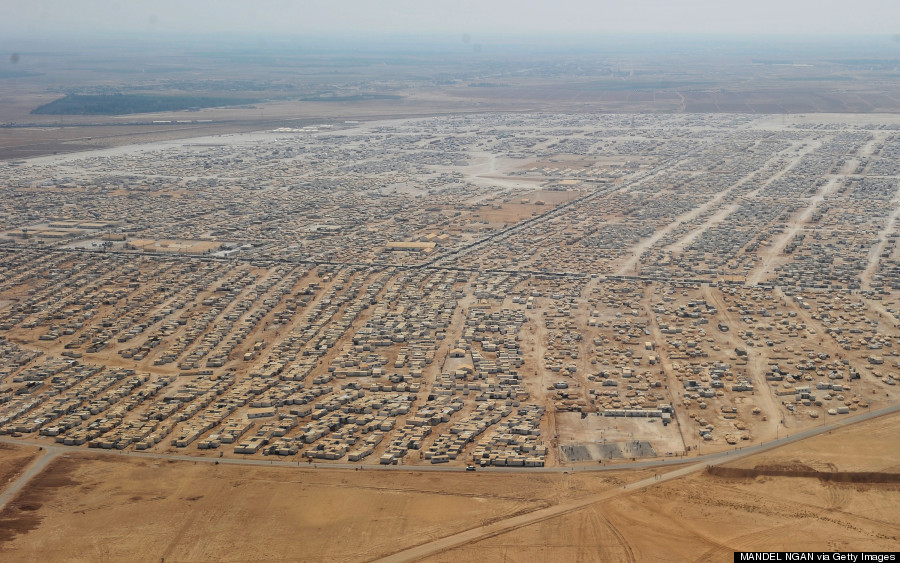 (AFP PHOTO/MANDEL NGAN/POOL)
A wounded woman, still in shock, leaves the hospital in Aleppo on Sept. 20, 2012. (AP Photo/Manu Brabo, File)
A picture shows the damaged houses in the northern city of Aleppo on Nov. 29, 2012.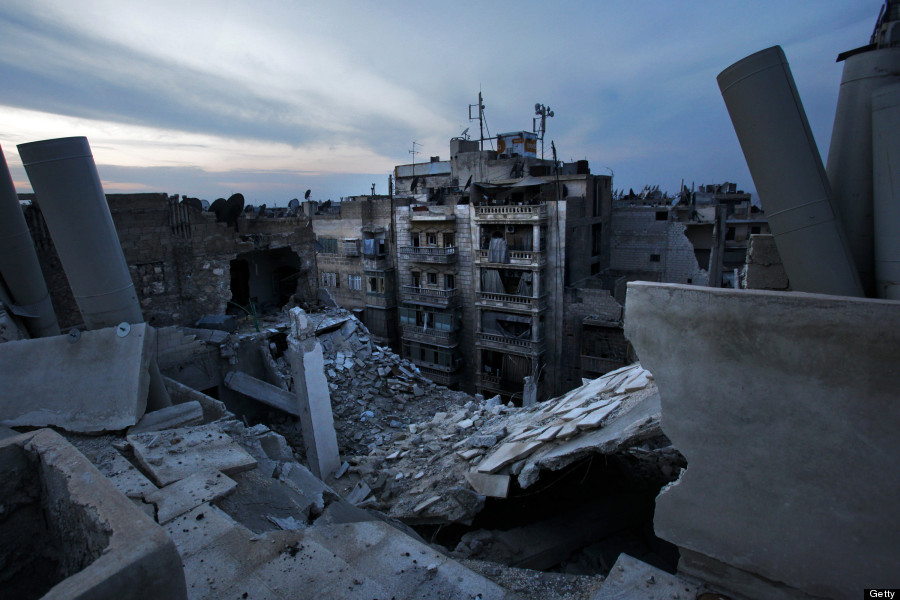 (Javier Manzano/AFP/Getty Images)
A Syrian girl rides her bicycle in an almost deserted street in the Teshrin neighborhood of the Qabun area in Damascus on Jan. 3, 201.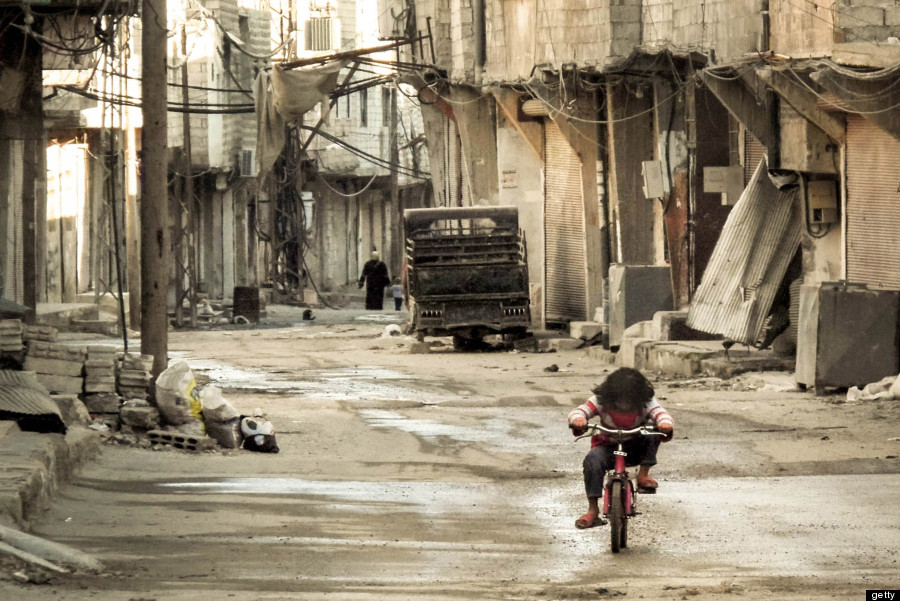 (OMAR AL-KHANI/AFP/Getty Images)
Calling all HuffPost superfans!
Sign up for membership to become a founding member and help shape HuffPost's next chapter
BEFORE YOU GO
PHOTO GALLERY
Syria War In March