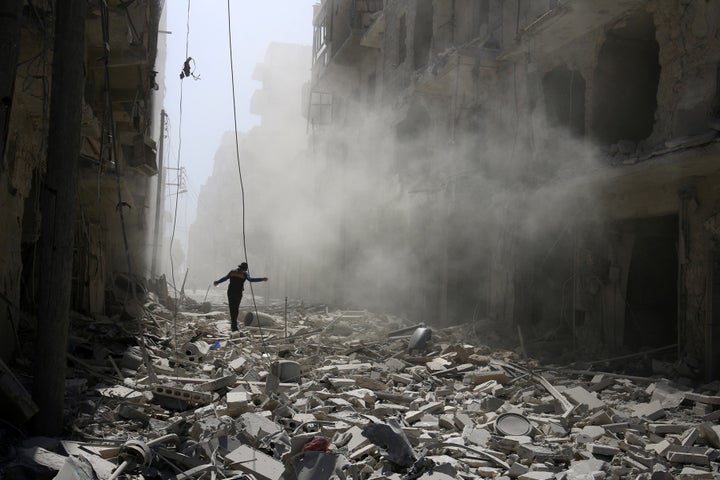 AMMAN, Jordan ― It's been two weeks now since my organization delivered the last of our food in Aleppo city.
Mercy Corps has been delivering aid to civilians in Syria's most hard-to-reach areas for years. Our team members and partners risk their lives to provide support to their communities in some of the most dangerous conditions imaginable. We watch the skies, waiting for breaks in the bombing ― but now the bombing doesn't stop.
"There is no way to leave. In a few days we will run out of everything," said a 29-year-old resident in Aleppo, whose identity I must conceal for his own safety. "There is no electricity, no clean water. People are suffering, trying to find some bread to eat, some rice or lentils. All the shops are closed, there's no vegetables anymore. Kids don't know what is going on, but they know they are hungry."
Conditions are deteriorating rapidly in Aleppo and there is little comfort parents can give their children. The people of Aleppo, wearied by seemingly endless war, face extreme psychological distress.
'If I stay home, I will die absolutely.'
"Everyone is working in Aleppo city; no one stays home," the same young man told us. "Your neighborhood needs help. To get some water, to find food. The bombing is happening day and night. If I stay home, I will die absolutely."
With many important roads closed by conflict, Mercy Corps is no longer able to supply desperately needed humanitarian aid, including food, to the people there who depend on us. If the international community is unable or unwilling to make way for food and other essential supplies, there is little we can do but watch this tragedy unfold and try to tell the story of Syria's largest city under siege.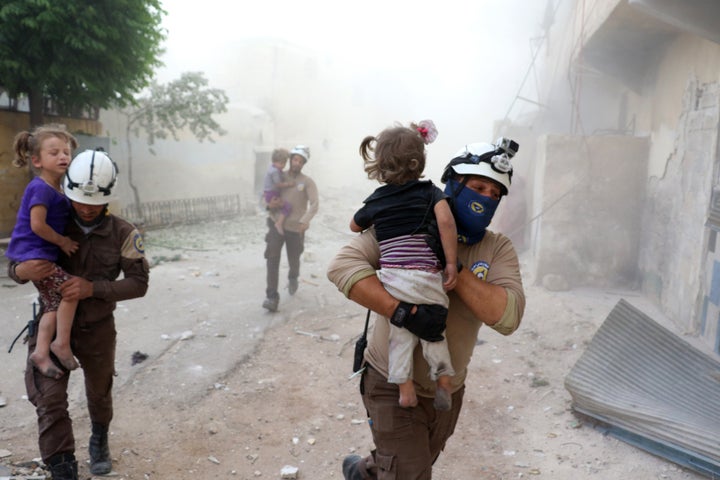 Civilians living under siege are among those who have suffered the most throughout Syria's humanitarian crisis. In these areas, even the United Nations struggles to deliver food, and until now, Mercy Corps' assistance had literally acted as a lifeline.
"We are increasingly hearing that nursing mothers in some besieged areas are malnourished to the point that they are no longer able to produce milk," said my colleague Ashley Proud, our humanitarian director. "Infant formula is essential to ensure their babies' survival, and the gut-wrenching truth is that there is nothing we can do to get it to them." Proud, who manages our humanitarian response programs inside Syria, is in touch daily with our team delivering aid in the country and hears many accounts firsthand.
Mercy Corps has large quantities of stocks ready to go into Aleppo, however roads into the eastern part of the city are impassable as airstrikes and ground clashes have once again escalated. We are ready and able to move convoys into Aleppo when opportunities to resume delivering aid present themselves. In the meantime, we will continue to provide food, clean water, hygiene supplies and psychosocial support to people who remain in other parts of Syria under similarly stressful conditions.
'Infant formula is essential to ... babies' survival, and the gut-wrenching truth is that there is nothing we can do to get it to them.'
We are working hard to relieve the intense suffering of civilians inside Syria as well as refugees seeking safety in neighboring countries. Today, we have team members in eight countries helping some 2.5 million people affected by this crisis.
History tells us that cease-fires can hold and that wars do eventually end. At Mercy Corps we continue to be powered by the belief that a better world is possible. We will continue to deliver aid across Syria, wherever we can, to the people who need it most. We will also take every opportunity we can to remind parties to the conflict that one-off convoys are not a substitute for sustained humanitarian access, and to demand genuine commitments allowing safe and consistent access for critical aid deliveries into Aleppo. 
This is the pledge we made to the 29-year-old who told us, "this time I don't have hope."
Calling all HuffPost superfans!
Sign up for membership to become a founding member and help shape HuffPost's next chapter
BEFORE YOU GO
PHOTO GALLERY
Aleppo, Syria