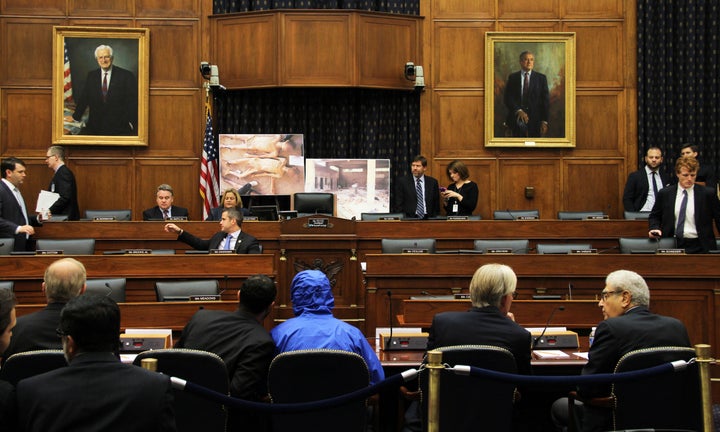 Bloodied and bruised. Emaciated and mutilated. When a military defector code-named "Caesar" smuggled more than 50,000 graphic images out of Syria last year, the bodies seen in the photos indicated the horrifying scale of the Syrian regime's killing machine.
On Wednesday, Human Rights Watch put names to some of these broken faces. The international human rights group verified the identities of 27 people who died in the custody of the Syrian regime and who appear in Caesar's photographs, adding further credibility to the trove of evidence of possible crimes against humanity under the government of Syrian President Bashar Assad.
Ahmad al-Musalmani was 14 years old in August 2012 when he was taken into custody by a Syrian intelligence officer who'd found an anti-Assad song on his cell phone, his family told Human Rights Watch. Ahmad's family spent years searching for him, and paid at least $14,000 in bribes trying to secure his release. When they finally found him, it was in Caesar's photos, his face lifeless and his limbs scarred.
"Oh, it was the shock of my life to see him here ... 950 days I looked for him. I counted each day," Dahi al-Musalmani, Ahmad's uncle and a former judge, told Human Rights Watch. "When his mother was dying, she told me: 'I leave him under your protection.' What protection could I give?  
Ahmad al-Musalmani (© Private)
In January 2013, Rehab al-Allawi, 25, was working to help Syrians displaced by war in Damascus when she was arrested. Her family was told she'd died of a stroke. Soon after al-Allawi's family held a memorial service for her, a Syrian official told them she was still alive. They paid a military security officer $90,000 to facilitate her escape to Lebanon.
"We believed it, we searched all over Lebanon, every tent," her brother Hamza told Human Rights Watch. The family only saw al-Allawi again once Caesar's photos were released. They found her face among the dead; a former cellmate recognized the pajamas she was wearing.
Rehab al-Allawi (© Private)
Human Rights Watch spent nine months researching the lives and deaths of the victims shown in Caesar's photos. They interviewed dozens of the victims' relatives and friends, their former cellmates and fellow detainees, and four government defectors who worked in the detention centers and military hospitals where Human Rights Watch verified -- using satellite images and geolocation techniques -- that the photos had been taken.
Caesar, who is now in hiding, was a forensic military photographer who in May 2011 started making copies of the images of dead bodies he was documenting. He fled Syria in August 2013, and entrusted the cache of more than 53,000 images to the Syrian National Movement, an opposition group. In January 2014, a team of international forensic and legal experts released their analysis of the photos, saying they were proof of "industrial-scale" killing by the Assad regime.
Some critics cast doubt on the authenticity of Caesar and his images because the analysis was commissioned by a London law firm hired by the Qatari government, a strong opponent of the Syrian regime. Assad himself was scathing about the images. "You can bring photographs from anyone and say this is torture," he said in an interview with Foreign Affairs in January of this year. "It's all allegations without evidence."
Earlier this year, the Syrian National Movement sent the files to Human Rights Watch for analysis. Following an extensive investigation, HRW concluded Wednesday that the photos are genuine.
"We have meticulously verified dozens of stories, and we are confident the Caesar photographs present authentic -- and damning -- evidence of crimes against humanity in Syria," Nadim Houry, deputy Middle East director at Human Rights Watch, said in a statement Wednesday.
The group shared some of the images with a team of forensic pathologists from Physicians for Human Rights, who analyzed the photos for evidence of causes of death. "We have no doubt that the people shown in the Caesar photographs were starved, beaten, and tortured in a systematic way, and on a massive scale," Houry said. 
HRW said that around 28,000 of the photos show some 6,700 detainees who died in government custody in five detention centers run by intelligence services and in two military hospitals around Damascus. The rest of the images show government soldiers, militants and civilians who died in the fighting in Syria, as well as the sites of military attacks.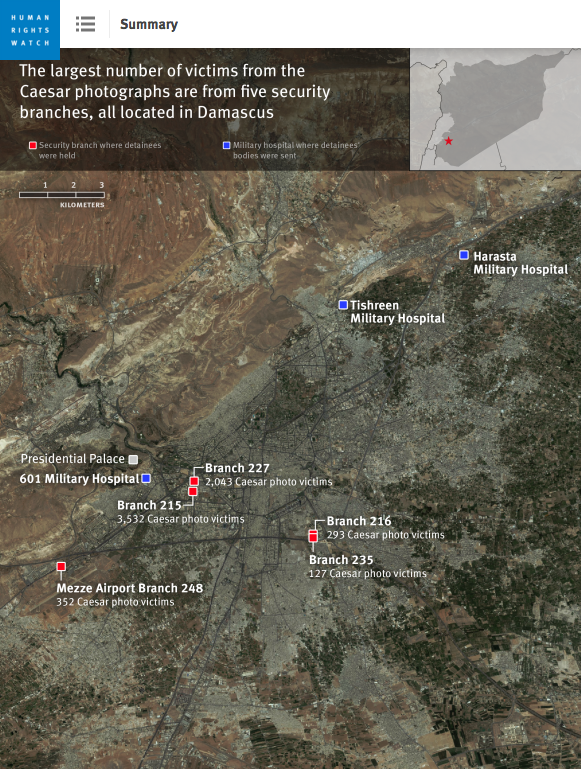 The Syrian Network for Human Rights says that more than 117,000 people have been detained in Syria since March 2011. The group has documented more than 11,000 deaths in custody since then -- although the actual death toll may be much higher, as most detainees are held incommunicado by the regime's intelligence services and many families never receive death certificates for their loved ones.
"These photographs represent just a fraction of people who have died while in Syrian government custody," Houry said. "Thousands more are suffering the same fate."
The HRW report was released Wednesday in Moscow, two days ahead of an international meeting in New York on the Syrian crisis with the participation of Russia, one of Assad's strongest allies.
More from The WorldPost on the Syrian conflict:
PHOTO GALLERY
War In Syria
Calling all HuffPost superfans!
Sign up for membership to become a founding member and help shape HuffPost's next chapter