WASHINGTON -- Five days after a U.S.-Russian brokered cessation of hostilities went into effect, White House officials on Wednesday reported a definite decrease in violence in Syria, but acknowledged imperfect compliance with the agreement and warned that any progress could still be unraveled.
Under the agreement advocated by the United States and Russia, who back opposite sides in Syria's civil war, all parties to the conflict agreed to lay down their weapons, allow humanitarian groups to deliver aid to besieged areas, and ultimately work toward a negotiated political end to the war. Complicating implementation of the deal is the fact that all parties are allowed to continue fighting against an agreed-upon list of terrorist groups: the Islamic State, Jabhat al-Nusra and other groups with a United Nations terror designation.
As of Wednesday, a senior U.S. administration official told reporters, approximately 200 trucks had delivered humanitarian aid to 100,000 people in six parts of Syria where the need was "most dire." The goal is to gain access across a country in which 6.5 million people are internally displaced, said the official, who requested anonymity to discuss implementation of the ceasefire.
A second senior administration official described a "significant reduction of violence" on the ground, but said it was premature to place an exact percentage on the decrease. That number will be especially difficult to calculate given the ongoing military operations permitted under the agreement.
Even in highlighting the successes of the ceasefire -- which observers on all sides had originally viewed with skepticism -- administration officials were careful not to over-promise on the durability of the agreement.
"It's also not at all surprising that there have been violations reported, that this has already been put under strain," the second official said of the agreement. "And it's very much a reasonable expectation to assume in the days ahead and weeks ahead this will continue to be put under strain. It will remain fragile. And setbacks are inevitable."
Progress, officials said, should be measured against the expectations of a few weeks ago, rather than against the ideal of no violence at all.
Setbacks are already anticipated, for example, when parties try to agree on what constitutes a legitimate target under the ceasefire. The agreement's definition of a terrorist group is exceedingly narrow -- even the Ahrar al-Sham, a fighting force affiliated with Jabhat al-Nusra, is exempt from attacks. But Russia and Syrian President Bashar Assad's regime, which is backed by Russia, have previously taken the view that any group fighting the Syrian government is a terrorist organization.
On Wednesday, U.S. administration officials said that Russia pushed back on some reports of ceasefire violations, claiming the intended strike was legitimate. In other cases, bombing of the disputed area was stopped. The officials declined to cite specific examples.
"None of this has been perfect," the second administration official said. "I'd say it's better than we expected; it's not as good as one could have hoped for," he continued, adding that the decrease in violence exceeded what most people thought was possible several weeks ago. "But that's not a good enough answer because any violation is one violation too many," he acknowledged.
As co-chairs of the Syrian peace process group, the U.S. and Russia are responsible for responding to alleged violations by either side. The U.S. State Department operates a 24/7 hotline for this purpose, accessible by phone, WhatsApp and Skype.
The effectiveness of this hotline was called into question on Wednesday morning when the nonprofit news site Syria Direct reported that some of the operators answering the phones did not seem to speak Arabic. Activist Abu Odei al-Homsi told Syria Direct that he had given up calling the State Department because "we don't think they understood what we were saying" and instead reported alleged violations to the United Nations. When presented with this complaint, administration officials appeared taken aback and assured reporters that the State Department employs Arabic speakers to man the phones.
U.N.-backed peace talks are tentatively scheduled to restart on March 9, but administration officials said that neither side has set an end date for the ceasefire. "The test ... is going to be the alternatives. Is this better or worse than where we were before?" the second official said.
Before You Go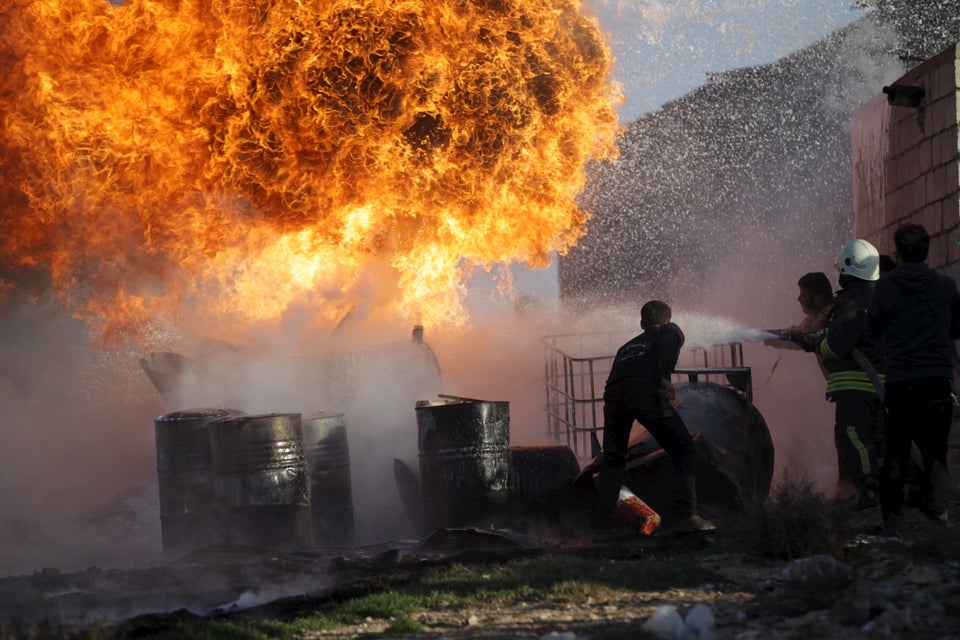 Inside Syria's War
Popular in the Community