 BEIRUT, Dec 4 (Reuters) - NATO told Syrian President Bashar al-Assad on Tuesday that any use of chemical weapons in his fight against encroaching rebel forces would be met by an immediate international response.
The warning from NATO Secretary-General Anders Fogh Rasmussen came as Syrian forces bombarded rebel districts near Damascus in a sustained counter-attack to stem rebel gains around Assad's power base.
Syrian state media said a rebel mortar attack on a school had killed 28 students and a teacher.
International concern over Syria's intentions has been heightened by reports that its chemical weapons have been moved and could be prepared for use.
"The possible use of chemical weapons would be completely unacceptable for the whole international community and if anybody resorts to these terrible weapons I would expect an immediate reaction from the international community," Rasmussen told reporters at the start of a meeting of alliance foreign ministers in Brussels.
The chemical threat made it urgent for the alliance to send Patriot anti-missile missiles to Turkey, Rasmussen said.
The French Foreign Ministry referred to "possible movements on military bases storing chemical weapons in Syria" and said the international community would react if the weapons were used.
U.S. President Barack Obama on Monday told Assad not to use chemical weapons, without saying how the United States might respond. The Foreign Ministry in Damascus said it would never use such weapons against Syrians.
Western military experts say Syria has four suspected chemical weapons sites, and it can produce chemical weapons agents including mustard gas and sarin, and possibly also VX nerve agent. The CIA has estimated that Syria possesses several hundred litres of chemical weapons and produces hundreds of tonnes of agents annually.

The fighting around Damascus has led foreign airlines to suspend flights and prompted the United Nations and European Union to reduce their presence in the capital, adding to a sense that the fight is closing in.
The army fightback came a day after the Syrian foreign ministry spokesman was reported to have defected in a potentially embarrassing blow to the government.
The Syrian Observatory for Human Rights said 200 people were killed across Syria on Monday, more than 60 of them around Damascus. Assad's forces bombarded districts to the south-east of the capital on Tuesday, near to the international airport, and in the rebel bastion of Daraya to the south-west.
Opposition footage posted on the Internet showed a multiple rocket launcher fire 20 rockets, which activists said was filmed at the Mezze military airport in Damascus.
Reuters could not independently verify the footage due to the government's severe reporting restrictions.
In central Damascus, shielded for many months from the full force of a civil war in which 40,000 people have been killed, one resident reported hearing several loud explosions.
"I have heard four or five thunderous blows. It could be barrel bombs," she said, referring to makeshift bombs which activists say Assad's forces have dropped from helicopters on rebel-dominated areas.
The state news agency said that 28 students and a teacher were killed near the capital when rebels fired a mortar bomb on a school. Rebels have targeted government-held residential districts of the capital.
The mainly Sunni Muslim rebel forces have made advances in recent weeks, seizing military bases, including some close to Damascus, from forces loyal to Assad, who is from Syria's Alawite minority linked to Shi'ite Islam.
Faced with creeping rebel gains across the north and east of the country, and the growing challenge around the capital, Assad has increasingly resorted to air strikes against the insurgents.
A diplomat in the Middle East said Syrian Foreign Ministry spokesman Jihad Makdissi had left the country and defected, while the British-based Observatory said it had information that he flew from Beirut on Monday afternoon heading for London.
In Beirut, a diplomat said Lebanese officials had confirmed that Makdissi spent several days in Beirut before leaving on Monday, but could not confirm his destination.
"We're aware of reports that he has defected and may be coming to the UK. We're seeking clarification," a Foreign Office spokeswoman in London said.
Makdissi was the public face to the outside world of Assad's government as it battled the 20-month-old uprising. But he had barely appeared in public for several weeks before Monday's report of his defection.
He had little influence in a system largely run by the security apparatus and the military. But Assad's opponents will see the loss of such a high profile figure, if confirmed, as further evidence of a system crumbling from within.

The United Nations and European Union both said they were reducing their presence in Syria in response to the escalated violence around the capital.
A spokesman for U.N. humanitarian operations said the move would not stop aid deliveries to areas which remained accessible to relief convoys.
"U.N.-funded aid supplies delivered through SARC (Syrian Arab Red Crescent) and other charities are still moving daily where the roads are open," Jens Laerke told Reuters in Geneva.
"We have not suspended our operation, we are reducing the non-essential international staff."
Three remaining international staff at the European Union delegation, who stayed on in Damascus after the departure of most Western envoys, crossed the border into Lebanon on Tuesday after pulling out of the Syrian capital.
The Syrian army appears to have focused most of its energy on Damascus, where rebels have been planning to push into the capital from the surrounding suburbs.
Neither side appears to have the upper hand in the fighting and a previous attempt by rebels last July to hold ground in the city was crushed as the fighters fell back into the suburbs and nearby countryside.
Clashes have continued around Damascus International Airport and along the airport highway, which has become an on-and-off battleground that forced foreign airlines to suspend flights to Damascus since Thursday evening.

Before You Go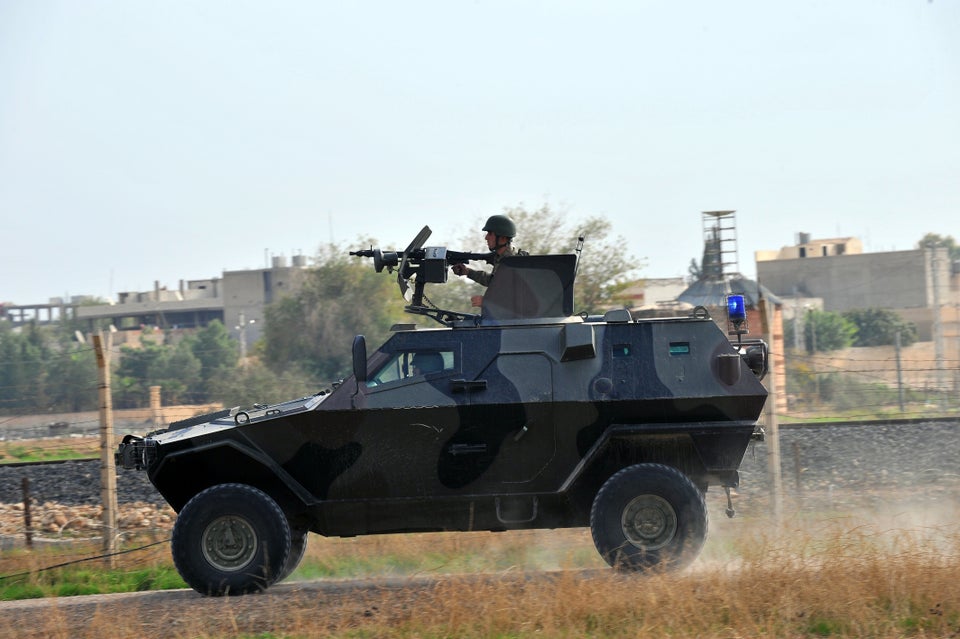 Syria Crisis Spills Over Into Neighbors
Popular in the Community