Though the authenticity of the footage cannot be independently verified, videos streaming out of Syria following an alleged "poison gas" attack outside Damascus on Wednesday show the stark realities of war--including the horrors inflicted on the those who cannot fight.
Opposition activists accused Syrian government forces of having launched an assault that killed "at least 100 people." Some reports suggest a death toll as high as 1,300, "including many children as they slept."
WARNING: GRAPHIC VIDEOS BELOW
"This is a massacre by chemical weapons," Mohammed Saeed, a Syrian activist, told the Associated Press. "The visit by the U.N. team is a joke. ... Bashar [Assad] is using the weapons and telling the world that he does not care," Saeed added, referring to the arrival in Damascus of a United Nations team tasked with investigating allegations of previous chemical weapons attacks.
The Assad regime has refuted the claims, calling them "absolutely baseless."
Details of the alleged attack remain murky. Chemical weapons experts told The New York Times that injuries documented in many videos "did not appear to be consistent with the effects of a conventional chemical weapon like sarin or mustard gas" but that "the deaths might have been caused by the use of a weaker chemical agent in a confined space."
Even so, the graphic footage uploaded to various YouTube accounts captures dozens of lifeless bodies--many of them children--and often proves difficult to watch. The images show war not as a glorious triumph of heroes, but instead, as the choking last breath of innocent victims.
WARNING: GRAPHIC VIDEOS BELOW
Images begin with the scene of a dying child being carried toward treatment:
Medical technicians then struggle to keep a child alive.
Onlookers are often left to simply watch victims die.
Bodies litter the halls of this building, and volunteers pour water on the faces of the dying without further recourse.
This footage, which the NYTimes says comes from the town of Erbeen, shows doctors trying to treat a man as his body convulses.
Here, a father laments the death of his daughter, noting her selflessness in the face of not having much food, telling the camera, "Before she went to sleep and died she told me that it wasn't her turn to eat that day, it was her siblings turn," according to a translation by The Revolting Syrian.
This video shows the broad scale of the attack, with dozens of victims lining the floor of this poorly lit medical facility. Many have their shirts and pants rolled up to show the lack of trauma or blood from bullets or bombs.
And a final video shows the aftermath, with residents preparing the dead for burial.
According to the U.N., more than 100,000 people have died since the Syrian conflict erupted in March 2011. Nearly 2 million people have also fled Syria for neighboring countries.
Before You Go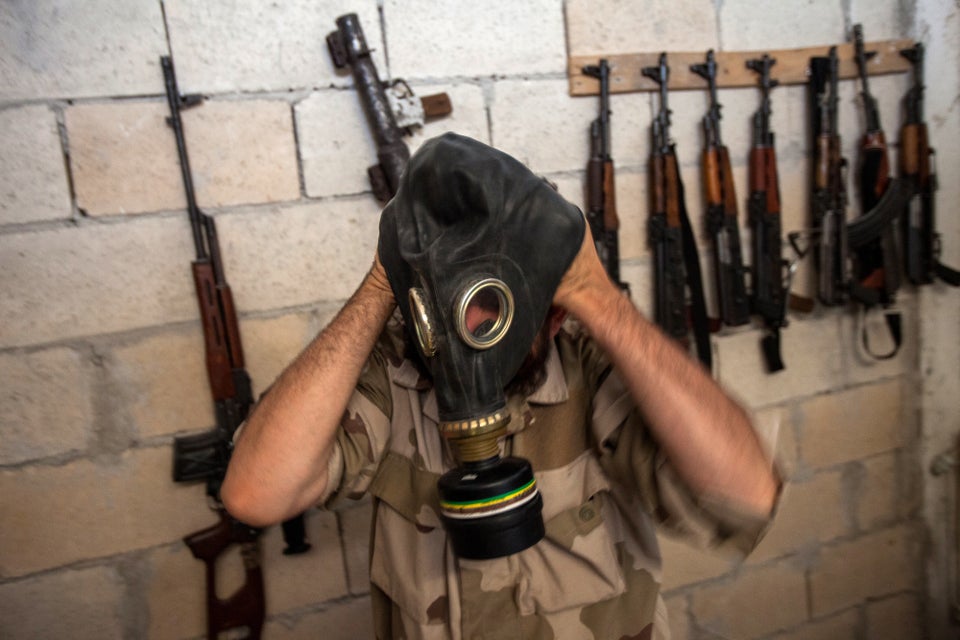 Syria War In July (WARNING: GRAPHIC IMAGES)
Popular in the Community