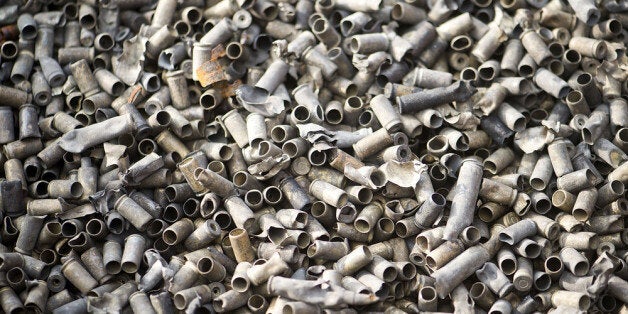 ISTANBUL -- An informal deadline for Syria to export all of its chemical weapons stocks passed on Sunday with the government having come close -- but not quite all the way -- to meeting its obligations, the organization overseeing the deal announced.
Sigrid Kaag, the head of the Syria mission for the Organization for the Prohibition of Chemical Weapons told reporters in Damascus, Syria, that the regime had so far eliminated 92.5 percent of its chemical stores, and she hailed the accomplishment as a sign of "significant progress," if not total success, according to The Associated Press.
"I strongly encourage (the Syrian government) to go for that last push that we can really talk of hundred percent removal and destruction," Kaag said.
The OPCW had steadily offered public words of encouragement as the regime of Syrian President Bashar Assad tip-toed toward various deadlines in the agreement, which was worked out last summer between American and Russian diplomats as a way of averting possible U.S. airstrikes.
Several previous deadlines and benchmarks have come and gone unmet, and in February the parties to the deal agreed to move back the goal for final weapons removal to April. The Syrian government has insisted the delays are an inevitable part of trying to dismantle and move a dangerous chemical weapons arsenal in a time of war, but Western governments have accused it of intentionally stalling.
In lieu of chemical weapons, government forces have turned to dropping deadly, makeshift "barrel bombs" on rebel-held and residential areas, most prominently in Aleppo, where the devices have killed a thousand or more people.
And more recently, the regime has been accused by rebel groups of turning to another chemical to attack opposition areas: chlorine, which is not technically on the OPCW's list of banned ingredients.
The government has strongly denied that it has used chlorine and has pinned the blame on the rebel groups themselves.
Meanwhile, the OPCW's Kaag said that of the 7.5 percent of the country's lethal chemical stores still in the country, the majority consists of disparate raw materials, and the facilities required to create weapons out of them -- or, for that matter, to launch attacks with them -- have been destroyed.
"What remains are the elements of a chemical weapon, but the chemical weapons programme of Syria, as per the current declaration to the OPCW under the Chemical Weapons Convention, is no longer in existence," she said.
Calling all HuffPost superfans!
Sign up for membership to become a founding member and help shape HuffPost's next chapter