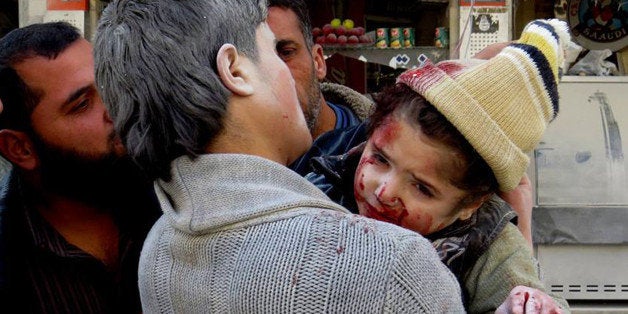 Militants waged at least 68 attacks on Syrian schools last year, killing and injuring hundreds of children. But experts fear that those figures may be grossly underestimated, according to UNICEF.
After nearly four years of civil war, which has claimed more than 200,000 lives, the youngest victims remain most vulnerable, as assailants often deliberately attack areas where children are known to be sheltered.
Syrian schools, which were once envied by neighboring countries, have become hotbeds for bloodshed. At least 160 children were killed and 343 were wounded in school attacks last year, the group told The New York Times.
"Schools should be respected as zones of peace and safe havens for children where they can learn without fear of death or injury," Hanaa Singer, UNICEF representative in Syria, said in a statement.
In one particularly horrific incident in October, 41 schoolchildren were murdered at the Akrameh al-Makhzumi school in Homs city. The attacker planted a bomb at one location at the school, and then blew himself up at another spot close by, the Agence France-Presse reported.
The despairing situation is a far cry from the education system that was once Syria's prize.
Still some Syrian parents remain determined to find ways to bring learning to their kids.
The group relies completely on donations and is only equipped to teach reading and writing in Kurdish and is only available to kids between the ages of 7 and 10. But the children and parents are grateful to at least have that.
Find out how UNICEF is helping victims of the Syrian civil and how you can get involved here.
Calling all HuffPost superfans!
Sign up for membership to become a founding member and help shape HuffPost's next chapter