BEIRUT, April 14 (Reuters) - Syrian opposition activists have posted photographs and video that they say shows an improvised chlorine bomb to back up claims that President Bashar al-Assad's forces used chemical weapons in two attacks last week.
Rebels and the government have blamed each other for the alleged poison gas attacks on Friday and Saturday on rebel-held Kfar Zeita village in the central province of Hama, 125 miles(201 km) north of Damascus.
Both sides said chlorine gas - a deadly agent widely used in World War I - had been used. The gas, which has industrial uses, is not on a list of chemical weapons that Assad declared to the global chemical weapons watchdog last year for destruction.
It is a so-called dual-use chemical, which would have to be declared to the Organization for the Prohibition of Chemical Weapons (OPCW), a spokesman said.
State-run television on Saturday accused the al Qaeda-linked Nusra Front of carrying out the attacks, which it said wounded dozens.
On Sunday, activists from the "Syrian Revolution in Kfar Zeita" posted video footage and pictures of an unexploded canister with the chemical symbol for chlorine, Cl2, on its side which they said was found in the village.
Reuters could not verify the authenticity of the video or pictures.
Eliot Higgins, a respected UK-based researcher who trawls daily through online videos of Syria's civil war to verify weapons in them, could not verify the opposition's claims but said the videos did appear to show an industrial chlorine cylinder.
"It looks like they (the government) have taken an industrial chlorine cylinder, put it in a improvised barrel bomb and dropped it out of a helicopter," he told Reuters.
The yellow paint on the cylinder complies with international standards on industrial gas colur codes indicating it contains chlorine, he said.

A U.N. inquiry found in December that sarin gas had likely been used in the rebel-held Damascus suburb of Ghouta, where hundreds of people were killed.
The inquiry only looked at whether chemical weapons had been used, not who used them. The Syrian government and the opposition have each accused the other of using chemical weapons on several occasions, and both have denied it.
The Ghouta attack sparked global outrage and a U.S. threat of military strikes, which was dropped after Assad pledged to destroy his chemical weapons.
Syria has destroyed or surrendered 65.1 percent of the 1,300 metric tonnes of chemical weapons it reported possessing but must increase the pace if it is to meet deadlines it agreed to, the global chemical weapons watchdog said on Monday.
A 13th shipment was loaded onto cargo ships in the port town of Latakia on Monday to be destroyed abroad, it said.
OPCW head Ahmet Uzumcu said while the latest handover was encouraging, "both the frequency and volumes of deliveries have to increase significantly to restore alignment of actual movements against the projected time frame."
Syria has until June 30 to completely abandon its program but is running several weeks behind schedule.
Syria's three-year civil war has killed more than 150,000 people, a third of them civilians, and caused millions to flee. (Reporting by Oliver Holmes in Beirut and Anthony Deutsch in Amsterdam; Editing by Sonya Hepinstall)

Related
Before You Go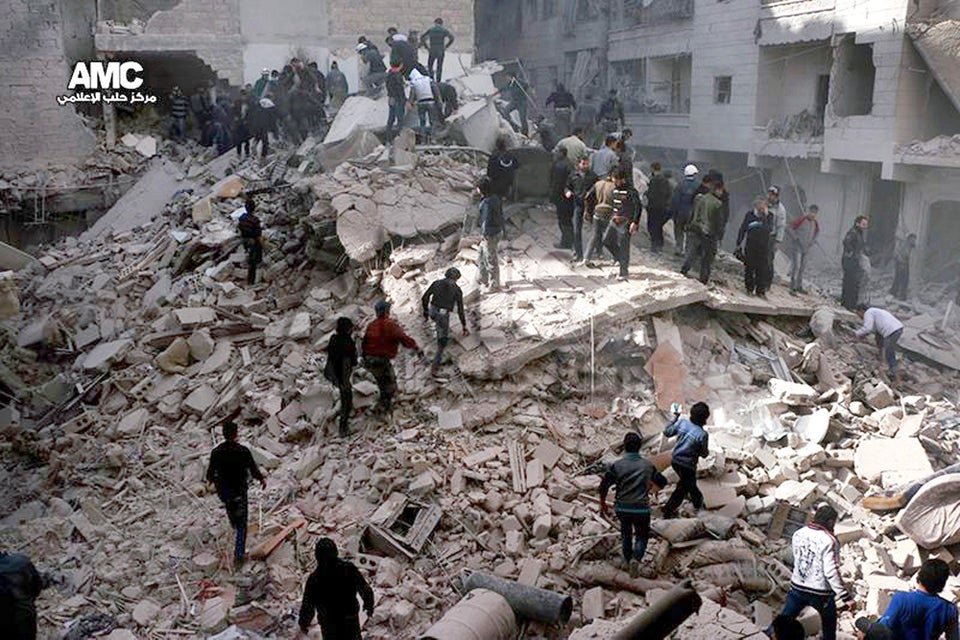 Syria War In March
Popular in the Community