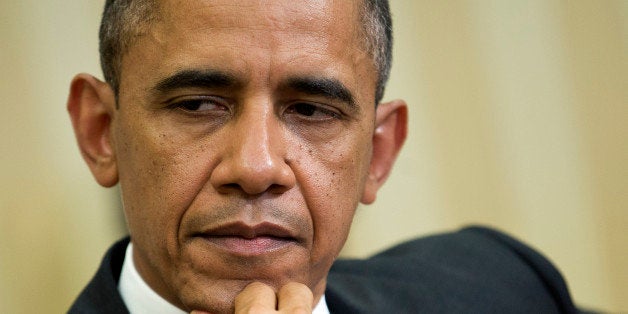 Americans express doubts about military action in Syria. Two new polls in New York City confirm de Blasio leads, but produce much disagreement about methodology and the comptroller's race. And we wish you a happy Labor Day weekend! This is HuffPollster for Friday, August 30, 2013.
AMERICANS HAVE DOUBTS ABOUT SYRIA AIRSTRIKES - HuffPost: "Most Americans are doubtful that airstrikes in Syria would do much to curb the turmoil there, according to a new HuffPost/YouGov poll. Just 18 percent thought U.S. airstrikes against the Syrian government would stop the use of chemical weapons there, while 48 percent thought they would not, and 34 percent were unsure. An even smaller 10 percent thought airstrikes would help to end the fighting in Syria, while 57 percent disagreed….In an NBC News poll released Friday, 50 percent said the U.S. should not take action against Syria in response to the use of chemical weapons, while 42 percent supported intervention. Just 21 percent said military action was in America's national interest, and 27 percent that it would improve the situation for Syrian civilians, with nearly a third or more saying they didn't know enough to answer either question. Seventy-nine percent said President Obama should be required to get approval from Congress." [HuffPost, NBC]]
POLLS CONFIRM DEBLASIO LEAD - HuffPost: "Two new polls confirm that Public Advocate Bill de Blasio has emerged as a clear frontrunner in the race for mayor of New York City. And in a race likely headed for a run-off between the top two finishers on Sept. 10, they show former Comptroller Bill Thompson gaining and on the verge of overtaking Council Speaker Christine Quinn for the second place spot. In a New York Times/Siena poll released Friday, de Blasio had the support of 32 percent of likely Democratic voters, followed by former city comptroller Bill Thompson at 18 percent and city council speaker Christine Quinn at 17 percent….An amNewYork-News 12 poll , also released Friday and conducted by Penn Schoen Berland, gave de Blasio a smaller lead over Thompson, 29 percent to 24 percent, with Quinn a relatively distant third at 17 percent. Weiner took 10 percent….HuffPost Pollster's chart, which includes all publicly available polling, shows de Blasio's swift ascent over the final month of the race, as Weiner's chances dwindled and Quinn's early lead faded away. As of this writing, the chart gives de Blasio a clear lead, with 31.6 percent, with Quinn (20.8 percent) and Thompson (20.7 percent) in a near tie for second. The trends may be more important, showing a 2 percentage-point drop for Quinn and a 4-point gain for Thompson over the past month." [HuffPost]
Less clear picture in comptroller's race - With Michael McLaughlin: "A new poll showing Eliot Spitzer with a sizable lead over Scott Stringer in the New York City comptroller's race conflicts with two other polls released Thursday that showed the opponents nearly tied. The newest data, which came out Friday, gives Spitzer a 50--35 edge over Stringer, the current Manhattan borough president, according to the New York Times and Siena College poll. That's at odds with a Quinnipiac College poll that showed the former New York governor knotted at 46 percent with Stringer and a poll in amNewYork that gave Spitzer a 3 point advantage in the battle for the Democratic nomination….The discrepancy in the results could possibly be explained by the methodology of the poll-takers. The newer Siena-Times poll was fielded over a longer period -- 10 days -- than the two polls released Thursday by Quinnipiac University and amNewYork….The difference among the polls is also greatest in their estimates of Stringer's support, which ranges from a low of 35 percent on the Siena survey to a high of 46 percent on the Quinnipiac poll. By comparison, the polls show just a 4-point spread (between 46 and 50 percent) in their estimates of Spitzer's support. That difference is due in part to how hard the pollsters push initially undecided voters for an answer, and it's not surprising that potential Stringer supporters would need more of a push to express their preferences." [HuffPost]
-Thompson pollster Geoff Garin: "A 10-day field period makes the new @NYTimes - Siena poll on mayor's race both meaningless and irresponsible." Thompson's support has been rising sharply, and was six percentage points higher on the am New York poll (24 percent) than on the Siena survey (18 percent). [@GeoffGarin]
-New York Times reporter Michael Barbaro, in response to questions about the long field period of their poll: "Tighter screen for likely Dems than Q-poll. Good works takes time...I say this to everyone: if you don't like a poll, pony up the money and do one yourself. Not cheap." [@MikieBarb]
Why would the poll take 10 days to complete? - The Siena Research Institute, like two other academic polling centers active in the New York race, Quinnipiac and Marist, use random digit dial (RDD) sampling in order to cover every household with either a landline or mobile phone (all three sample both kinds of phones). The downside of this method is that they must narrow their samples from all adults to those likely to vote in the Democratic primary using "self-reports" -- i.e. questions answered by respondents -- to identify registered and likely voters. As we have reported previously, there are roughly 6.5 million adult New Yorkers that pollsters might reach with their initial calls, of whom only roughly 3 million are registered Democrats characterized as "active" by election officials. And only about 25 to 30 percent of the registered voters (or roughly 12--14 percent of all adults) are likely to vote on September 10. The RDD pollsters are not screening that tightly, but Siena still had to interview 1,561 New York City adults in order to identify 505 likely Democratic primary voters (32 percent of the total). All the screening, combined with the typically low response rates that pollsters encounter in urban areas, makes for a huge investment in interviewer time. Barbaro's "good work takes time" remark implies that it took Siena the full 10 days to complete their dialing. [Siena, see also NY BoE, Census, HuffPost for turnout details]
The alternative: registered voter lists - There is an alternative mode of sampling that requires a different set of trade offs. As we reported in July, the internal polling operations of all of the Democratic campaigns are sampling voters drawn from the lists of registered voters provided by voting officials. One advantage of this approach is their ability to narrow their initial samples to truly registered voters with a past history of voting in Democratic primaries. So they need not interview thousands of adults to identify a few hundred likely voters, and their identification of actual voters is typically more accurate. The prime disadvantage is the need to look up phone numbers for most of those sampled, so their surveys will miss voters with non-listed numbers and will have a much tougher time reaching voters in cell-phone only households.
amNewYork poll: A test case for lists? - The firm Penn Schoen Berland, which conducted this week's survey for amNewYork-News 12 , confirms for HuffPollster that it drew an initial sample of registered voters from official lists, then screened to those most likely to vote. PSB's survey produced a closer contest between mayoral candidates de Blasio and Thompson (winning 29 and 24 percent respectively) than the RDD polls released this week.
Political consultant dismisses results in memo to Thompson campaign - Bruce N. Gyory, in a 4-page memo titled 'The Ludicrous Incongruity of Public Polls II': "At least one of these polls is wrong. It would be a distinct mistake to just average these to the middle and presume that the Siena/Times poll was correct. For their samples and timing of taking those samples are very different. There is no certainty in which of these portraits of the primary electorate is a Rembrandt, which a Dali, or if there is a forgery in our midst. Nor should we assume the Newsday poll is accurate, just because we like those numbers better." In 2009, Gyory correctly predicted that Michael Bloomberg's winning margin would be smaller than public polling suggested. [Dropbox, NYT]]
GOP candidate slams results - While Thompson's campaign questioned Siena's methodology, GOP candidate John Catsimatidis took things a step further. He accused amNewYork of skewing its Republican primary poll in favor of rival Joe Lhota, who had ties to parent company Cablevision. The pollsters say there's no merit to his claim. [PolitickerNJ]
HUFFPOLLSTER VIA EMAIL! - You can receive this daily update every weekday via email! Just enter your email address in the box on the upper right corner of this page, and click "sign up." That's all there is to it (and you can unsubscribe anytime).
FRIDAY'S 'OUTLIERS' - Links to more news at the intersection of polling, politics and political data:
-Most Americans oppose a pardon for Pfc. Manning. [YouGov]
-Harry Enten sees the Democratic electoral college advantage fading. [Guardian]
-An interactive map tests whether people can find Damascus -- and reports the results. [Us vs Them]
-A survey of North Korean defectors estimates that Kim Jong-un has a high approval rating. [NPR]
Popular in the Community