Amid crumbled structures and building debris, Syrians besieged by the country's government forces made a desperate plea for help.
On Wednesday, dozens of civilians in Daraya, a town southwest of Damascus, held signs calling on various international organizations to break a siege on the region that had been ongoing for over three years. In front of them, a group of children formed a massive SOS sign that would be visible from aircraft flying over the region.
Photos of the event and video footage taken by the Local Council of Daraya City, an activist organization, show people holding signs in English, French and Arabic. The signs address international officials, including U.N. Secretary-General Ban Ki-moon, U.N. Syrian envoy Staffan di Mistura and World Health Organization Syrian representative Elizabeth Hoff, calling on them to break the siege.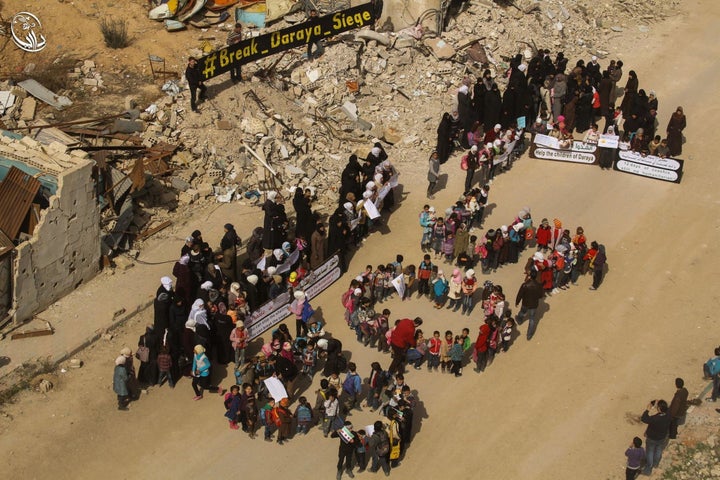 While the ceasefire has seen a relative calm in fighting between government and rebel groups, Daraya's approximately 8,000 residents remain cut off from food and other basic supplies. The U.N. announced Wednesday that while it has been able to send multiple aid convoys to 10 previously besieged areas since the ceasefire took hold, it hasn't reached a number of "important" areas, including Daraya.
"We aren't ISIS or Jabhat al-Nusra," a boy in the video says in Arabic, referring to Islamist terror groups also fighting in Syria. "The town is filled with civilians." People living in the town previously hid indoors for fear of airstrikes, but decided to go outside during the ceasefire to show that there is civilian life in Daraya, the boy says.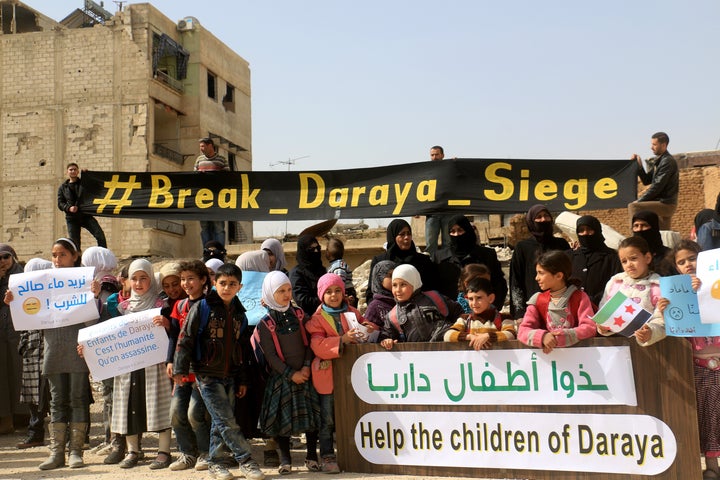 The town is currently under the control of rebels fighting against Syrian President Bashar Assad's regime. Syrian state media and rebel groups said last month that government forces have strengthened the siege by capturing land surrounding Daraya to choke off the rebels' supplies.
Since the beginning of the siege, over 6,800 barrel bombs have been dropped on the region, Malek Ref, a member of the Local Council of Daraya City, told The WorldPost. There has been no electricity in the town since the beginning of the siege and clean water and food are gradually running out, Ref said. Children also held signs saying they had been out of school for "1,204+ days," or over three years.
At least 470,000 Syrians have died as a result of the Syrian war that began in 2011, according to a February 2016 report by the Syrian Center for Policy Research. By the end of last year, over 1 in 10 people had been killed or injured in the conflict, the report added. At least 4.6 million people have fled the country and 6.6 million are internally displaced, per U.N. statistics.
CORRECTION: An earlier version of the article stated that Daraya was besieged by Syria's rebel forces. The town is under the control of rebel forces, but besieged by the country's government forces.
Read more about the war in Syria:
Before You Go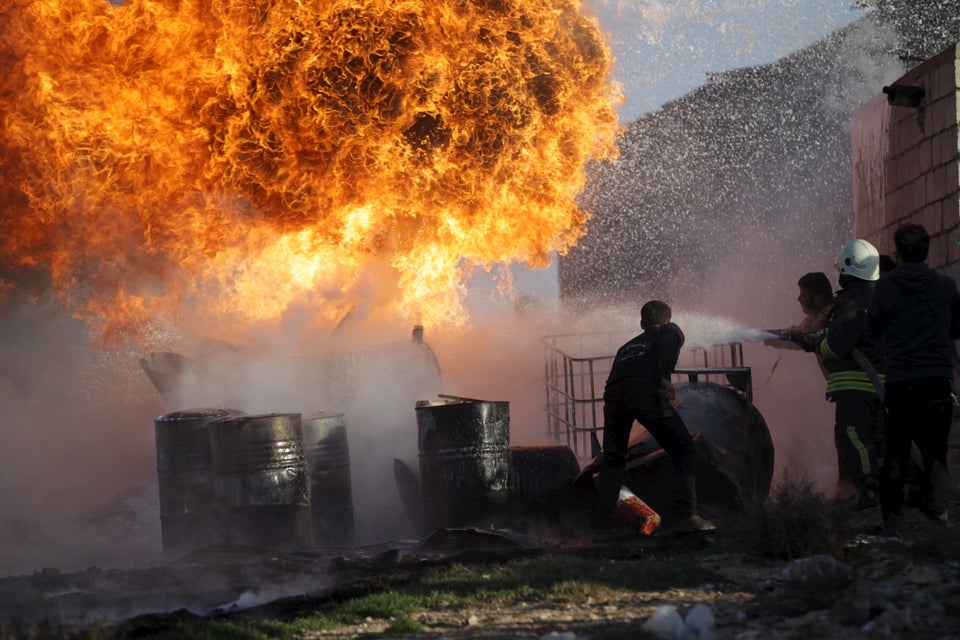 Inside Syria's War
Popular in the Community