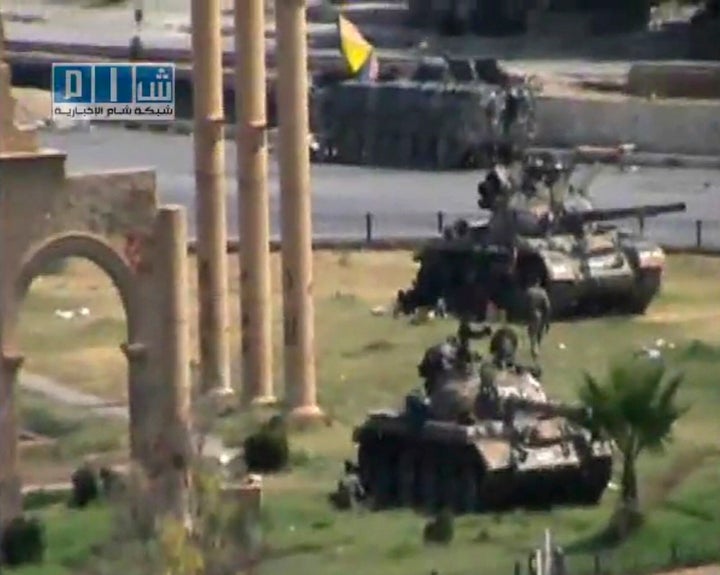 AMMAN (Reuters) - The death toll in Syria's violent crackdown on opposition to President Bashar al-Assad in the city of Hama and elsewhere climbed on Tuesday, spurring Western efforts to pile diplomatic pressure on Damascus.
Tanks pounded residential neighborhoods across Hama, the scene of a 1982 massacre, after evening prayers on Monday, the first day of Ramadan, the Muslim fasting month, witnesses said.
Human rights campaigners said assaults by Assad's forces across Syria overnight and on Monday had killed at least 24 civilians, including 10 in Hama, where troops and tanks began a violent operation to regain control on Sunday.
That brought the total to about 134 dead throughout Syria in the past three days, 90 of them in Hama, according to witnesses, residents and rights campaigners.
Syria's state news agency said "armed terrorist groups" had killed eight policemen in Hama. The government blames such groups for most killings in the five-month-old revolt, saying more than 500 soldiers and security personnel have died.
The plight of Hama has prompted many Syrians to stage solidarity marches since the start of Ramadan, but Assad's tough response suggests he will resist calls for change that have swept Syria and much of the Arab world this year.
Syria has incurred international opprobrium for its harsh measures, but need not fear the kind of foreign military intervention that NATO launched to back rebels in Libya.
The top U.S. military officer called for a swift end to violence in Syria, but only diplomatic pressure was in view.
"There's no indication whatsoever that the Americans are, that we would get involved directly with respect to this," Admiral Mike Mullen, chairman of the Joint Chiefs of Staff, told reporters at the end of a visit to Iraq.
Consultations at the Security Council on Monday failed to produce agreement on adopting a Western-backed draft resolution condemning Syria or settling for a less binding statement.
European countries first circulated the draft resolution two months ago but Russia and China, both allies of Damascus, were opposed to it. Temporary council members Brazil, India, Lebanon and South Africa also said they did not support it.
Italy recalled its ambassador from Syria on Tuesday in protest at the "horrible repression of the civilian population" and urged other European Union members to do the same.
The EU formally added five more Syrian officials to an existing list of 29 individuals headed by Assad, whom the 27-nation bloc has targeted with asset freezes and travel bans.
The five include Defense Minister Ali Habib, the head of internal security and the intelligence chief in Hama, which the EU says was the scene of a civilian "massacre" at the weekend.
"Today further EU targeted sanctions on Syria come into force. The message is clear and unambiguous: those responsible for the repression will be singled out and held accountable," British Foreign Secretary William Hague said.
"Unless there is meaningful change in Syria and an end to the crackdown, President Assad and those around him will find themselves isolated internationally and discredited within Syria," Hague said in a statement.
Apart from the 10 deaths in the latest violence in Hama, two civilians were killed in the town of Albu Kamal on the Iraqi border, which was also stormed by tanks, three in house-to-house raids in the city of Homs, two in the port city of Latakia and six in the Damascus suburb of Erbin after protests that followed night-time Ramadan prayers, rights activists said.
A score of tanks and troops carriers entered the town of Zabadani near the border with Lebanon after people demonstrated in support of Hama following evening prayers, residents said. At least three protesters were wounded by machinegun fire.
The attack on Hama has evoked memories of a bloody 1982 confrontation when Assad's father Hafez al-Assad crushed an armed Islamist revolt, killing many thousands of people.
"The shells are falling once every 10 seconds," a witness in Hama told Reuters by telephone on Monday. The thump of artillery and explosions could be heard in the background.
YouTube footage, purportedly from Hama, showed tanks and smoke, with the sound of explosions and shouts of "Allahu Akbar (God is great)...We are witnessing the reforms of Bashar."
Another video shows a man lying on a street with his head sliced off by shrapnel.
With most foreign reporters barred from Syria, it was impossible to verify the content of the clips.
Nor was it possible to verify footage shown on Syrian state television, also said to be from Hama, which showed gunmen firing at the military from streets and rooftops. It also shows scenes of dead soldiers being thrown into a river.
Security forces, dominated by Assad's minority Alawite sect, had besieged Hama, a mainly Sunni Muslim city of 700,000, for nearly a month before the assault.
U.S. Secretary of State Hillary Clinton was due to meet expatriate Syrian political activists on Tuesday.
U.S. President Barack Obama said on Sunday he was appalled by the violence committed by the Syrian government and that he would work with allies to isolate Assad. Obama has said Assad has lost legitimacy and that Washington is weighing more sanctions, including on Syria's oil and gas industry.
(Additional reporting by David Brunnstrom in Brussels, Catherine Hornby in Rome, Adrian Croft in London, Phil Stewart in Baghdad and Patrick Worsnip in New York; Writing by Alistair Lyon; Editing by Jon Boyle)
Popular in the Community