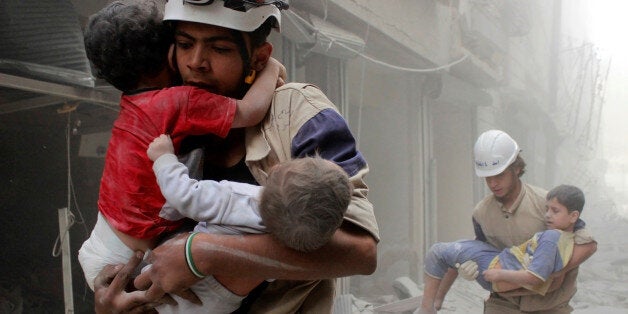 30/09/2016 H.E. Barack Obama, President of the United States of America H.E. François Hollande, President of France H.E. Theresa May, Prime Minister of the United Kingdom H.E. Angela Merkel, Chancellor of Germany H.E. Jean-Claude Juncker, President of the European Commission H.E. Donald Tusk, President of the European Council H.E. John Kerry, Secretary of State of the United States of America H.E. Jean-Marc Ayrault, Minister of Foreign Affairs of France H.E. Boris Johnson, Secretary of State for Foreign and Commonwealth Affairs of the United Kingdom H.E. Frank-Walter Steinmeier, Minister for Foreign Affairs of Germany H.E. Federica Mogherini, High Representative of the EU for Foreign Affairs and Security Policy
We Syrian actors work for US, UK and European organizations or implement US, UK and European-funded programs both remotely and in Syria. Months ago, many of us signed a statement warning that our work was endangered due to escalated Assad regime and Russian attacks. Since that statement, the situation in Syria has spiraled out of control with little more than spineless admonishments from the so-called Friends of Syria. Aleppo City, home to over 300,000 Syrians, has been besieged by the regime twice over with food and fuel running dangerously low. Starting last week, Russia and the regime launched a barbaric air campaign dropping unprecedented amounts of air munitions, including most recently Bunker Bombs that make even underground shelters unsafe. On average, over 100 civilians are being killed a day in besieged Aleppo City alone and the two largest hospitals in the city were put out of service following airstrikes in the last two days.
Similarly, the regime and Russia are setting Idlib, Deir Ezzor, Daraa and Damascus countryside on fire using internationally-banned phosphorus and napalm weapons. The regime continues to use chemical weapons throughout Syria and has accelerated its campaign of demographic change, forcibly displacing Syrians and emptying entire cities of their residents including most recently Daraya and now Waer, Homs. We cannot continue to operate in denial of the realities in Syria and the complete policy failures of the "Friends of Syria". While we seek to direct our own futures, Syria has become a proxy war where we are merely spectators as our fate is being decided by the international community under the guise that "might is right."
Our programs promise to have little to no significance if they are not coupled with policy and military actions that protect civilians and ensure that Syrian civil society and local governance will have a place in the future Syria. Indeed, Syrian civil society organizations recently suspended their activities in Aleppo City due to the regime and Russian onslaught that is destroying their centers and killing their personnel. In meetings with high level US, UK and European officials, we are told that no new policy changes will take place until a new US administration comes into power. By then, we wonder what will be left of Syria and Syrians to protect and programmatically support.
Words and public shaming of the regime and Russia are not enough. They never have been. Without the use of force, we are guaranteed annihilation. In the past five years, the regime and Russia have only temporarily halted their brutality following a threat of force whether it was the threat to strike regime targets following the massive 2013 chemical weapons attack or the threat to drop aid into Daraya resulting in the first aid convoys into Daraya after four years of severe siege.
To continue to operate, we need protection from air munitions either through a No Fly Zone, No Bomb Zone or anti-aircraft missiles. We do not want and never have asked for boots on the ground; we merely need to be protected from the death and destruction that come from above. The skies must be cleared.
We also need the siege on Aleppo City to be immediately broken lest we witness a modern-day Srebrenica with the massacre of hundreds of thousands rather than 8,000.
There cannot be a future Syria with the Assad regime. These five years have shown time and again that an Assad Syria is one devoid of Syrian civil society and local governance. An Assad Syria will be nothing more than rubble and a country emptied of its people. Indeed, the regime is manipulating international laws and treaties to permit more aggressors into Syria, like Russia and Iran, with the sole purpose of killing Syrian civilians and destroying civilian infrastructure. It has categorized all perceived opposition, including medical and aid workers and even the heroic White Helmets, as terrorists to justify obliterating them. Ultimately the regime is fulfilling its promise that it will be Assad or it will burn the country.
Nor can a future Syria be mediated by Russia, the second largest murderer after the Assad regime of Syrian civilians since its offensive started one year ago.
For us, our work is neither a nine to five job nor an exercise in futility to buy time as we develop a Plan B that requires us to immigrate to Europe. Rather it is our lives, aspirations, future and country. If the US, UK and Europe are not willing to act to end the nightmare that plagues our daily lives, we ask that they pull out of Syria and end the farce of political and ceasefire negotiations. Leave Syrians without the false hope that our work will one day achieve the inclusive pluralistic country we have tirelessly strived for or that our so-called Friends will act upon our pleas for help.
181 Syrians working on programs funded by: US State Department, USAID, FCO, DFID, ECHO, EU, Aid Resilience and Stabilization, Danish Foreign Ministry, French Foreign Ministry, German Foreign Ministry, Swedish Foreign Ministry, and Dutch Foreign Ministry.
Calling all HuffPost superfans!
Sign up for membership to become a founding member and help shape HuffPost's next chapter