 By Stephanie Nebehay and Louis Charbonneau
GENEVA/UNITED NATIONS, Sept 11 (Reuters) - Diplomatic efforts toward placing Syria's chemical weapons under international control intensified on Wednesday and U.N. investigators concluded Syrian government forces were almost certainly responsible for two May massacres that killed up to 450 civilians in the bloody civil war.
U.S. Secretary of State John Kerry and Russian Foreign Minister Sergei Lavrov spoke by phone, the State Department said in Washington, one day before they meet in Geneva to try to agree a joint strategy on eliminating Syria's chemical arsenal.
In New York, envoys from the five permanent U.N. Security Council member states - the United States, Britain, China, France and Russia - were due to meet to discuss the Russian plan for Syrian President Bashar al-Assad's government to give up its chemical weapons.
U.S., French and British diplomats conferred before the five-way talks, trying to come up with common language for a resolution. An initial French draft, seen by Reuters on Tuesday, called for giving Assad an ultimatum to hand over his chemical weapons or face punitive measures, an approach Russia rejects.
The three Western powers are now trying to combine various drafts to come up with one they all can agree on before presenting it to Russia and China. "I think we'll come to an agreement (among the three Western powers)," a diplomat from one of the three nations said on condition of anonymity.
President Barack Obama said in a speech on Tuesday that he had asked Congress to put off a vote on his request to authorize military action in Syria to let diplomacy play out, although he still said the threat was needed to ensure Syria complies.
Obama cited "encouraging signs" in recent days, in part because of the U.S. threat of military action to punish Assad for what the United States and other Western powers say was the Syrian government's use of poison gas to kill 1,400 civilians in Damascus on Aug. 21. Assad's government blames the attack on the rebel forces.
"We are doing the responsible thing here which is testing the potential there for success," White House spokesman Jay Carney told reporters, referring to the diplomatic push. "I suspect this will take some time," he added.
U.S. lawmakers said the Senate could start voting as soon as next week on a resolution to authorize military force if efforts to find a diplomatic solution fail. Obama has struggled for support in Congress for the plan.
Kerry also planned to meet U.N.-Arab League envoy Lakhdar Brahimi while in Geneva, State Department spokeswoman Jen Psaki said on Wednesday. At least two days of U.S.-Russian talks are expected there, possibly more, Psaki said.
Russia has given the United States its plan for placing Syria's chemical weapons arsenal under international control and intends to discuss it at the Geneva meeting, the Interfax news agency cited a Russian source as saying.
Russia has been Assad's most powerful backer during the civil war that has killed more than 100,000 people since 2011, delivering arms and - with China - blocking three U.N. resolutions meant to pressure Assad. Syria accepted a Russian proposal on Tuesday to give up chemical weapons.
In a reminder of the mounting atrocities in Syria, a report by a U.N. commission of inquiry released in Geneva documented eight mass killings, attributing all but one to Assad's forces.
The U.N. report, largely covering incidents between May and July, said government and rebel fighters committed war crimes including murder, hostage-taking and shelling of civilians. It accused forces loyal to Assad of bombing schools and hospitals, and rebels of carrying out summary executions.
The commission, led by Paulo Pinheiro of Brazil, urged the U.N. Security Council to hold perpetrators accountable for war crimes and crimes against humanity.
The May killings in Baida and Ras al-Nabaa, two pockets of rebel sympathizers surrounded by villages loyal to Assad on the outskirts of the town of Banias, did not involve fighting with rebels and appeared designed to send a message of deterrence.
In Baida, the report said between 150 and 250 civilians were allegedly killed, including 30 women, apparently executed, found in one house. It said armed rebels were not then active in the area. It gave a figure of 150 to 200 dead in Ras al-Nabaa.
The Syria conflict began in March 2011 as an uprising against Assad and descended into a civil war in which mostly Sunni Muslim rebels are pitted against Assad's forces, who are backed by Shi'ite Muslim Iran and Hezbollah.
In Moscow, Russia's parliament urged the United States not to strike Syria, saying in a unanimous declaration that military action could be a "crime against the Syrian people."
The non-binding declaration by the State Duma, the lower chamber dominated by the Kremlin-controlled United Russia party, echoed the vociferous opposition by President Vladimir Putin to U.S. military action.
The Duma expressed support for Russia's proposal to place Syria's chemical arsenal under international control, which Putin said on Tuesday would only succeed if the United States and its allies abandoned plans for possible military action.
The French government said it remained determined to punish Assad over chemical weapons if diplomacy fails, and called a military strike still possible.
The violence continued inside Syria. Fighters from an al Qaeda-linked rebel group killed 12 members of the minority Alawite sect in central Syria after seizing their village, an opposition monitoring group said.
Alawites are an offshoot sect of Shi'ite Islam and have been increasingly targeted by radical fighters among the Sunni Muslim-dominated opposition in the 2-1/2 year revolt against Assad, himself an Alawite.
In Geneva, the International Committee of the Red Cross (ICRC) called on the United States and Russia to address the obstacles to delivering aid in Syria at their talks on Thursday.
Syrian government forces and rebels are both preventing medical assistance in particular from reaching the sick and wounded, ICRC President Peter Maurer said.
Israeli Prime Minister Benjamin Netanyahu kept up pressure for action, saying Syria must be stripped of its chemical weapons and that the international community must make sure those who use weapons of mass destruction pay a price.
Netanyahu said Syria had carried out a "crime against humanity" by killing innocent civilians with chemical weapons and that Syria's ally Iran, which is at odds with the West over its nuclear program, was watching to see how the world acted.
"The message that is received in Syria will be received loudly in Iran," Netanyahu said.
Iran's supreme leader, Ayatollah Ali Khamenei, said he hoped that a U.S. promise to pursue diplomacy to remove the threat of chemical weapons in Syria was "serious and not a game with the media," the state news agency IRNA reported. (Reporting by Steve Gutterman in Moscow, Stephanie Nebehay in Geneva, Ari Rabinovitch in Jerusalem, Anthony Deutsch in Amsterdam, Alexander Dziadosz in Beirut, Marcus George in Dubai, Louis Charbonneau in New York, Susan Heavey, Tabassum Zakaria and Paul Eckert in Washington; Writing by Will Dunham; Editing by David Storey)

Before You Go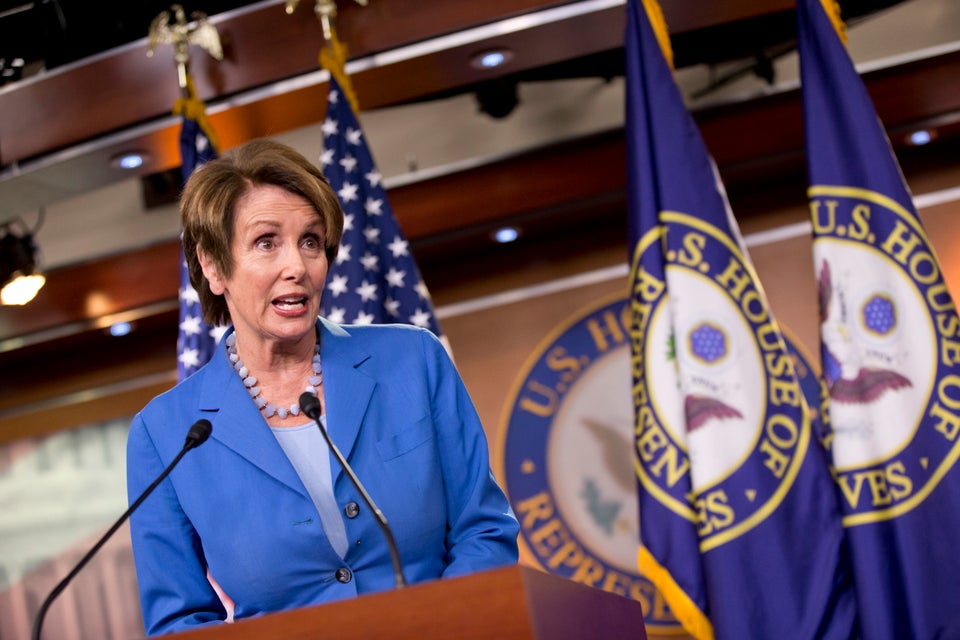 Politicians React To Obama's Syria Speech
Popular in the Community