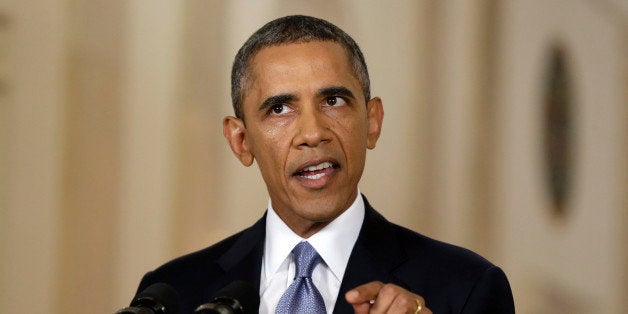 Americans overwhelmingly favor a diplomatic solution in Syria but are still unhappy about Obama's handling of the issue. Republicans like the sound of "Affordable Care Act" better than "Obamacare." And if you need a Quinnipiac/Marist fix, just wait a few hours. This is HuffPollster update for Tuesday, September 17, 2013.
ANOTHER POLL FINDS SUPPORT FOR SYRIA DIPLOMACY - The latest Washington Post/ABC News poll finds overwhelming support (79 percent) for the Russian plan "to have Syria place all of its chemical weapons under control of the United Nations, which would then destroy them." Dan Balz and Peyton Craighill: "The president faced strong public opposition when he initially argued for military strikes against the Syrian regime in retaliation for its alleged use of chemical weapons. That opposition is largely unchanged in the new survey, with 61 percent saying that they are against such strikes....Asked whether they would favor a congressional resolution authorizing force if the deal does not yield results, 44 percent say they would support it and 48 percent say they would not. [WaPost]
Obama gets poor marks for Syria handling - Gary Langer: Barack Obama's job approval rating flattened at an even 47--47 percent in the latest ABC News/Washington Post poll, his lowest in more than a year, with more than half of Americans disapproving of his handling of the situation with Syria. The public by a 15-point margin is more apt to say Obama's performance on Syria has weakened rather than strengthened U.S. global leadership...There are some positive notes for the president. More than half, 54 percent still see him as a strong leader; 52 percent say he's a good commander-in-chief of the military; and more, 60 percent, say he sticks with his principles. On Syria specifically, more accept than reject his argument that the threat of missile strikes helped the situation, albeit by a single-digit margin, 47--40 percent. Similarly, he leads congressional Republicans in trust to handle the confrontation with Syria by 8 percentage points. [ABC News]
'AFFORDABLE CARE ACT' MORE POPULAR THAN 'OBAMACARE' - Dana Blanton: "The [Fox] poll asks voters if they have a favorable or unfavorable opinion of the law. Half were asked using the phrase 'the 2010 health care law called the Affordable Care Act,' while the other half were asked about 'Obamacare.' There's a numerical but not statistically-significant advantage when the phrase 'Affordable Care Act' is used: 39 percent have a favorable opinion of the law when it's called that compared to 34 percent favorable when asked about "Obamacare.'" Among Republicans, the law's favorability rose from 14 percent for Obamacare to 22 percent for the ACA; among conservatives, it rose from 15 percent to 24 percent when the president's name was not mentioned. [Fox News]
VIRGINIA, NYC POLLS OUT SOON - An NBC/WSJ/Marist poll of the New York City mayoral race will be released Tuesday night, showing Democrat Bill de Blasio with a wide lead over Republican Joe Lhota. Quinnipiac will release a poll on the Virginia governor's race on Wednesday, for the first time including third party candidate Robert Sarvis. [Quinnipiac]
TUESDAY'S OUTLIERS' - Links to more news at the intersection of polling, politics and political data:
-Harper Polling finds McAuliffe leading Cuccinelli in VA (42 to 37 percent). [Conservative Intel]
-PPP finds Jeanne Shaheen leading potential opponents in New Hampshire. [PPP]
-More dads than ever are staying home full time with their children. [Pew Research]
-The number of Americans who self-identify as poor has doubled in the past 15 years. [PBS]
-It's been a week and New York City's Board of Elections is still counting, with no end in sight. [@ThomasKaplan]
-What Strategic Vision LLC's David Johnson is up to now. [Gawker]
-A Penn State PhD candidate maps 92 years of sasquatch sightings. [Flowing Data]
Calling all HuffPost superfans!
Sign up for membership to become a founding member and help shape HuffPost's next chapter