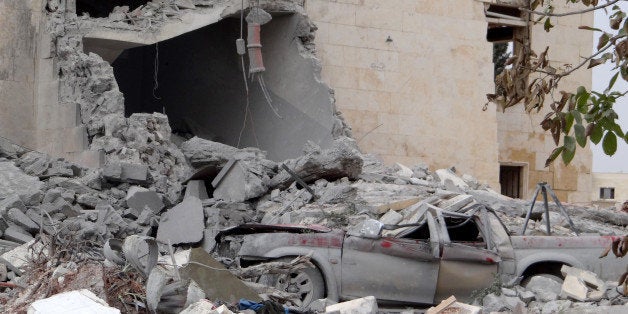 The White House has acknowledged for the first time that the strict standards President Obama imposed last year to prevent civilian deaths from U.S. drone strikes will not apply to U.S. military operations in Syria and Iraq.
This is a tragic error. One of the worst mistakes the United States can make is to respond to the horrors of the conduct of ISIS, especially its wanton killing of civilians, by killing civilians in response. We are meeting horror with horror and it will come back to haunt us, both morally and strategically.
In the peace movement, we say 'When you mirror your enemy, you risk becoming your enemy.' The U.S. is now on that path and it is a profound moral mistake.
In addition, this new information from the White House undermines a substantial part of the argument for the morality of the drone program, since the drone program has been sold to the American people as a way for the U.S. to kill terrorists without substantially endangering local populations.
For the administration to claim it is "just" to use drones, it must abide by the rules for the conduct of war. These rules, called "Just War Theory," specifically call for the protection of civilians, i.e. non-combatants, from armed combat. In this theory on waging war it is considered unfair and unjust to attack indiscriminately since non-combatants or innocents are deemed to stand outside the field of war proper.
We are supposed to be operating under a new drone policy where protecting civilians is a priority. The President acknowledged civilian deaths in his major 2013 speech on drones at the National Defense University , calling them "a tragedy." In that speech, the President promised the drone program would operate within limits protecting civilians, and that in addition to control of the drone program being transferred from the CIA to the Pentagon, a new era of transparency on drones would begin.
Given the secretive nature of the drone program, accurate information on the number of civilians killed in drone strikes has always been very difficult to obtain. The Bureau of Investigative Journalism in the United Kingdom has attempted to document the deaths of civilians credibly killed by drones strikes, including women and children, and their research has included the disturbing information of targeting of rescue personnel and funerals.
More recently, strikes on a Syrian village, a reported stronghold of an al-Qaida-linked front, resulted in images of bodies of women and children hauled from the rubble. Images of badly injured children also appeared on YouTube, helping to fuel anti-U.S. protests in a number of Syrian villages last week.
At a briefing for members and staffers of the House Foreign Affairs Committee late last week, a political member of one of the Free Syria Army factions described the aftermath of this attack. "They were carrying bodies out of the rubble. ... I saw seven or eight ambulances coming out of there."

He went on to say, "We believe this was a big mistake."
Yes, this was a big mistake. It was a moral mistake and a strategic mistake.
It is not acceptable for the President to claim a moral principle such as the Just War criterion on protecting civilians, and then bend or break that principle when it seems expediency demands it. The point of moral principles is to accept there are things that cannot be morally justified and then refrain from doing them.
But it is also a "big mistake" from a strategic standpoint to be killing civilians. ISIS is waging an image war and demonizing the U.S. is a cornerstone of their propaganda. Giving ISIS more fuel for their hype is strategically a huge error. That YouTube video serves to undermine whatever support the U.S. and others bombing ISIS targets may have.
No matter what the enemy does, and how immorally they may act, that does not provide a free pass for individuals or nations to just give up on their own principles and respond in kind.
In fact, it is precisely when your moral principles are tested that abiding by them is most crucial.
Otherwise, what is it we are really fighting for?
Related
Popular in the Community