 It all started with a single text message from a friend: "I am going to Syria tomorrow, let me know if you need me to visit your homes to check on them and your loved ones. If you need me to carry anything urgent, like medicine, let me know. I am taking two big bags of important supplies."
In times of peace, it is tradition for Arabs to carry "gifts" for relatives and friends whenever you happen to be traveling. Whenever I traveled between Saudi Arabia, Syria and Lebanon, I always had two suitcases -- one bag for my belongings, and another for other people's stuff that had been requested by their loved ones.
So when I saw this message recently from a friend, it brought me back to 2004, when a friend and I did the exact same thing when we were planning a trip to war-ravaged Iraq. We met up with several Iraqi families in Canada, and they drew us maps and directions to their homes in Baghdad, and gave us letters and gifts to give their relatives and friends.
My friend was well-connected and came from an important Iraqi family. So I felt safe somehow, like this trip would be a breeze. It wasn't, of course. Danger and death were all around us. My heart sank each time I finally reached a place on a hand-drawn map, and the home marked on it was gone, reduced to a hill of rubble.
Even when I dug in, looking for something to take back, I often couldn't find anything intact, as the objects that survived were probably taken by whoever came upon them. The hardest part was later telling the hopeful families back in Canada the bad news.
I told my friend to expect all this and more when he journeys soon into Syria, a personal aid mission fraught with danger. Speculation that a "final battle" for Syria is looming means the danger he faces could be much worse than what I saw in Iraq.
Daily images and reports coming out of Syria show rows of killed Syrians, mainly children, wrapped in white kafan -- a clean white perfumed shroud used to wrap a body before burial.
But none of these warnings register with those who insist that they "can't just sit and do nothing."
There have been many silent samaritans visiting Syrian refugee camps and even going into Syria with the sole purpose of "helping." Only after a doctor friend came back did I see on Facebook his photos and notes on the horrible state of hospitals and clinics in Syria. This surgeon, of Syrian-Lebanese origin, took a month off from work and headed to a war zone and volunteered his time.
His family kicked up a fuss, and even called him "selfish" for putting his life at risk when he had a family to support in Saudi Arabia. But he did it, and his bravery inspired a group of his friends (many who are engineers) to contemplate how they, too, could help Syria -- when the fighting is over.
"When it is completely over, it will be so overwhelming, we won't know where to start," said a friend who will be assessing his family's neighborhood as a starting point when he visits Syria next month.
People are hungry to help. Syria's Baath regime locked out many of its citizens from active participation in their country's development. Some have been exiled while others emigrated.
I know of westernized and Gulf nationals of Syrian origin who have been helping in the background, but are keeping a low profile as they don't want any repercussions on relatives who still live in Syria.
But it is not just Syrians helping Syrians. And it shouldn't be.
Since I never did make my father's dreams come true by becoming a doctor, I thought of volunteering what I am good at: reading and writing. One idea I've had is to launch a reading and writing mission to Syria. I called it "Operation Fairy Tale."
The idea was that we would go to refugee camps and Syrian cities reading stories, donating books and notebooks, and engaging children of all ages with the world of words. Adults can join us, of course, during the reading sessions around camp fires. They may need the break more than children sometimes.
Some might say this is the last thing Syrians need now; that what they need, and too often lack, are basic necessities like water, food and a safe home. But any diversion from an ugly and harsh reality -- if only for a few minutes -- could do wonders.
This initiative should not be limited to Syria, it could work and apply to any war zone or place or time of humanitarian crisis.
I have already tried Operation Fairy Tale with groups of children in Palestinian refugee camps in Lebanon. I had just one bedtime-stories book with me that I carried from one group to the other, but it was enough to make them laugh, interrupt and share their own stories.
Of course, it is not enough. But you never know. It might plant a seed of hope in someone's soul by simply showing that people cared enough to be there as they suffered.
Just a few days after I launched my initiative, a friend forwarded me 'The Urgency of Reading' petition, an "international call to action for access to books and information resources in humanitarian emergencies."
I happily signed it. I hope reading and writing do become part of relief efforts worldwide.
One can't underestimate the power of simply taking a pen or pencil and writing down what one feels or fears. Something so hard to articulate or explain becomes much easier when written down.
I know when I am sad, the quickest way to get rid of that sadness is to pick up a pencil and start scribbling what is bothering me. Sometimes, I end up writing poems, and somehow feel better afterward. There is a really special bond between us and world of words, written or heard.
It is the same with music, where it can change our mood, make us dream and make us forget our problems. The mental ward of Sultan Bayezid II Hospital in Edirne, Turkey, in operation from the 15th to the 19th centuries, is widely thought to have been the first to use music to treat mental illness.
Operation Fairy Tale is an open invitation and a work in progress. Ideas and advice are welcome.
I leave you with the photo of three inspirational sisters I met in Iraq, who despite all their losses and pain, continued to go to school and support each other. When schools were closed down, these three angels spent their days 'reading' books and 'writing' away their feelings in notebooks that they carried everywhere with them.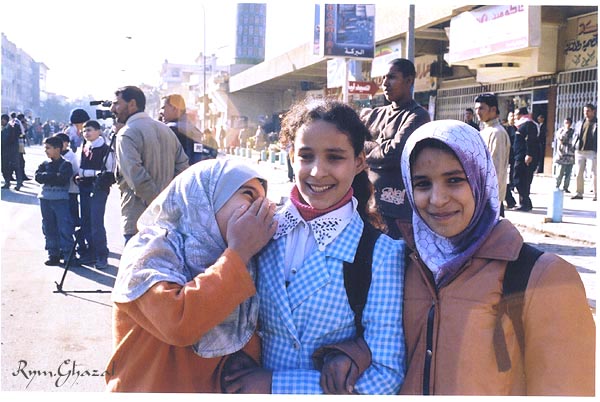 You can see the media in the background distracted with another explosion and disaster story. They missed out on meeting the silent heroes who walked right by them.
Rym Tina Ghazal is a senior feature writer and columnist for the National Newspaper. She is working on her second book, Single in the City.
Calling all HuffPost superfans!
Sign up for membership to become a founding member and help shape HuffPost's next chapter