As war rages in Syria, the country is facing a medical crisis: hospitals have closed, doctors have fled and there is a drastic shortage of medical supplies on the ground. A group of American doctors recently traveled to Syria and came back to share their stories with Syria Deeply, a website dedicated to building a new model of storytelling for the Syria crisis, in a feature called Syria ER. HuffPost Live's Ahmed Shihab-Eldin hosted a discussion recently with Syria Deeply's Lara Setrakian, two doctors and one nurse who had recently returned from Syria.
Dr. Zaher Sahloul, President of the Syrian American Medical Society, and Dr. Aref Rifai, a vitreo-retinal surgeon based in Florida, both recently traveled to Syria to provide urgent medical care for those affected by the country's ongoing civil war. In the clip above, they attempt to put a human face on the Syrian crisis by sharing photos and stories of the wounded.
Dr. Aref shared the story of a man injured by a tank explosive whose "leg was totally crushed" and who lost several toes in the explosion. He added that the patient gave him a "silent look" that said, "Thank you very much for coming all the way from America to come and visit with us, to talk to us, and to consult with us and to listen to our stories."
Dr. Zaher explained the ordeal of a young, 24-year-old mother who he said "looked like 50" when he met her. Injured while saving her four children from bombs descending on her home in Homs, she realized her arm was gone only after she rescued her children.
"Her house was bombed during one of the bombing sessions, and then she ran to save her children," Dr. Zaher said. "She saved all of them. The house she was living in was under fire, and then after she saved them she told me that she felt a lot of pain. And she looked at her left arm and it was hanging by a thread from her body."
"She stayed between life and death for about 18 days until they were able to smuggle her through the public sewage system into Homs, and then brought her to Turkey," Dr. Zaher said.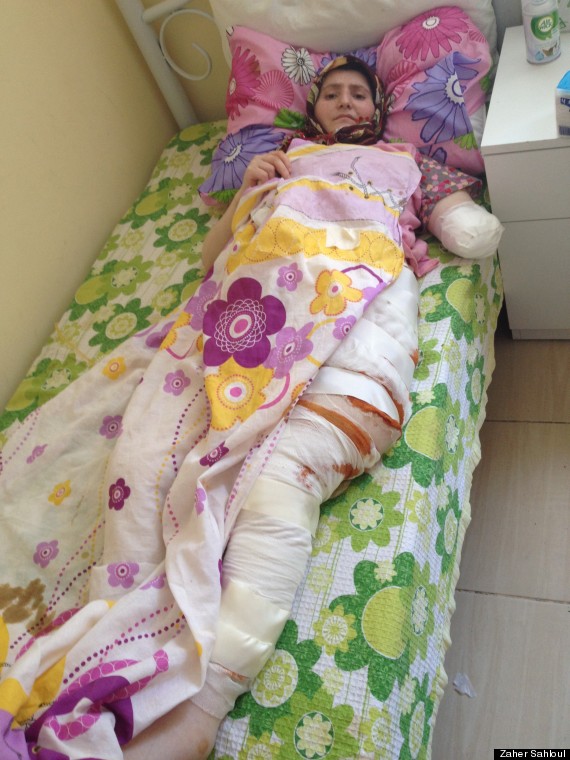 Listen to their stories above and watch more clips explaining the Syrian medical crisis below:
REAL LIFE. REAL NEWS. REAL VOICES.
Help us tell more of the stories that matter from voices that too often remain unheard.