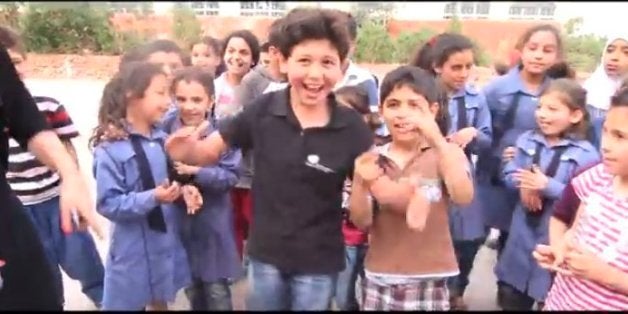 #RestoreHappy is not your run-of-the-mill "Happy" video. The video opens with horrifying statistics of the toll the three-year conflict has played on the lives of Syrian children. It proceeds to show that despite all of that, when these vulnerable children are exposed to music blaring on portable speakers through the camps and schools, for minutes, their troubles seem to melt away and they relive moments of their youth. Innocent smiles plastered on their faces. For those few minutes, all those children seemingly cared about was how much on-air time they got. How their hair looked in the photos. And how wicked their dance moves are.

Since the beginning of the conflict on March 2011, 11.4 million Syrians are in need of humanitarian aid, over 140,000 have died, 6.5 million are internally displaced, and over 2.4 million live as refugees live in neighboring countries. Daily, over 8,000 people become refugees. Zaatari Refugee camp located by the Syrian and Jordanian border is home to over 150,000 Syrian refugees who fled the violence in Syria making it one of Jordan's largest cities.
Increasingly, the toll of the on-going conflict on Syria's children is becoming an issue of critical importance. Syria's children are being referred to as the "lost generation". From the refugee populations in neighboring countries, over 50 percent are under the age of 18 and 75 percent are women and children. Shocking numbers show that three in four children has lost a loved one. One in three children has an injury. Over 3,000 schools have been destroyed and an estimated 90 percent of Syrian children do not attend school.
With that in mind, two Syrian-Americans, Hazami Barmada and Omar Al-Chaar traveled to Jordan to raise awareness and humanize the plight of Syria's children -- a topic that is often enveloped in politicized and violent rhetoric. Barmada, who initially came up with the idea, launched an online fundraising appeal on social media to raise money to buy toys, books, crayons and games to take to Syrian hospitals, schools and the Zaatari camps in Jordan. Within 24 hours, they had raised over $5,000 online for the toys.
Their mission was simple: Show the world the true importance of investing into education and mental health programs for Syria's children. It stemmed out of a recent Gallup Poll finding, which says that Syrians are considered the "saddest people in the world." Furthermore, the World Health Organization estimates that 3-4 percent of people affected by an emergency like the war in Syria will develop severe mental health disorders, like psychosis. During times of calm, the going rate for severe mental health disorders is 2-3 percent. The organization also estimates that 15 to 20 percent of people in Syria will develop mild or moderate anxiety or depression disorders. That doesn't account for the "large percentage" of people who will experience "normal distress" amidst the situation.
There is a serious issue at hand, and it's time that we move past the old cycle of politicizing and dehumanizing the situation in Syria. It's time we move past the sorrow to a place of hope for the future. It's upon us to sponsor, engage and work towards peaceful solutions. In order to do that, we have a responsibility to begin listening to the very people being affected by the situation in Syria. Catching glimpses into a humanity that remains innocent, even amidst the throes of war, through videos like #RestoreHappy is the only way to remind ourselves that the Syrian people are much more than the statistics. They, too, deserve a chance to be happy.
REAL LIFE. REAL NEWS. REAL VOICES.
Help us tell more of the stories that matter from voices that too often remain unheard.