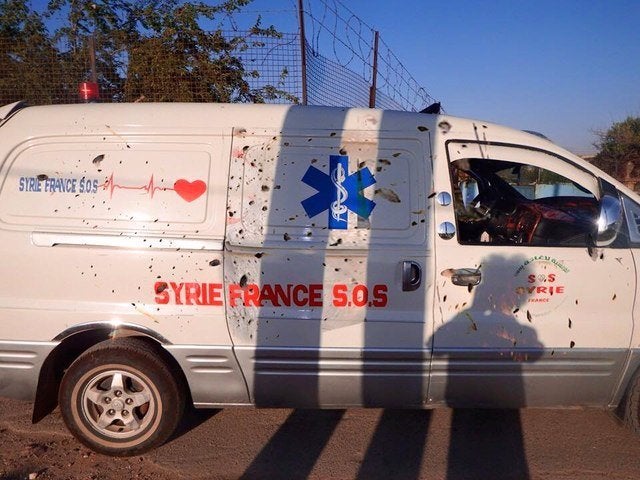 In the second installment of Syria Deeply's Experts to Watch series, meet seven doctors and researchers doing incredible work on public health in Syria.
More than five years into the war, the public health sector in many parts of Syria is on the brink.
Medical infrastructure, particularly in opposition-held areas of the country, has been crippled by frequent, targeted attacks. Medicines and critical provisions are in short supply. Few medical workers are left. In the city of Aleppo, World Health Organization representative Elizabeth Hoff told Syria Deeply, roughly 95 percent of doctors have either fled or been detained or killed since the beginning of the crisis.
The desperate shortages have not only affected the care for victims of war, but also affect millions of patients suffering from chronic diseases, like diabetes, asthma, cancer and kidney and heart diseases. The Syrian American Medical Society estimated in 2014 that at least 200,000 Syrians had died from chronic diseases since 2011.
Meet seven experts working on the complicated and multifaceted health crises Syrians face.
Annie Sparrow
Dr. Annie Sparrow, an associate professor and deputy director of the human rights program at the Icahn School of Medicine at Mount Sinai, currently focuses on the Syrian conflict. Sparrow spends much time on the Turkey-Syrian border, documenting the health crisis and training Syrian medical workers. She has written extensively on the polio epidemic in the country, as well as the Assad regime's use of chemical weapons and its attacks on the Syrian healthcare system. She has also been extremely critical of the approach of some U.N. agencies to relief work during the crisis. Sparrow has been working on the intersection of medicine and human rights for more than a decade. She turned her attention to refugee health after practicing as a pediatrician in London and Perth and spending years in Africa working on topics like HIV, sexual violence in conflict, malaria and tuberculosis. Sparrow's on Twitter at @annie_sparrow.
Fouad M. Fouad
Fouad M. Fouad, a general surgeon in Aleppo, was the coordinator of the Syrian Center for Tobacco Studies and the director of a primary healthcare department in his hometown before the start of the war. Since leaving the country in 2012, he's been working at the American University of Beirut, focusing on health crises related to the conflict. Fouad painted a grim image of the state of Syria's health sector in a 2015 interview with Syria Deeply, explaining that thousands of doctors have left the country, infrastructure has largely been destroyed, medicine is in short supply and chronic illnesses are left untreated.
David Scales
In the summer of 2012, between the end of a postdoc in biomedical informatics at HealthMap.org and the start of his residency in internal medicine at Cambridge Health Alliance, David Scales traveled to Jordan to meet some of the hundreds of thousands of Syrian refugees who had crossed the border into the neighboring country. He spent two months with the Syrian American Medical Society and the National Arab American Medical Association, working with Syrian refugees in the Zaatari camp and at a spinal cord injury center in Jordan. Since then, Scales has written frequently about his work and the refugees he encountered. His academic writing has focused on infectious diseases and the structures and policies that complicate their handling. He tweets at @davidascales.
Elise Baker
Elise Baker is a researcher at Physicians for Human Rights and leads the Syria mapping project, which documents attacks on medical facilities and personnel in the country. She's the author of a July report on the dire conditions in in Madaya, a small, besieged town an hour's drive from Damascus where more than 80 people died of starvation. "The cost of political impasse is death and destruction in Syria," Baker told Syria Deeply in May after fighting intensified in Aleppo. "If Syria's leaders and the international community cannot reach a peace accord, there's no doubt attacks on healthcare will continue and the consequences will be deadly for everyday Syrians." Before joining Physicians for Human Rights, Baker studied the effects of post-conflict restoration and reconciliation in Burundi and Rwanda. Baker is on Twitter at @elise__baker.
Maher Aboumayaleh
Maher Aboumayaleh coordinates the health response of the Aga Khan Development Network to the Syria crisis. Previously, he was a member of the World Bank Civil Society Consultative Group on Health, Nutrition and Population and a director of Primary Healthcare in Latakia, Syria.
Zaidoun al-Zoabi
Dr. Zaidoun al-Zoabi heads the Union of Syrian Medical Relief Organizations, a coalition of humanitarian, nongovernmental and medical organizations providing relief and medical care to victims of the war. The organization was founded by Syrian health workers and is known for its impartiality. It runs several hospitals and medical centers in Syria, trains medical workers and funds medical supplies. Several of the organization's hospitals have been damaged or destroyed in the war. Originally from Daraa, Zoabi now lives in Germany but frequently travels to the region. He made an impassioned plea on CNN last year for the violence in his country to come to an end. "What wrong have we done to endure such a bloody, stupid war?! It is enough for us, for God's sake," he said.
Mahmoud Mustafa
Dr. Mahmoud Mustafa is a field ophthalmologist and the director of Independent Doctors Association (IDA), a Syrian nonprofit organization of Syrian medics providing healthcare services to the population of Aleppo province. A native of Aleppo, Mustafa and his colleagues work to reactivate and rehabilitate health facilities in the opposition-held parts of the region in an effort to cover the health needs of people living in one of Syria's most war-torn regions. Faced with the persistent attacks on health workers in the region, Mahmoud and IDA are strong advocates for the protection of medical workers and facilities in Syria.
Related
Popular in the Community