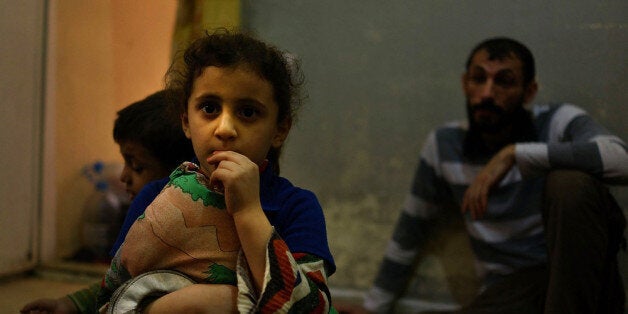 BEIRUT -- With hopes for comprehensive peace talks in the immediate future nearly quashed, groups monitoring the ongoing crisis in Syria say more attention needs to be paid to the intractable dilemma of delivering humanitarian aid to the country.
More than nine million people currently require immediate assistance in Syria, the United Nations said recently, many of them suffering from a lack of food, water, and basic medical supplies as winter edges closer.
But aid workers cannot reach them, monitors say, largely because the Syrian government has restricted access by withholding visas and setting up checkpoints that must be negotiated daily.
Humanitarian workers and journalists in rebel-controlled parts of the country also have faced severe threats, and dozens have been kidnapped or killed while delivering supplies in those areas.
"Aid workers, including the Red Crescent, have to negotiate their way through tens of checkpoints to get aid through, crossing conflict lines, in areas where there is live fighting," said Amanda Pitt, the spokesman for the Office for the Coordination of Humanitarian Affairs, the U.N's humanitarian arm. "We have long called for unfettered humanitarian access in Syria, so that aid workers can deliver vital supplies, assess people's needs, and evacuate the wounded, among other things."
In early October, the U.N. Security Council issued a presidential statement -- a step below a formal resolution -- declaring its "grave concern" about the situation in Syria, and calling on all sides in the conflict to let aid through.
Since then, however, there has been little progress.
Diplomats and aid workers hoped that some of these issues might be negotiated during a second peace conference, informally called Geneva 2, initially slated for late November in Geneva. But after weeks of hard bargaining on both sides, opposition groups have made it clear they will not participate.
That leaves humanitarian groups wondering if, at a time when the Syrian government seems increasingly likely to stay in power, the humanitarian access issue should be tackled outside of broader peace talks.
"In order to have the discussion about access, we've always felt we actually need to be having a dialogue," said Shannon Scribner, the humanitarian policy manager at Oxfam America. "That's what Geneva 2 presented."
But, she continued, "if we don't have this conference happen by January, we may need to start thinking about access on its own."
Aid groups have long thought of humanitarian access as neutral and something that all sides in the conflict should be able to agree on, said Peggy Hicks, the global advocacy director at Human Rights Watch.
"We felt that making progress on humanitarian stuff could be a confidence-building step that can bring states like Russia, or even Iran, in -- something that can move things forward," said Hicks, whose group, like most humanitarian NGOs, has strongly urged the Syrian government to permit aid convoys unhindered access to the country.
"But the reality is, it's been a month since there was the presidential statement on humanitarian access, and Syria has thumbed its nose at that. So the notion that this would force them to do something -- well, clearly that's not going to happen."
The U.N. and aid groups also repeatedly noted that in addition to the shortcomings of the Syrian government in managing that country's humanitarian disaster, the international community has struggled to meet its own pledges of relief.
There are more than 800,000 refugees from Syria currently registered with the U.N. in Lebanon, and another half a million each in Turkey and Jordan.
Popular in the Community