Multiple Internet monitoring services are reporting that the Internet has gone down in Syria.
The outage began Tuesday night, May 7, at around 9:45 p.m. local time in Syria. This is not the first time the country has suffered from an Internet outage. The same happened in November 2012 before being restored two days later.
Umbrella Security Labs, the research arm of enterprise security firm OpenDNS, wrote in a blog post about the latest Syria outage:
At around 18:45 UTC OpenDNS resolvers saw a significant drop in traffic from Syria. On closer inspection it seems Syria has largely disappeared from the Internet.

The graph below shows DNS traffic from and to Syria. Although Twitter remains relatively silent, the drop in both inbound and outbound traffic from Syria is clearly visible. The small amount of outbound traffic depicted by the chart indicates our DNS servers trying to reach DNS servers in Syria.
Here is the graph accompanying the post by Umbrella Security Labs:
Internet monitoring service Renesys, which reported the November outage, also confirmed this one: "Renesys confirms loss of Syrian Internet connectivity 18:43 UTC. BGP routes down, inbound traces failing."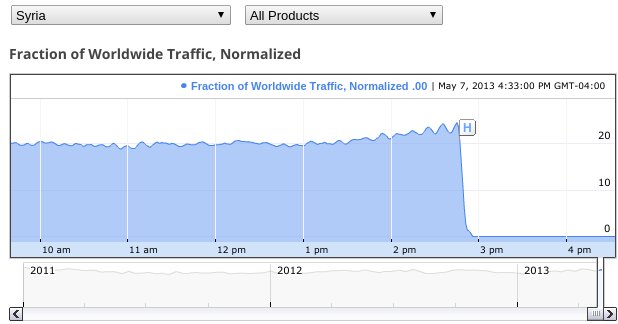 Update: Umbrella Security Labs has new information on the Internet disruption in Syria. While the cause is still unknown, technical details of what happened are now in the Umbrella Security blog.
Popular in the Community