Syria: Teenage Blogger Sentenced to 5 Years

A teenage blogger, brought into court chained and blindfolded, was sentenced Monday to five years in jail on charges of revealing information to a foreign country, rights defenders said. The blogger, Tal al-Molouhi, a high school student who has been under arrest since 2009 and is now 19, had written articles saying she yearned for a role in shaping the future of Syria and supporting the Palestinian cause. Lawyers said the judge gave no evidence or details as to why she had been charged.
Around the same time, I got the March issue of Vogue with Lady Gaga on the cover.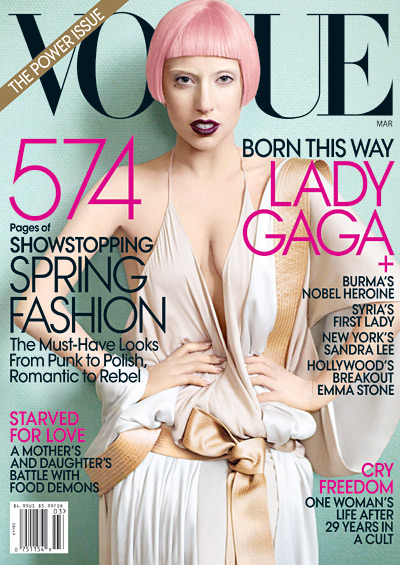 I admired the Gaga editorial, then put the magazine aside so I could read the rest of it later. Various newspapers and paperwork and books quickly piled up on top of the magazine and I never got back to it. I had to dig pretty deep to find it after reading Monday's Wall Street Journal op-ed piece, "The Dictator's Wife Wears Louboutins." Sure enough, as you can see from the cover image above, there is a story about Syria's first lady, Asma al-Assad. She is very beautiful.
The Wall Street Journal op-ed criticizes Vogue for focusing on Assad's "energetic grace," Louboutin shoes and Chanel sunglasses. I flinched at the first paragraph of the magazine story, in which Vogue calls Assad "...a rare combination: a thin, long-limbed beauty with a trained analytic mind who dresses with cunning understatement." (Maybe I'm just bitter because I'm short-limbed and dress with stupid overstatement.) At least the second paragraph describes Syria a bit more strongly than some critics of the piece acknowledge, noting that the State Department's web site warns Syria's government "conducts intense physical and electronic surveillance of both Syrian citizens and foreign visitors." Vogue goes on to say:
"[Syria's] shadow zones are deep and dark. Asma's husband, Bashar al-Assad, was elected president in 2000, after the death of his father, Hafez al-Assad, with a startling 97 percent of the vote. In Syria, power is hereditary. The country's alliances are murky. How close are they to Iran, Hamas, and Hezbollah?"
Vogue senior editor Chris Knutsen told The Atlantic, "We felt that a personal interview with Syria's first lady would hold strong interest for our readers. We thought we could open up that very closed world a very little bit." He went on to say, "The piece was not meant in any way to be a referendum on the al-Assad regime. It was a profile of the first lady."
If you were a magazine editor or writer, what kind of story would you write if you got access to the attractive, stylish first lady of a dictator? Do you think pretty is as pretty does? Or is it interesting enough to have long limbs and a "household... run on wildly democratic principles" where the kids get to vote on what kind of dining-room chandelier to get, as Asma al-Assad's did?