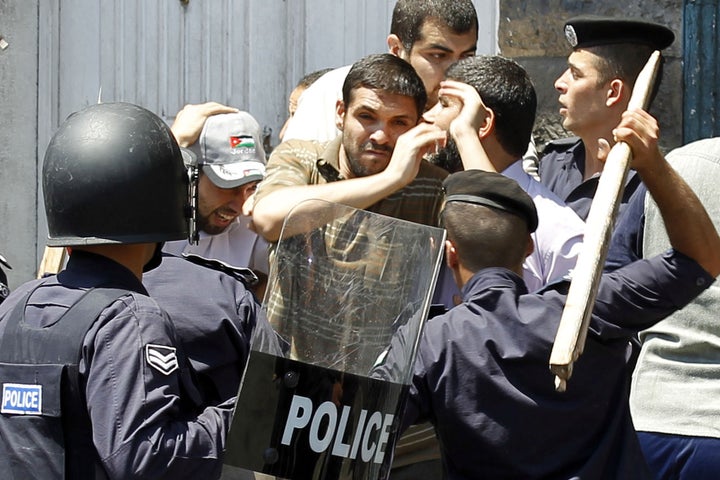 WASHINGTON -- Journalists in Jordan say they were given orange vests by government officials in order to help them safely cover protests there today -- and then attacked by government security forces.
The AFP reported that one of their photographers was among several reporters and protesters injured when police swept into a square in central Amman where pro-reform activists were holding their first open-ended sit-in since a similar gathering in the city in March turned violent.
"We were beaten by police, although we were wearing special press vests," the photographer told the AFP. "We thought we would be safe when we stood next to the police and away from the clashes."
New York Times reporter Kareem Fahim was also beaten by multiple police officers while covering the protest. Michael Slackman, deputy foreign editor, confirmed this to HuffPost, reporting, "When he was approached by police, he identified himself as a journalist and was knocked to the ground and beaten with wooden clubs. I am not sure how many police were involved, I believe he said four. He said he was rescued when a Reuters reporter intervened. He said he was bruised, but otherwise fine."
Reporters from Reuters and Al Jazeera also reported being attacked by baton-wielding policemen.
The handing out of specially designated vests to protect journalists had been hailed on Thursday as an indication that the Jordanian regime was taking steps to accommodate what was expected to be the largest peaceful protests since an uprising there began six months ago.
Some reports indicated that several journalists refused to wear the special outfits.
| | |
| --- | --- |
| | @ calperryAJ : Some jornos and civilians beaten badly in #Amman - some jornos refused to wear bright orange jackets. #Jordan |
Protests in Jordan have been largely under-reported by the press amid the massive scenes of turmoil in neighboring countries, but protests after noon prayers on Fridays have become a regular feature of life in the nation.
Nevertheless, early reports indicate that this Friday -- a day off across the Arab world that, lately, has become synonymous with anti-government protests -- turned out to be one of the more violent days of the Arab uprising.
Police fired live ammunition and teargas in the capital, Damascus, killing five people, and in southern Syria near the Jordanian border, where four people were killed, witnesses and activists said. Three protesters were shot dead in the northern city of Idlibm, they said.

"We are in Midan and they are firing teargas on us, people are chanting," a witness said by telephone from the center of Damascus.

In the city of Hama, scene of a 1982 massacre by the military, live video footage by residents showed a huge crowd in the main Orontos Square shouting "the people want the overthrow of the regime."
Hama has been the site of large protests for months now, and recently came to renewed prominence after American Ambassador to Syria Robert Ford visited the city to offer public support to the pro-democracy activists there.
The Syrian government has repeatedly said they are responding to a violent uprising, with state television reportedly claiming today that violent gangs were firing on the security forces in downtown Damascus.
This raw video purportedly shows a large gathering in the central al-Midan neighborhood of Damascus shortly before police fired tear gas into the crowd:
VIDEO: Homs, police attack protesters, beat with sticks:
The BBC, citing human rights activists, reported earlier that over 300,000 people took part in protests in the eastern city of Deir al-Zour -- near the border with Jordan -- and another 20,000 demonstrated in Damascus before security forces arrived and opened fire.
A Syrian activist reported on Twitter that the police in some places were attacking protesters with hand grenades:
| | |
| --- | --- |
| | @ MalathAumran : Homs: security forces are randomly throwing grenades at protestors in Cairo street #Syria |
On the heels of their original, successful protest to oust dictator Hosni Mubarak, reformers recently returned to Cairo's Tahrir Square to press the military government to meet their democratic demands.
Calling all HuffPost superfans!
Sign up for membership to become a founding member and help shape HuffPost's next chapter