What is life like in the most war-torn country in the world? The Syria Campaign, a human rights advocacy group, posed the question recently to Syrian journalist Rami Jarrah. Streaming live from Aleppo, Syria, Jarrah and a few men and children he said were Aleppo residents described the horrors of daily life in the war-torn city.
"[On] a normal day, we see massacres and a lot of airstrikes," one man said, speaking in Arabic. "What has become not normal ... is if you don't hear any attacks, if you don't hear bullets being fired, if you don't see any signs of war -- this is something we're not used to. We've become used to war."
Between rebel groups, the Syrian government and now Russia, the battle for Aleppo is ongoing and fierce.
"In Aleppo, the main problem right now is the Russian airstrikes," Jarrah said. "There's almost always a plane in the air, and the attacks are random attacks that are targeting civilians so the situation in Aleppo is very, very dire."
A man looks at the rubble of buildings destroyed in the clashes between ISIS militants and Kurdish armed groups in Kobani, Aleppo in March. (Getty Images/Halil Fidan)
When the revolution began in 2011, Jarrah, who was raised in London, was living in Syria. He played a key role in detailing the brutal government crackdowns at a time when the government banned foreign media from reporting freely in the country. He initially used a pseudonym, Alexander Page, to protect his identity. In Oct. 2011, when a friend told Jarrah that the government had learned his real name, he fled the country with his wife and child to Cairo. There, he founded a media group called ANA New Media Association, which "focuses on relaying information coming out of media-isolated areas," according to its YouTube page.
During the recent live stream in Aleppo, when Jarrah asked three boys -- none older than five or six years old -- if they went to school, they all said no. Two said they work, and one said he studies the Qur'an. When Jarrah asked one of them why he didn't go to school, he said he had to quit after airstrikes became a regular occurrence.
"Every time we want to go to school, we're attacked," he said.
When the topic of ISIS came up, Jarrah said it's something many residents fear talking about. "There is a constant worry in talking about ISIS," he said. "[People here] know ISIS will kill them if they ever came back to these areas and knew that they had been talking."
Syrian opposition forces march toward the frontline as they liberate Karakopru village from ISIS in Aleppo in December. (Getty Images/Huseyin Nasr)
Jarrah also discussed the use of the pejorative term "Daesh," the acronym for ISIS in Arabic coined by Syrian activist Khaled al-Haj Salih. "If you say that word, they'll kill you," Jarrah said, since it signals one's opposition to the group. The terrorist group likes to be called "The State," he said.
Although war has become the norm, Jarrah observed that civil institutions are playing a strong role in governing society. Because there's no one government in power, local volunteer-run councils lead various development projects throughout Aleppo, he said.
Jarrah asked residents about the work of the White Helmets, a Syrian civil defense organization that works to save victims of airstrikes. "They're usually at the scene very soon after an attack," one resident said. "Sometimes they're working for days taking people out from the rubble of one attack."
Rescue worker carries child who died after Russian airstrikes hit opposition-controlled Firdevs neighborhood in Aleppo in December. (Getty Images/Beha el Halebi)
Although the group's work is critical, the residents said that the White Helmets have suffered a shortage of fuel and equipment, which the group uses to remove rubble and transport the injured.
One man said he wanted to thank the group. "Without them, there's no life in our city," he said.
One Syrian citizen journalist who Jarrah interviewed during the live stream said residents feared talking to him because they have family members in regime or ISIS-held territory. Jarrah himself recounted a personal example when he tried to film in a hospital but one of the staff members wouldn't allow it, saying others had been punished for taking videos. Jarrah said when he asked why, the hospital staff member answered, "Assad doesn't want us to show the world that we have a civil society."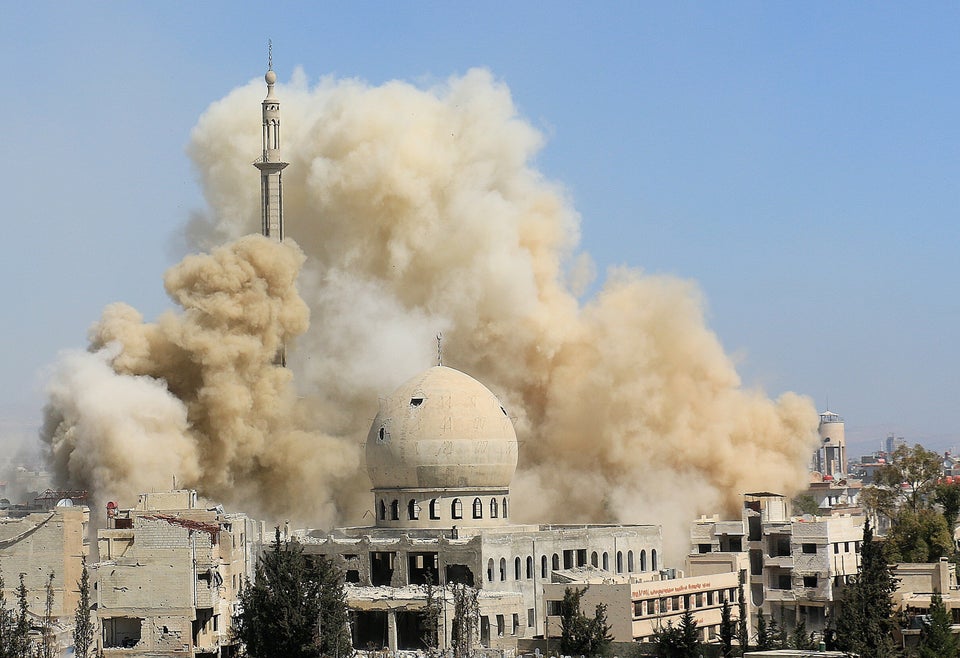 Syria War
Related
Popular in the Community