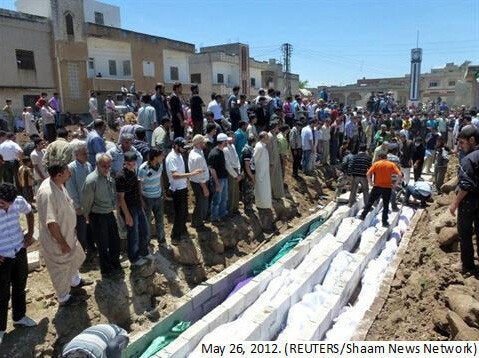 WASHINGTON -- New satellite images of the besieged Syrian region of Houla provide stark evidence of last week's massacre of more than 100 civilians, many of them children, believed killed by government forces loyal to President Bashar Assad's regime.
The before and after photos were taken last Friday and Saturday by DigitalGlobe, a commercial satellite company that provided them exclusively to The Huffington Post. They appear to confirm on-the-ground reports of mass casualties from execution-style killings and shelling of civilians by government troops.
The photos, in the slideshow below, show the village of Taldou, two miles southeast of central Houla.
In one set of images, the city center is seen on the morning of May 25, before the violence began. No unusual activity is obvious.
A second image taken the next day, Saturday, shows what the company said are large crowds massed around the local mosque near the town square. "That was the first tip-off," said Amy Opperman, a manager in the DigitalGlobe Analysis Center, noting that such crowds are more typical of Friday, the Muslim day of prayer.
The people stand near a line of long, light-colored trenches that are believed to be the mass burials photographed by a Reuters photographer on the scene. Analysts compared a clock tower, power lines and other features seen in the photo to confirm the satellite image was a match.
A second set of images taken 24 hours later, at about 10:30 a.m. local time, shows several buildings along the main road in Taldou that appear to have been damaged by bombing.
The satellite images "shed another light on some of the atrocities occurring all through Syria," said Stephen Wood, vice president of the DigitalGlobe Analysis Center. "It provides transparency and awareness that would be impossible to provide otherwise" in a country that has closed its doors to independent, foreign media.
Wood noted that the unclassified images bring the events in Syria "up on the world stage" in a way that secret spy satellite photos taken by the government cannot.
DigitalGlobe, along with its rival GeoEye, hold federal contracts to sell advanced imagery to the Pentagon and U.S. intelligence agencies that are worth more than $7 billion over 10 years. The companies also offer their images to private companies including Google. Wood notes that the images of Houla visible on Google Earth are about two years old and lack the level of detail of the photos released to HuffPost.
This isn't the first time DigitalGlobe's three satellites have captured conflict or monitored tense situations from space. Its imagery of the crisis in Sudan has been used by the Satellite Sentinel Project, a humanitarian organization founded by actor and activist George Clooney. The company has also kept tabs on North Korea's rocket program.
Brad Shannon contributed to this report.
PHOTO GALLERY
Syria Massacre Images
Calling all HuffPost superfans!
Sign up for membership to become a founding member and help shape HuffPost's next chapter
BEFORE YOU GO