Some of the most critically ill people trapped within Syria's besieged Eastern Ghouta area near Damascus are being transported to the capital city for urgent treatment this week.
The evacuations, which come as part of a deal between the Syrian regime and rebel forces, are a grim race against time. Multiple people approved for medical release have already died in the rebel-held enclave, which has been under government siege for four years.
One Syrian infant who had been waiting for transfer was reported dead on Wednesday, according to Mohamad Katoub, an advocacy manager for the Syrian American Medical Society (SAMS). Six-month-old Katr Alnada "was supposed to be evacuated today in the list of urgent 29 people," he wrote on Twitter. "When [a] local team reached her, they found that she died weeks ago."
SAMS had coordinated with local medical workers in Syria and international humanitarian organizations, including the United Nations, earlier this year to produce a list of 29 people in Eastern Ghouta who were in desperate need of medical care. The list included at least 18 children. Four patients were transported to Damascus hospitals on Tuesday night, and the rest are set to be moved in the coming days.
The International Committee of the Red Cross, which is operating with the Syrian Arab Red Crescent to move patients to Damascus, called the evacuations "a positive step."
SAMS President Dr. Ahmad Tarakji said there need to be more evacuations, although he is "very skeptical" that anyone beyond the 29 approved patients will be allowed to leave. "We feel that this was a very limited step," he told HuffPost, adding that increased international pressure was likely the main reason behind the deal.
"Ghouta has been suffering from prolonged besiegement for years," he said. "You can tell how emotional this is for the patients."
The people released represent just a small fraction of the current 641 critical cases in need of urgent medical attention in Eastern Ghouta, according to SAMS. Among those on the waiting list is 9-year-old cancer patient Moayad Hamed, whose brain tumor is growing due to a lack of treatment. Nineteen other patients have already perished.
Karim Abdel Rahman, another Syrian baby held under siege, lost his left eye during an artillery attack in Eastern Ghouta two months ago. Photos of his injury have stoked international outrage.
"Of course I was very sad," Anas Altaan, a volunteer with the Syria Civil Defence team, told HuffPost on Wednesday. Altaan was part of the rescue mission that rushed Rahman to a hospital.
"This child lost his eye because of someone who wants to remain in the presidency," he said, referring to Syrian President Bashar Assad.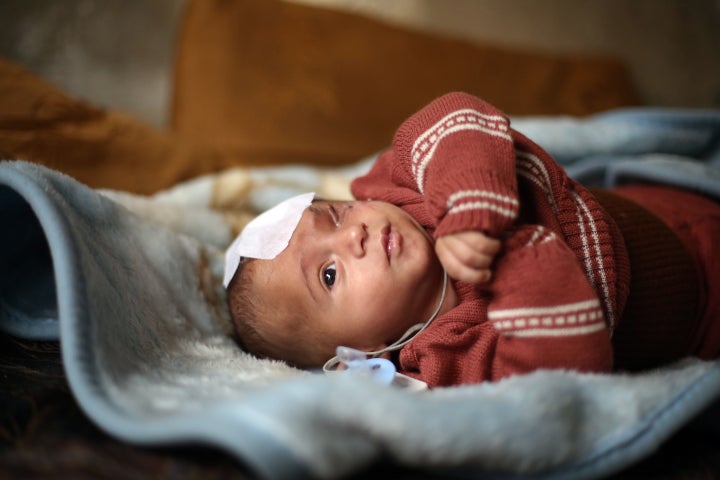 Jan Egeland, the United Nations humanitarian adviser for Syria, said last week that hundreds of people were on the priority list for medical evacuations.
"That number is going down, not because we are evacuating people but because they are dying," he said. "We have tried now every single week for many months to get medical evacuations out, and food and other supplies in."
For those left behind in Eastern Ghouta, the ratio is now less than one doctor for every four thousand people. More than 424,000 men, women and children have been under complete siege since 2013, shortly after a sarin gas attack by regime forces claimed an estimated 1,429 lives there.
As Syria's government and its allies continue their blockade of Eastern Ghouta and other areas, they have pursued a "surrender or die" strategy, which "amounts to a campaign of widespread collective punishment," according to a new report from Siege Watch published this month. The ongoing atrocities constitute war crimes and crimes against humanity, the report charges.
Despite numerous ceasefire agreements and U.N. resolutions demanding unobstructed humanitarian access, armed forces loyal to Assad have continued to target civilian residential areas, including hospitals and schools, with airstrikes. The international community's inadequate response has only emboldened the Assad regime, Siege Watch asserts.
Tarakji said he is "optimistic that we will continue to put pressure on the Syrian regime on all sides." But, he added, "people are concerned about the longevity of this process [of evacuations]. They are concerned that this will not be continued or repeated in the future."
Related
Popular in the Community