Americans are far less likely to support military action in Syria than they have been in the past 20 years to endorse other interventions, including the wars in Iraq and Afghanistan, a Gallup poll released Friday finds.
Asked whether they favored or opposed the United States taking military action against Syria in order to reduce that country's ability to use chemical weapons, just 36 percent said they favored doing so, while 51 percent were in opposition.
In comparison, a majority of the public supported action during the run-up to engagements in Iraq, Afghanistan and the Persian Gulf in 1991. Views on military intervention in Kosovo and the Balkans were about evenly split. In many of those cases, support rose once military action had started, according to Gallup, something known as a rally effect.
"Historically, Americans often rally around military actions once engagement begins, and should Congress authorize U.S. action in Syria, this may also heighten support for it -- if it occurs," Gallup's Andrew Dugan writes. "Currently, though, much of the nation would rather sit this one out."
The public's attention to Syria's civil war has spiked sharply in past months. Seventy-one percent of Americans now say they're paying attention, up from 48 percent in June.
Democrats were most likely to support military action, with 45 percent in favor and 43 percent opposed. Majorities of independents and Republicans were opposed. Self-described moderates were split, with 40 percent in favor and 43 percent against, while majorities of both self-described conservatives and liberals opposed taking action.
Nearly all recent surveys, have found high levels of opposition. In five of the latest polls, most asking specifically about airstrikes, support for intervention ranged from 25 percent to 42 percent, depending on the phrasing of the question.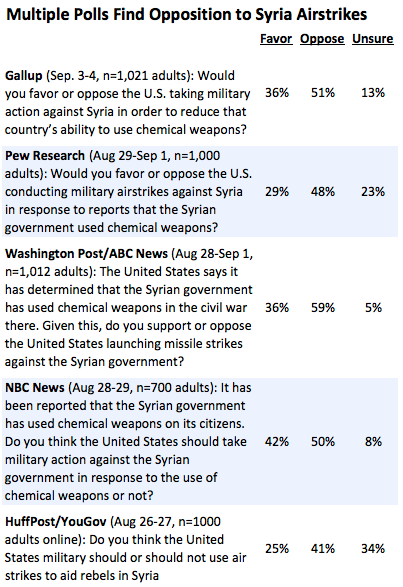 Results by party and ideology have varied widely, however, reflecting a number of factors: slight differences in phrasing, an ever-changing political situation, and Americans' mixed feelings about the possibility of military action more generally and the president who would lead it -- not to mention simply some random variation.
The Gallup poll surveyed 1,021 adults between Sept. 3 and Sept. 4, using live phone interviews.
Mark Blumenthal contributed reporting. Infographic by Jan Diehm for The Huffington Post.
Calling all HuffPost superfans!
Sign up for membership to become a founding member and help shape HuffPost's next chapter
BEFORE YOU GO
PHOTO GALLERY
Here's What Politicians Have Said About Syria