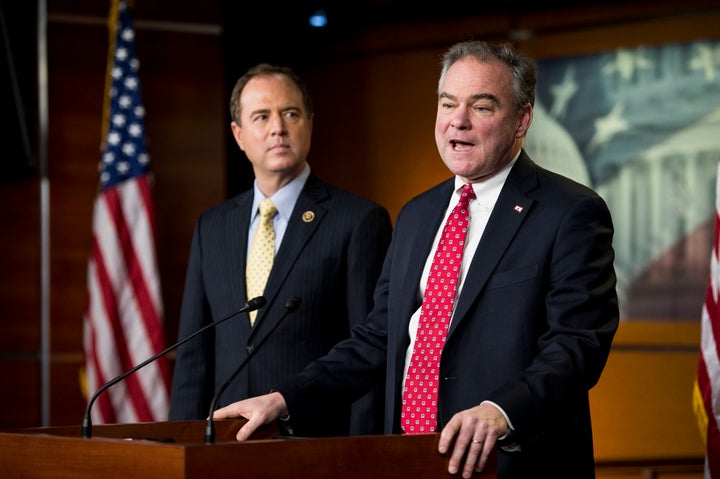 WASHINGTON ― Two Democratic lawmakers asked President Donald Trump on Thursday to explain how it was legal for him to bomb Syria last week without first getting congressional authorization.
"We share your outrage and disgust at the horrific use of chemical weapons by the Syrian regime," reads a letter from Sen. Tim Kaine (Va.) and Rep. Adam Schiff (Calif.). "However, the legality of military action is not a secondary consideration ― it is a central question of vital importance under our Constitution and our system of checks and balances."
Here's a copy of their letter:
The two also pushed for Trump to release a memo that is apparently floating around within the administration that lays out a detailed legal justification for taking military action in Syria. The problem with not releasing that memo, they argued, is that it could be used as precedent for the Trump administration to take additional military action against other countries without Congress' approval.
Kaine and Schiff wrote a similar letter to Trump a year ago, asking how it was legal for him to launch 59 Tomahawk missiles on a Syrian government airfield in April 2017 ― the first-ever direct military strike by the U.S. against President Bashar Assad's regime. They never got a reply.
It's not just Democrats insisting that the president has to come to Congress before taking military action against Assad's regime. Hours before Trump bombed Syria on Friday, dozens of lawmakers in both parties said he needed to get signoff from them.
Congress is constitutionally required to authorize any sustained military action. A president can only use his or her authority as commander in chief to order U.S. forces into military action if the safety or strategic interests of the United States are threatened. Neither was the case last week, nor last year.
"We reiterate that your Administration must provide a legal basis for both the 2017 and 2018 strikes."
The White House did provide Congress with a vague legal explanation for its actions in an April 15 letter. It says the president acted "in the vital national security and foreign policy interests of the United States" under his authority as commander in chief.
Kaine and Schiff say that explains nothing.
"This is not sufficient information for the American public to understand what limits, if any, you and your Administration believes constrains you as the President from taking military action anywhere in the world for any purpose 'to defend important U.S. national interests,'" they said. "We reiterate that your Administration must provide a legal basis for both the 2017 and 2018 strikes."
Asked for comment, White House press secretary Sarah Huckabee Sanders told HuffPost that Defense Secretary James Mattis "has addressed this."
Sanders did not clarify when. Presumably she meant Mattis' testimony to the House Armed Services Committee last week, before the strikes occurred, when he was asked directly by Rep. John Garamendi (D-Calif.) about the legal justification for Trump to attack Assad without Congress' authorization.
Mattis said only that Trump has the right "under Article II," which lays out the authority of the commander in chief. But he couldn't say why.
"I'll have the lawyers get back to you for the broader issue," he said.
Before You Go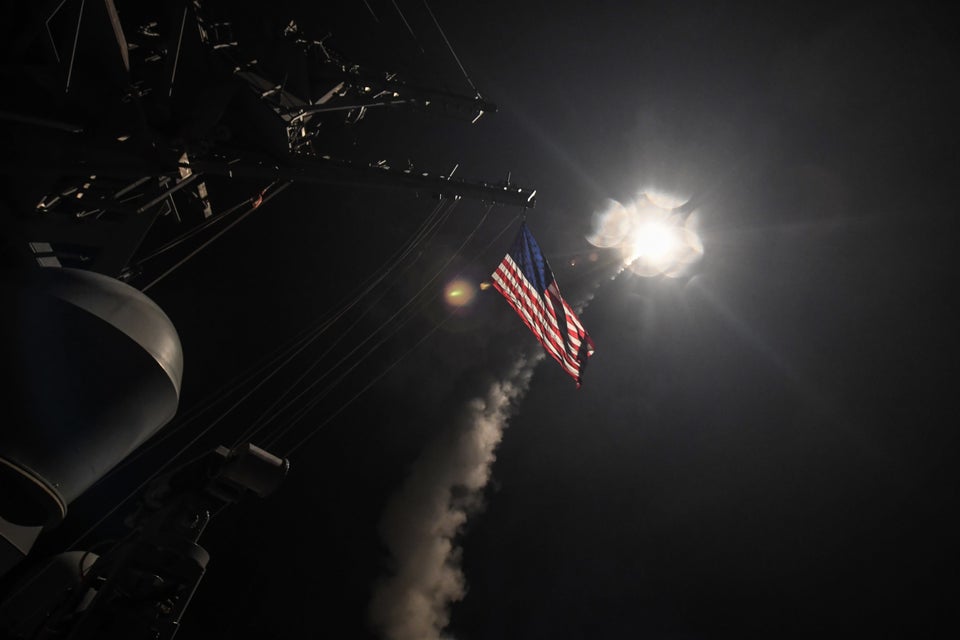 U.S. Strikes Targets In Syria
Popular in the Community