We can't let civilians starve to death because of this tragic civil war in Syria. But right now in the town of Darayya, in Southern Syria, thousands of innocent civilians have no food or medicine.
The Syrian government won't let the United Nations bring humanitarian aid into the town, despite repeated requests. They allowed UN observers to come, but would not let them bring food and supplies.
The UN mission said the "nutrition situation is very bad" in Darayya. Children without nutrition will suffer lasting physical and mental damage or death. They need the food now.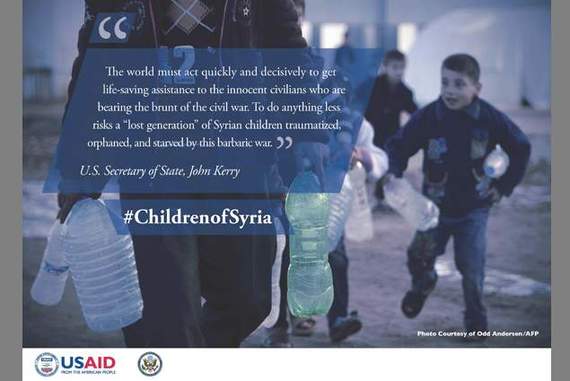 A previous World Food Programme report said that in Darayya "In the most severe cases, they are enduring entire days without eating, sending children to beg and eating grass/ wild vegetation."
President Obama, Russian president Putin and other leaders have to pressure the Syrian regime to end it's starvation tactics on civilians. Food must be allowed into Darayya and other cities under siege. The world cannot look away from these atrocities.

President Obama just ordered hundreds more U.S. special forces to Syria to help the fight against ISIS. Syria is the home base of the terrorist group, having emerged there during the chaos of the five year civil war. While the U.S. forces will assist in a non-combat role, it demonstrates an increasing scale of involvement in Syria.

But the other critical part of our strategy for Syria is food. As we speak there are civilians hungry and displaced by the war throughout the country.

We also have to step up funding to make sure there is enough food to meet emergency needs. Innocent Syrians depend on our Food for Peace program to survive. Food for Peace, which was started by President Dwight Eisenhower, is our main program that donates to fight hunger overseas.

President Obama and Congress need to increase funding for Food for Peace, especially during wartime. Where there is conflict, you will find deadly hunger and malnutrition.
The World Food Program USA, Catholic Relief Services and others are urging Congress to increase funding levels for Food for Peace and other aid programs.
Food for Peace funding is critical as it's the single largest donor to the UN World Food Programme (WFP). The WFP, which depends on voluntary donations, leads the hunger relief mission in Syria.
Video footage of WFP food deliveries into besieged Syrian cities earlier this year. (courtesy of WFP)

At this very moment civilians are fleeing offensives by ISIS in northwest Syria, as the terrorist groups seeks to gain territory. Some of these victims were already living in camps, having been displaced by prior fighting.
Now they are being forced to run for their lives again, as the front lines move toward them. Everywhere ISIS goes hunger follows.

WFP leads teams that rapidly respond to displacement in Syria by delivering ready to eat food rations. Only through funding can they provide this life-saving food.

To demonstrate how challenging the Syria mission is we need to look no further than the city of Deir ez-Zor. Over 200,000 Syrians there have been starving under ISIS siege.

The WFP cannot reach them by ground because of the ISIS blockade. So WFP has started air dropping food from high altitude to avoid being shot down.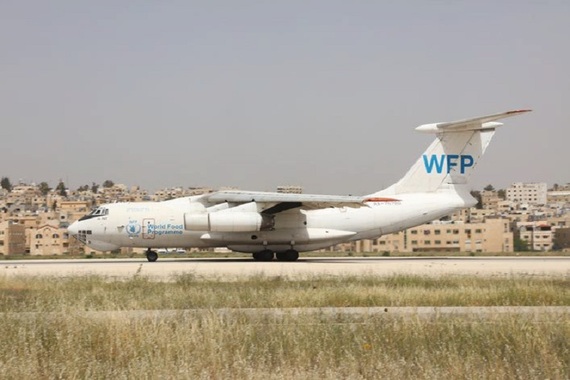 A World Food Programme aircraft readies for take off to airlift food to Syrians trapped by ISIS in the city of Deir ez-Zor. (photo courtesy of Shada Moghraby/World Food Programme)
These extremely difficult drops are starting to work effectively. Syrian civilians are being reached with food dropped by WFP and distributed on the ground by the Syrian Arab Red Crescent. WFP is now increasing the number of drops to reach more hungry people in the city.

Staffan de Mistura, the UN Syria peace envoy, says, "To do so they will be requiring more funds, but I hope there will be no problem because for an operation like that, which is quite unique and can be replicated elsewhere, funds should not be a problem."

Exactly. While we cannot control everything that goes on in Syria, we can make sure there are funds for food aid. We can make sure there are no shortages or ration cuts because of low funds. That we can control.

We have to power to make sure these incredible hunger relief missions in Syria go forward. By funding our Food for Peace program we save lives and help people get through conflicts and disasters. Food is one of the few stabilizing forces they have. Food helps bring about peace.

Syria will need food as long as the civil war continues. Umm Hassan, a single mother whose husband was killed by ISIS, depends on food aid to survive.
She told the WFP after a food delivery with dairy and meat, "I am so grateful for the assistance, it feels like God intervened after everything that happened to me and my family. Through this assistance, most of my family's food needs are secured and I can focus on taking care of my children."

If we fund our Food for Peace program we can help meet the emergency needs of war victims in Syria and elsewhere.

As Congress works on the new budget they need to prioritize fighting hunger through Food for Peace and other aid programs like McGovern-Dole school lunches.

Syrians need many things. They need peace. They need the basics of food and other humanitarian aid. They need the international community to do everything in it's power to make sure they get these life-saving supplies.
Related
Popular in the Community