We, the international community, must speak out for the people left starving by Syria's civil war. All across Syria, civilians are routinely being blocked from receiving the food needed to survive. The world cannot turn its back on these innocent war victims.
One scene of this ongoing tragedy in Syria is Yarmouk and the nearby towns of Yalda, Babila and Beit Saham. They all need life-saving food right away. Years of civil war has ruined food supplies for this area.
But this spring things got even worse. Yarmouk came under attack by ISIS.
The assault forced the United Nations Relief and Works Agency (UNRWA) to suspend deliveries of food into Yarmouk. Since that time Yarmouk is a battleground among pro-government forces and rebel groups. Innocent civilians who are left cannot receive the aid they so desperately need.
UNRWA spokesperson Chris Gunness says, "We have had no access to Yarmouk since 28th March....Very bad situation. Much concern." A ceasefire must take place to allow food into Yarmouk once again.
Now thousands of Syrians and Palestinians did flee Yarmouk. They scattered to Yalda, Babila and Beit Saham. There they hoped to find safety and basic supplies.
UNRWA was able to provide food, water and medical care to those displaced from Yarmouk. Food distributions were taking place during May and into June of this year.
Not only was food being provided to those displaced, but also to the impoverished host communities. Kitchens at shelters were set up to make sure no one went hungry.
The food distributed by UNRWA included Plumpy'Doz, an enriched peanut paste which spares children from deadly malnutrition.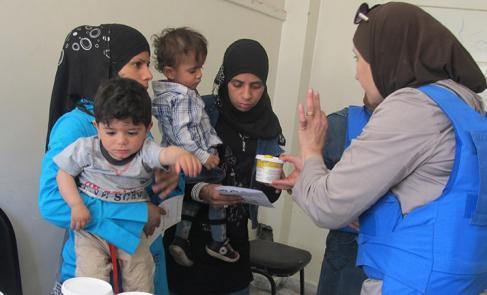 The UNRWA distributed Plumpy Doz nutritional supplements to families with children under five years old, generously contributed by the World Food Programme (WFP). (UNRWA photo)
But then on June 8, a UNRWA truck was stopped by the Syrian government. According to the UN:
"On 8 June, UNRWA attempted a mission to the same area, but was turned back at a government-controlled checkpoint, with no explanation given for the obstruction of humanitarian assistance."
UNRWA has not been able to deliver aid since. They keep pleading with the Syrian government to let the food go through.
The international community cannot accept this obstruction. There are people who need this food to live. There are children at risk of malnutrition who must be able to eat Plumpy'Doz. Malnutrition can cause lasting physical and mental damage, or even death in small children.
UNRWA has supplies ready to go into Yalda, Babila and Beit Saham. If the Syrian government would just allow the access, the trucks of food and hope will roll immediately.
The UNRWA says a limited medical mission to treat cases of typhoid may be allowed past the government checkpoints. These supplies should most definitely be allowed to pass through.
It's not clear whether food aid will be allowed though. But it should be. It must be. UNRWA says it will continue to plead for the resumption of the food aid.
The food, medicine and every other humanitarian supply should not have to wait until next week. It should be allowed through now into Yalda, Babila and Beit Saham. It must be resumed into Yarmouk itself.
Before the siege of Yarmouk too place this spring, UNRWA was providing Plumpy'Doz to children. Now without it, how do they fight off malnutrition?
Syrians are tired of fighting and war. They need ceasefires and peace treaties. The people of Syria need life-saving food aid. They need the strength to rebuild their country when the scourge of war is finally and thankfully gone. They need to rebuild their agriculture, or there will be no future for the country.
The international community has come together before to aid the hungry and sick. We must use every bit of our power and influence now to encourage Syria to let the food into besieged areas.
Yarmouk, Yalda, Babila and Beit Saham are some of the areas waiting desperately for this help to arrive. It's food for peace and all of Syria needs it.
Popular in the Community