 When Syrian athletes participate in the Summer Olympics this year, they will compete under the flag of a country bathed in blood.
Violence in Syria has escalated in the past few weeks after over a year of turmoil, as forces loyal to the regime of President Bashar Assad clash with opposition forces. Four senior officials from Assad's inner-circle were killed in a bombing on July 18, and fighting between government forces and rebels has shifted into the country's capital, Damascus.
Yet ten athletes from Syria have traveled to London to represent their beleaguered country. The six men and four women will compete in seven sports, including high jump, hurdles, swimming, and shooting. So who are the Syrian athletes competing in the Games while their country slips into sectarian civil war?
Syrian International Olympic Committee member Samih Moudallal chose men's high jump competitor Majed Aldin Ghazal as Syria's best prospect to take home a medal this year. The 25-year-old reportedly will carry the flag for Syria at the opening ceremony. According to AFP, he says his hope is "to do my best to honor" Syria. Photo credit: LOUAI BESHARA/AFP/Getty Images
Ghfran Almouhamad will run the women's 400m hurdles. The 23-year-old says, "It will be amazing to hear the Syrian national anthem played in London," AFP reports.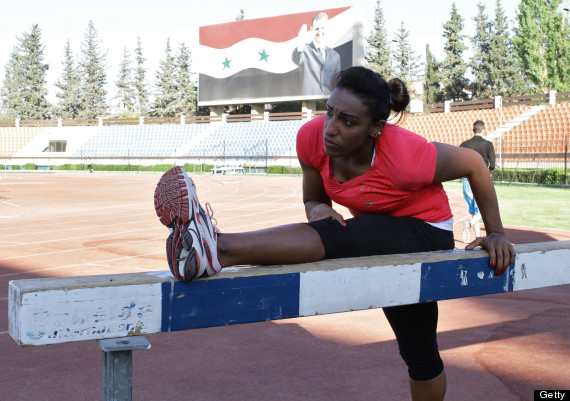 Photo credit: LOUAI BESHARA/AFP/Getty Images
18-year-old Bayan Juma will swim in the women's 100m Freestyle.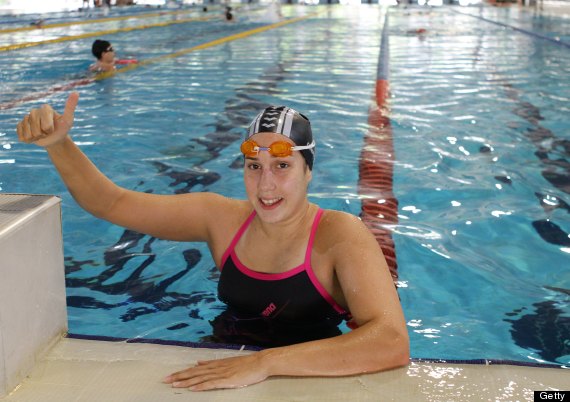 Photo credit: LOUAI BESHARA/AFP/Getty Images
24-year-old Raya Zin Aldden, who received a wild-card invitation, will compete in the women's 10m air rifle shooting. Photo credit: AP/Bassem Tellawi
More information about Syria's athletes, including the six competitors not profiled here, is available at London2012.com: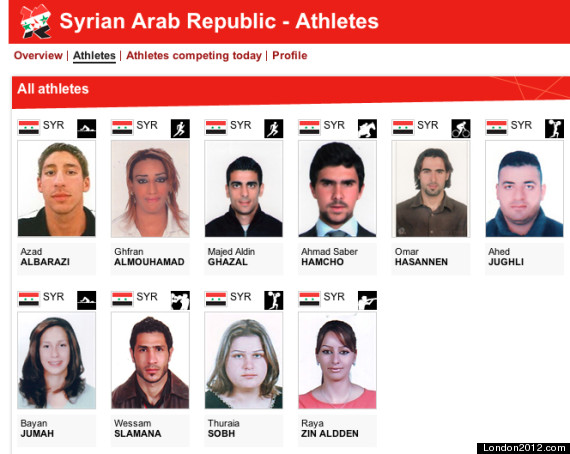 The International Olympic Committee insists that the Games remain above the fray of international politics, however the BBC reports that the Syrian Olympic Committee's head, General Mowaffak, Joumaa, was denied a visa to travel to the U.K. Until the athletes arrived in London, there was uncertainty as to whether the team would be permitted to compete.
On Friday, regime artillery pounded Syria's second city, Aleppo, as a U.S. State Department spokesman warned of an impending "massacre." Activists estimate that more than 19,000 people have been killed in the violence since March 2011.
According to AFP, this is Syria's largest Olympic delegation since the 1980 Games in Moscow.
Popular in the Community