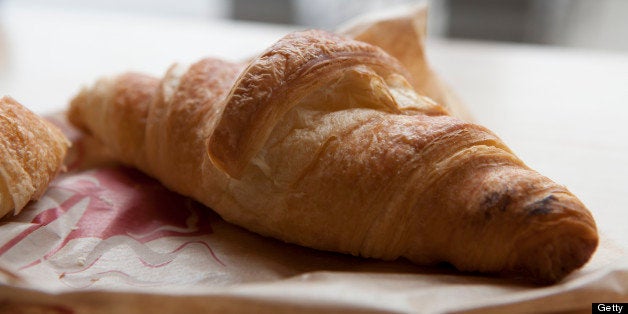 As forces loyal to embattled Syrian President Bashar al-Assad are launching continuing assaults on Aleppo, some fighters in the city have set their sights on a new enemy: croissants.
A religious judicial council in Aleppo has issued a fatwa clarifying that croissants are forbidden under its interpretation of Sharia law, according to a report in Arab daily Asharq Al-Awsat, translated by Al-Arabiya.
The fatwa or religious ruling, a copy of which circulated online, condemns croissants as a symbol of colonial oppression. According to Asharq Al-Awsat, the fatwa specifies that the pastry's "crescent shape celebrates European victory over Muslims."
The ruling appears to have been made by Sheikh Abu Mohammed of the Islamic court Hayaa al-Sharia. Since its establishment, reports Al-Monitor, Hayaa al-Sharia has also investigated people for drinking alcohol and wearing shorts.
The influence of Aleppo's religious courts has grown exponentially in the absence of legitimate government in the city. However, fatwas like the one issued against croissants and an earlier one forbidding women from wearing tight clothing or makeup clash with the city's moderate history, leaving many of its residents uncomfortable.
Are croissants really a symbol of colonial oppression? The supposed link seems to derive from a tale told in a 1938 French cookbook. According to the Larousse Gastronomique, the pastry's crescent shape is a tribute to bakers who foiled a Turkish attack on Budapest in 1686.
But food historians have questioned the validity of the story, noting that the modern form of the croissant was not documented until 1906.
Calling all HuffPost superfans!
Sign up for membership to become a founding member and help shape HuffPost's next chapter
BEFORE YOU GO
PHOTO GALLERY
Syria War In July (WARNING: GRAPHIC IMAGES)