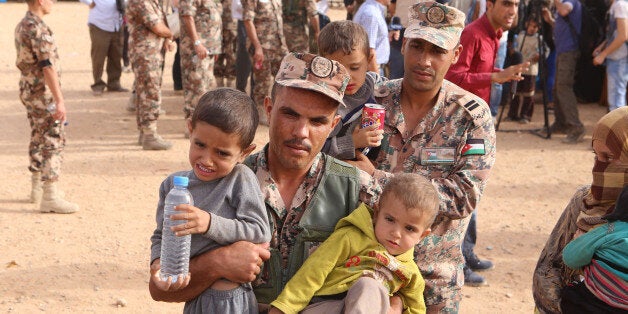 Khadija arrived in Jordan two years ago at 29 years old with her infant son. She came to meet her husband who had defected from the Syrian government early in the war. Colleagues at work warned her that she was in danger from the authorities, so she packed up and left overnight.
Now living in Zarqa, a poor Jordanian city teeming with factories and crumbling apartment blocks, she is looking for work. She says, "UNHCR has cancelled our assistance, we relied on the government clinic for my son's asthma, now we have to pay ourselves and the medicine is very expensive... if we can't work, we will die."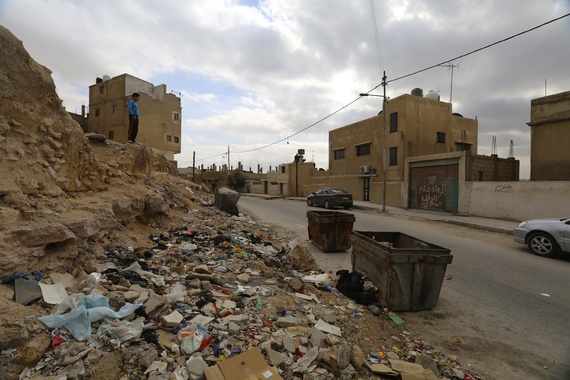 Poor neighborhood in Zarqa, Jordan hosting large number of refugees. Photo: Alice Su. World leaders are in New York City this week for the United Nations General Assembly (UNGA). One item on the agenda is the Syria refugee crisis. While the United States President Obama and Russian President Vladimir Putin traded criticisms on the war in Syria, little progress has been made on what to do about the refugee crisis.
World leaders must accept that millions of Syrian refugees will remain in limbo in Syria's neighboring countries, unable to return home or resettle in wealthier nations. Unless refugees are able to earn a living, they will remain dependent on dwindling humanitarian aid. More than four million Syrians have fled their country. Nearly half have sought shelter in Turkey, 1.2 million are in Lebanon, and over 630,000 are registered in Jordan. The flow of Syrians seeking refuge has no end in sight. The UN estimates an increase of almost 1 million Syrians into neighboring countries by the end of the year. Deteriorating conditions in Lebanon and Jordan, particularly cuts in food aid and healthcare, have become intolerable for many, pushing close to 250,000 Syrians by mid-September to risk their lives in search of safety in Europe. Last week, the World Food Program (WFP) cut food rations to 1.6 million Syrian refugees, leaving refugees to survive on 50 cents a day in Lebanon and Jordan. Hanin Issa and her family - husband and two children - survive on WFP food rations. They fled bomb raids in Aleppo in 2013. Now they live in Shantila camp in southern Beirut, originally set-up for Palestinian refugees in 1949. The camp swells with an additional 12,000 Syrian refugees. To save money on rent, Hanin's family has moved into a cramped two-bedroom apartment with 15 other people. She explains that the money once used for rent now goes towards food. In Jordan, two-thirds of Syrian refugees live below the national poverty line, and one in six live in extreme poverty, surviving on $1.30 a day. UNHCR provides critical cash assistance to refugees in Jordan -- but even this can be as little as $71 a month. Refugees need to supplement the aid they receive; yet they cannot legally find work. Because children can slip under the radar, they end up supporting families through low-paying, informal jobs. Close to 50% of Syrian children work. To help address the Syria refugee crisis spilling over into Europe, Germany and the United States have called for increased aid to United Nations refugee camps in the countries neighboring Syria. The United States pledged $419 million in additional assistance to those affected by war in Syria. Part of the new funding will respond to the 2015 appeals of $1.67 billion from the United Nations for Syrian aid in the region. Even with this contribution, the UN appeals for humanitarian aid are only 41% funded, resulting in the cutbacks to food. Humanitarian aid has historically focused on immediate needs - food, water, shelter and healthcare. It is given with the expectation that resettlement or return will occur in the near future. However, today, nearly two-thirds of refugees in the world - over 14 million people - are uprooted for an average of 20 years. In addition to humanitarian aid, assistance to refugees needs to emphasize skills, training and economic opportunities so people can rebuild their lives. There is reason to believe that refugees can contribute to local economies. A World Bank evaluation on the impact of Syrian refugees on the Turkish labor market found that an influx of Syrian refugees into Turkey led Turkish workers to switch to more skilled and formal sector jobs and away from jobs that were mostly manual labor on farms. In Jordan, Syrians have boosted consumption, increased foreign assistance, and improved GDP growth from 2.2 percent to 3 percent. They bring skills with them. Some start new businesses with Jordanian partners, creating jobs for others. Others take on informal jobs in agriculture, construction and manufacturing that are hard to fill. A Chatham House research paper estimates that unemployment in regions in Jordan most impacted by refugees decreased in 2014. The Government of Jordan is now considering policies that may open up specific labor markets to Syrian refugees. Other countries should follow suit.
Supporting Syrians' livelihoods is not a step towards full local integration, but part of an interim strategy to benefit economies and lives of the millions of people trying to escape Syria's civil war. The international community must continue to advocate for refugees' self-reliance. We must ensure that in addition to immediate aid, refugees have access to skill-building, financial resources, and economic opportunities, so they have the chance to build their own futures.
Calling all HuffPost superfans!
Sign up for membership to become a founding member and help shape HuffPost's next chapter