With a harrowing series of animations, the humanitarian group Save the Children hopes to show how the crisis in Syria is taking its toll on the psychological well-being of refugee children.
The animated images, produced by photographer Nick Ballon and artist Alma Haser, interpret the haunting audio, in which the children and their family members talk about how the war has made them feel.
The photos were all taken near the Syria-Turkey border, according to a release from Save the Children. Haser altered those images by ripping, cutting, folding or crumpling the paper to visualize the children's experiences.
"I hate it when I am alone," 9-year-old Hassan says in the animation below. (All the refugees' names have been changed to protect their privacy and security.)
After seeing his father shot dead at point-blank range, Hassan became withdrawn and began stammering, according to Save the Children.
"When I get afraid my body starts shaking," Hassan says in the recording, as the image starts crumpling into the shape of wings. "I dream of a big bird, bigger than me, that I can ride it and fly away."
Kids in Syria are living in constant fear, Save the Children found in a recent report. Some wet the bed, some try to harm themselves, some even try to kill themselves. Mental health experts warned that the "toxic stress" from "prolonged exposure to war, stress and uncertainty" may have lifelong negative impacts on the children's mental and physical health.
"Our report is the first in-depth look at the mental health of these kids, and the psychological scars are dramatic," Greg Ramm, the vice president of humanitarian response at Save the Children, told HuffPost. "But reports and statistics and numbers can be numbing. What the images are trying to do is to take those numbers and put a name and face of a child to them, and make it real."
Seven-year-old Razan is pictured in the animation below, but her sister does the speaking. Razan was pulled alive from the rubble of an attack that left her without parents, according to Save the Children.
"She is no longer Razan," her sister says in the animation. "She looks like Razan. … But she is absent. … She never came back to how she was before."
With these videos, Save the Children said it hopes to break through "the now familiar news imagery of Syria's war." Millions of people have seen the pictures of 5-year-old Omran Daqneesh, aka "the boy in the ambulance," and 3-year-old Aylan Kurdi, whose body was found washed ashore in Turkey.
"People do become desensitized to six years of war," Ramm said. "We hope these images provide a fresh look at what's going on ― because the situation in Syria and the surrounding countries has not gotten any better just because it's not in the news."
The children featured in the series are living as refugees near the Syria-Turkey border, either in homes or residential centers, according to Save the Children. All of them receive some form of counseling or psychological support through the humanitarian group.
"At my aunt's house my cousins all died," 9-year-old Nesreen says in the animation above. "I hope my voice will be heard by everyone. ... We don't want anything else, just help for Syria."
By executive order, President Donald Trump has banned refugees from entering the U.S. for at least four months and cut the total number of refugees to be admitted for resettlement this fiscal year from 110,000 to 50,000.
"If you've fled your home, and you have some hope people around the world will offer help to restart your life, the message you get is, 'You're not welcome here,'" Ramm said of Trump's ban. "That's why people of goodwill need to stand with these refugees, support programs that help them, but also speak out. Call on our government to do the right thing by refugees."
For HuffPost's #LoveTakesAction series, we're telling stories of how people are standing up to hate and supporting those most threatened. Know a story from your community? Send news tips to lovetips@huffingtonpost.com.
Related
Before You Go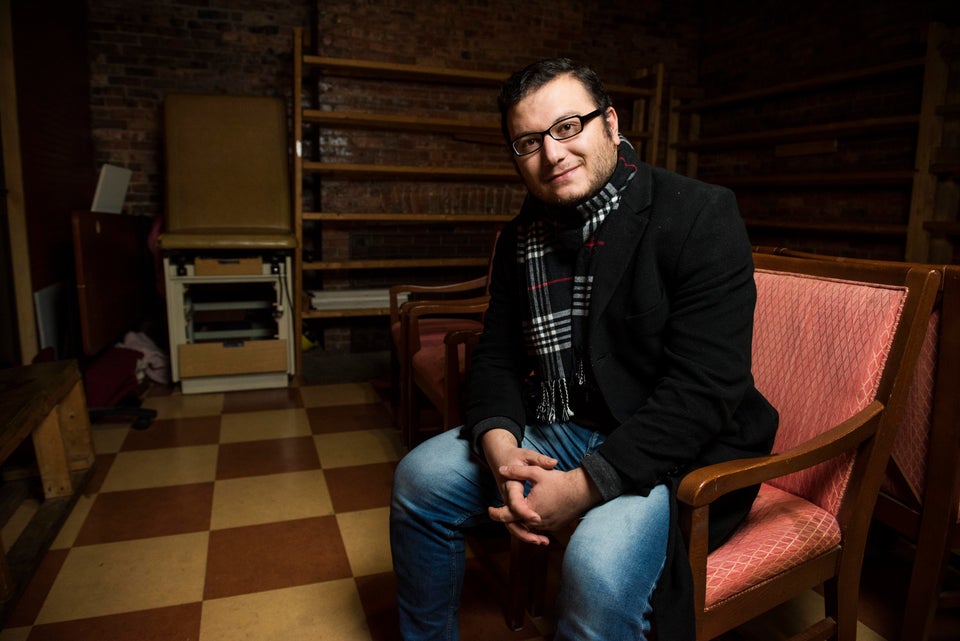 Portraits of Syrian Refugee Men Resettled In The U.S.
Popular in the Community