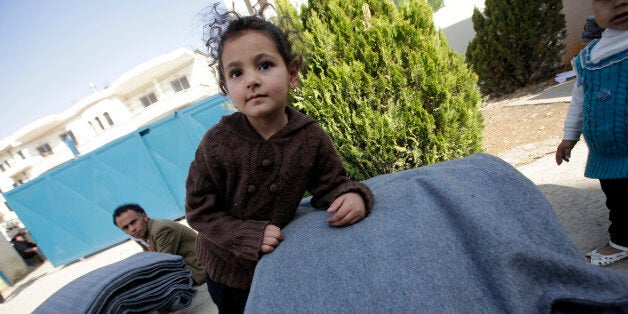 GAZIANTEP, Turkey -- As the first flakes of snow fell on the already frozen ground of southern Turkey Tuesday night, refugee agencies and activists were scrambling to finish preparations ahead of the initial storm of a season that could further devastate refugees from Syria's ongoing civil war.
A winter storm is set to hit over the next 36 hours, with snow, freezing rain and high winds expected to blanket much of an area -- from Iraq in the east to Lebanon in the west -- that currently holds an estimated 9 million refugees and displaced people.
In Turkey, where the government directly controls refugee care with the assistance of the international community, the state office for emergency management reportedly issued a last-minute plan to allocate additional housing for unprotected refugees.
At least a half-million Syrians are registered as refugees in Turkey, about a third of whom live in well-maintained campsites. The rest -- and many more who go unregistered -- live independently across the country's cities and towns.
But Turkey has also frequently blocked Syrian refugees from entering in large numbers, and some of the very worst-off are those still stuck inside their country's borders. There, international aid groups have faced major political and safety challenges in delivering assistance, and activists warn there is little sign of improvement ahead of winter.
At the Atama camp, along the border in Syria's northwestern Idlib province, a Syrian opposition activist told The Huffington Post by phone Tuesday evening that few people seemed prepared for the inclement weather.
"In the camp, a few people have heating, but really there's nothing to do to prepare for the storm," Alaa El Din Al Youssef said. "If you have a blanket, you stay under it. Some people are in tents, some are in empty rooms, some are under nothing more than a bit of wood or covering to protect from the snow."
Already at the camp, winds had picked up and the cold was biting, Al Youssef said.
"Right now I am standing in the camp and I'm wearing three sweaters and a jacket, and still I feel like I'm about to die out of the cold," he said. "I can see five women who are just sitting outside around a fire, trying to stay warm. No one has done anything for us."
Aid workers regularly describe the challenge facing the international community to help Syria's refugees as monumental. With the civil war entering its third year, funds all but used up and donor interest waning, refugees still stream into neighboring countries at a startling rate.
Over the past few months, for instance, prolonged fighting near a border town in western Syria drove some 20,000 refugees into a single, already cramped town in Lebanon.
In Lebanon, one local aid worker, who manages winter preparation projects for a non-governmental organization, characterized his program as delayed and under-equipped. "It's a big deficiency," he told HuffPost.
He described seeing large families living in squatter conditions in Beirut and forced to share just two or three blankets.
In the Bekaa Valley, where most of Lebanon's nearly 1 million Syrian refugees reside, often in informal encampments and abandoned buildings, workers were racing to deliver more blankets and shelter ahead of the storm.
"Unfortunately, I can't be very reassuring," the Lebanese minister of social affairs, Wael Abu Faour, told the Agence France-Presse on Tuesday. "We will do our best to alleviate suffering, but not to make it disappear."
Calling all HuffPost superfans!
Sign up for membership to become a founding member and help shape HuffPost's next chapter
BEFORE YOU GO
PHOTO GALLERY
Syrians Find Tenuous Refuge In Lebanon