By Erika Solomon and Khaled Yacoub Oweis
BEIRUT/AMMAN, Aug 26 (Reuters) - U.N. chemical weapons inspectors in Syria met and took samples from victims of an apparent poison gas attack in a rebel-held suburb of Damascus on Monday after the U.N. team themselves survived a sniper attack that hit a vehicle in their convoy.
A Syrian doctor told Reuters from the suburb, Mouadamiya, that investigators from the United Nations had crossed the frontline from the centre of the capital, which remains under the control of President Bashar al-Assad's forces.
The U.N. said one vehicle in its convoy had been crippled by shooting by "unidentified snipers", but mentioned no injuries. Their arrival meant whoever fired had failed to turn them back.
With Western powers considering military strikes, despite vocal opposition from Assad and his Russian and Iranian allies, any evidence to support rebel claims that government forces fired gas-laden rockets five days ago that killed hundreds of civilians will be a key element in arguments for peace or war.
"I am with the team now," the doctor who uses the name Abu Karam told Reuters by telephone from rebel-held Mouadamiya.
"We are in the Rawda mosque and they are meeting with the wounded. Our medics and the inspectors are talking to the patients and taking samples from the victims now."
Wassim al-Ahmad, an opposition activist, said members of the Free Syrian Army umbrella rebel organisation and the opposition's Mouadamiya Local Council were accompanying the inspectors on their tour of the suburb.
"The inspectors are now examining victims being treated at a makeshift hospital in Mouadamiya and are taking blood samples from them," Ahmad said.
Activists say at least 80 people were killed in Mouadamiya when the district was hit with poison gas at 4:00 a.m. on Aug. 21. Three other rebel-held districts - Irbin, Ain Tarma and Jobar - were also hit in attacks that killed hundreds of people.
An opposition activist said a large crowd was growing of people eager to air their grievances to the U.N. team. There was a plan for the experts also to take samples from corpses.
The inspectors pressed on despite the sniper attack that disabled the lead vehicle in their convoy, forcing them to turn back for a replacement car.
"The first vehicle of the Chemical Weapons Investigation Team was deliberately shot at multiple times by unidentified snipers in the buffer zone area," a U.N. statement said.
"It has to be stressed again that all sides need to extend their cooperation so that the team can safely carry out their important work."
Syrian state television blamed rebel "terrorists" for the shooting. The opposition blamed it on pro-Assad militiamen. Any delay diminishes whatever evidence the experts might recover.

COORDINATION AMONG ALLIES
With speculation mounting that NATO powers might fire cruise missiles to satisfy calls for action to protect civilians, U.S. Defense Secretary Chuck Hagel said any operation would be coordinated with allies. British Prime Minister David Cameron cut short a holiday to lead a top level security meeting.
"The United States is looking at all options regarding the situation in Syria. We're working with our allies and the international community," Hagel told a news conference.
"We are analysing the intelligence. And we will get the facts. And if there is any action taken, it will be in concert with the international community and within the framework of legal justification."
Hagel plans discussions with his British and French counterparts, a senior U.S. official said. The U.S., British and French leaders all spoke to each other and to other allies in the past several days.
The military chiefs of the United States, Britain, France, other NATO allies and the main anti-Assad countries in the region including Turkey and Saudi Arabia were all expected to meet in Jordan, according to Jordan's Petra news agency.

Syria agreed on Sunday to let inspectors visit the suspect sites, and the United Nations said Damascus promised to cease fire during inspections. The United States and its allies say the offer came too late as evidence has probably been destroyed by heavy government shelling of the area since last Wednesday.
The team of chemical weapons experts wearing blue U.N. body armour left a Damascus hotel where they have been based for over a week, accompanied by a car of Syrian security personnel, as well as an ambulance. At least two mortar bombs struck the area of central Damascus on Monday.
Syrian state media said the mortar bombs were locally made and fired by "terrorists". SANA state news agency said three people were wounded.
Assad, who has been fighting a 2-1/2-year revolt, said accusations that his forces used chemical weapons were politically motivated and warned the United States against intervening in his country.
"Would any state use chemicals or any other weapons of mass destruction in a place where its own forces are concentrated? That would go against elementary logic," he told Russian newspaper Izvestia.
"Failure awaits the United States as in all previous wars it has unleashed, starting with Vietnam and up to the present day."

Russia, Assad's main arms supplier and diplomatic defender in the U.N. Security Council, says rebels may have been behind the chemical attack. Foreign Minister Sergei Lavrov said any intervention in Syria without a Security Council resolution would be a grave violation of international law.
French Foreign Minister Laurent Fabius noted that Russia and China would probably veto a U.N. Security Council vote to allow strikes against Syria. British Foreign Secretary William Hague, however, said it would still be possible to respond to a chemical weapon attack without the Security Council's backing.
There are precedents: in 1999 NATO attacked Serbia, a Russian ally, without a Security Council resolution, arguing action was needed to protect civilians in Kosovo.
Turkey, a NATO ally and major backer of the opposition, said it would join any international coalition even if a decision for action could not be reached at the U.N..
Syria's conflict has so far been met with international deadlock. The growing violence has killed more than 100,000 people, stoked regional sectarian violence, and revived Cold War-era divisions between Western powers and Russia and China
Washington has faced growing calls for action in response to Wednesday's attack, which came a year after President Barack Obama declared use of chemical weapons to be a "red line" which would require a firm response.
Obama has been reluctant to intervene in a conflict which began as protests against four decades of Assad family rule but grew into a civil war overtaken by sectarian bloodshed and a strengthening Islamist insurgency with links to al Qaeda.
The death toll of civilians rises by the hundreds daily. Activist estimates for the alleged poison gas attack ranged from 500 dead to well over 1,000, which would make it the worst chemical weapons attack since Saddam Hussein gassed and killed thousands of Iraqi Kurds at Halabja in 1988.
The experts' mandate is to find out whether chemical weapons were used, not to assign blame, but the evidence they collect, for example about the missile used, can provide a strong indication about the identity of the party responsible.
If the U.N. team obtains independent evidence, it could be easier to build an international diplomatic case for intervention. Former weapons investigators say every hour matters. (Additional reporting by Mariam Karouny in Beirut, John Irish in Paris and Katya Editing by Mohammad Zargham, Christopher Wilson and Katya Golubkova in Moscow; Writing by Alastair Macdonald; Editing by Peter Graff)

Related
Before You Go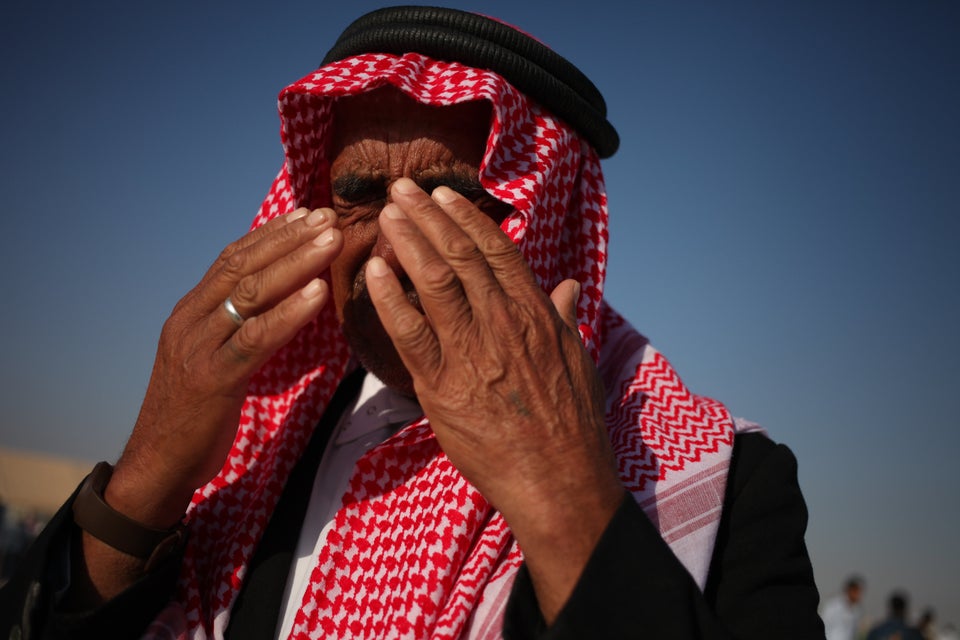 Syria War In August (Warning: Graphic Images)
Popular in the Community