WASHINGTON -- This sucker could go down. And unlike the Wall Street bailout, there is unlikely to be a do-over.
A resolution authorizing military force against Syria barely made it out of the hawkish Senate Foreign Relations Committee -- with the majority of Republicans opposing it -- and now is facing withering skepticism in Congress. While the Senate appears poised to come to some type of agreement, the "People's House," as it is known, is showing much more reluctance to approve the deeply unpopular bombing resolution. "Peace may well have a chance," said one top House GOP aide.
Public opinion surveys have been reflected in the outpouring of calls, emails and letters that have flooded House offices, running, say lawmakers, at more than 9 to 1 against intervention. The opposition spans the political spectrum.
Rep. Jason Chaffetz (R-Utah) said on Twitter that his delegation is unpersuaded and that public reaction has been fiercely opposed. Rep. Justin Amash (R-Mich.), who represents the libertarian opposition within the GOP, said that he's also seeing intense disapproval.
Discomfort with the war resolution is not just Republican. "Members on both sides [are] undecided, with most (not all) I've talked to feeling extremely uneasy and uncomfortable with this resolution," said one Democratic member. "I think if it went down today, it wouldn't pass the House. People though are truly undecided with concerns in a bipartisan way. The real question is if those who feel uncomfortable with this can be made to be comfortable with a resolution that has a much narrower scope."
Complicating the picture for advocates of intervention, at least 34 members who voted to support the Iraq war are now leaning against supporting intervention in Syria, presumably burned by experience.
A classified House briefing early Thursday afternoon is intended to ease much of that discomfort. The paradox for the Obama administration, though, is that as the scope of the resolution narrows, the rationale for doing anything at all diminishes. If the purpose is to deter a future strike, a very narrow and limited bombing might only embolden Syria's President Bashar Assad or other leaders -- and hawks on the issue such as Sen. John McCain (R-Ariz.) have warned they will vote against anything that is too narrow. McCain nearly sank the Senate's resolution Wednesday over that worry. But the deal cut with McCain to secure his support leaves the resolution vulnerable to other critiques -- that it is too broad and could authorize an open-ended commitment to regime change.
Grassroots progressives are no more likely to support the bombing. MoveOn.org, CREDO and the Progressive Change Campaign Committee, which collectively represent more than 10 million liberal activists, have all said their memberships are overwhelmingly opposed. Of the roughly 3,000 letters sent to Congress through PopVox, a nonpartisan service that facilitates congressional missives, 96 percent have been opposed.
"On the Democratic side, a lot of the progressive base is already opposed. AIPAC will matter to some and some will want to support President Obama, not out of personal loyalty but because they imagine their base voters are personally loyal. If they sense that the base is not with Obama on this, they may not be either," said one former Democratic member of Congress who is following the debate closely. "I think a lot of members have got wet fingers in the air."
Nonetheless, the best hope for the resolution's passage remains with the Democratic caucus. One Republican source guessed that House Minority Leader Nancy Pelosi (D-Calif.) would need roughly 150 votes from her caucus -- an extremely tall order, but not impossible, given that many Democrats, while traditionally reluctant to support military interventions, are also inclined to support the party's president. During Wednesday's hearing before the House Foreign Affairs Committee, Rep. Eliot Engel (D-N.Y.), the panel's top Democrat, echoed Pelosi in voicing strong support for President Barack Obama's plan.
But in the hours since, Democratic members have remained divided.
"It's just too soon to know," said one top Democratic aide in the House. "Members need to get back and get classified briefings. A lot are waiting on that before making up their minds, which is fair."
A brief look around the web at the various whip counts available at this point offers the Obama administration very little hope that an authorization to use force in Syria is likely to pass the House. The Washington Post's count, updated overnight, now breaks down as follows:
"Against military action": 86 representatives
"Lean no": 92 representatives
"Undecided": 103 representatives
"For military action": 19 representatives.
Over at ThinkProgress, the whip count is slightly more favorable to the White House, but still a far cry from the consensus Obama was seeking:
"Will/Likely To Vote Yes": 49 representatives
"Will/Likely to Vote No": 200 representatives
"Undecided": 184
Secretary of State John Kerry and Secretary of Defense Chuck Hagel were subjected to two grueling hearings on Tuesday and Wednesday, bombarded with questions from skeptical lawmakers. A broad coalition of House critics, including tea party conspiracy theorists, libertarian non-interventionists, progressive humanitarians and pragmatic foreign policy realists, have all voiced opposition to U.S. military action for different reasons.
The Republican Party has been evolving a distinct isolationist wing as its libertarian element has risen in influence. Combine that with the House GOP's conventional hostility toward anything backed by Obama, and House Republicans are likely to turn heavily against the resolution, despite the backing of the party leadership. Several conservative groups, most prominently the Heritage Foundation, have come out strongly against intervention, making it a "key vote" in their annual ratings of lawmakers.
One such group, Citizens for the Republic, declared Thursday that they will double-weight the vote. "Speaker Boehner, Senators McCain and Graham and Majority Leader Cantor are all too willing to go along with this ill-conceived venture," said Diana Banister, the group's director. "It is time for Congress to listen to the American people."
House GOP antipathy toward the Obama administration's plan was on full display during Wednesday's hearing before the typically hawkish Foreign Affairs Committee, with multiple Republicans accusing Obama of attempting to distract attention from the events at the U.S. mission in Benghazi in September 2012. After launching a litany of complaints against the administration -- over Benghazi, the (now-debunked) Internal Revenue Service scandal, the Associated Press snooping scandal and others -- Rep. Jeff Duncan (R-S.C.) cited what may be the most pressing issue for members of Congress: public opinion.
"I have spoken to hundreds of constituents," Duncan said. "Not a one, not one member in my district in South Carolina or the emails of people that have contacted my office say go to Syria and fight this regime. To a one, to a letter, they say no."
Others, like Rep. Tom Marino (R-Pa.), took issue with the significance of chemical weapons use as a principle for U.S. action. Obama opposed the Iraq invasion, Marino noted, even though Saddam Hussein had deployed chemical weapons against both Iranians and Iraqis. Rep. Brian Higgins (D-N.Y.) argued against a military strike, saying that there is no established democracy movement in Syria and that the U.S. has not secured appropriate international cooperation to attack.
"Secretary Kerry, you spoke of the history of the world's response to the use of chemical weapons," Higgins said. "Given that history, one would think that more countries would join the U.S. in participating, not supporting, in participating in a military strike against Syria. What gives?"
House support for military action is so weak that Rep. Ileana Ros-Lehtinen (R-Fla.) asked Kerry at the hearing to comment on a rumor that the lower chamber would not, in fact, be permitted to vote on the action. Kerry said he had heard no such rumor.
"President Obama's request to use military force has caused many Republicans to go from a 'kick their ass and take their gas' foreign policy to linking arms and singing 'Give Peace a Chance,'" said the former Democratic member. "Some, maybe a lot, will vote against it just because Obama is for it. There's a real split in the Republican Party now between the neocons and the Paulites, and the Republican base appears to be mostly Paulites. They hate the Republican establishment, and the neocons are the establishment. Even more hawkish Republicans don't see crimes against humanity as a reason to intervene in a country with no oil."
Rep. Trey Radel (R-Fla.), a member of House Foreign Affairs Committee, said he doesn't see the rationale. "We cannot be the police of the world. This is a Syrian civil war among Syrians. What is the direct threat to the United States or any of our allies? I fail to recognize that right now. I think that should we strike or get involved ... we destabilize the region even more. There are profound complex, cultural shifts happening throughout the Middle East right now. I do not want to spend our military capital on this issue," he said. "What is the direct threat or even the indirect threat to the United States and its allies?"
Radel's Florida colleague Rep. Alan Grayson (D) has sounded almost identical to Radel in warning against policing the world.
The former Democratic member said that underlying the opposition is the sense that little good will come of it. "On the merits, the Assad regime is truly barbaric, but we didn't intervene in the Sudan, Rwanda or Congo. 'Never again after this time' appears to be our usual response to atrocities in far-flung parts of the world," he said. "But is hard to see what we can do that will be very effective. The rebels appear not to be any better. Intervening in civil wars that we don't understand has not gone well for us in the past. It's hard to see that Syria will have a government we like in five years. We'll be lucky if they're not Yemen."
Michael McAuliff and Sabrina Siddiqui contributed reporting
Before You Go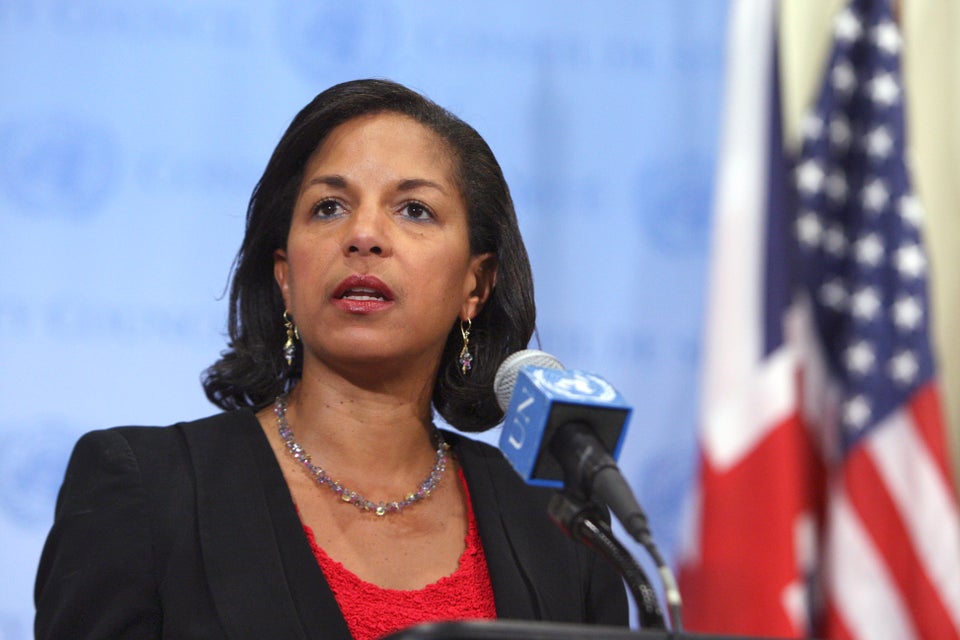 Here's What Politicians Have Said About Syria
Popular in the Community