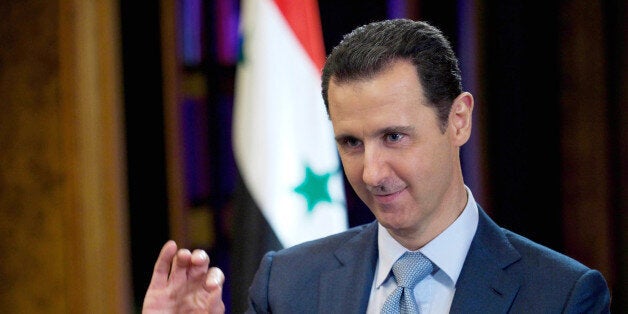 The shaky six week-old Syrian truce has created some space to breathe. Although armed groups Al-Nusrah and ISIS are not included in the ceasefire, and plenty other groups haven't actually stopped fighting completely, Syrian doctors tell me civilian casualty figures have fallen sharply.
Peace talks are supposed to resume in Geneva this week, aimed at finding a political solution to the conflict which has seen hundreds of thousands of people killed and more than half the country's population displaced. Perhaps the single biggest question to resolving the war is what will happen to Syrian President Bashar al Assad. Washington's changing line and deepening opacity on whether he must go as part of a solution has been exasperating to Syrian human rights activists.
There is now talk of Assad being allowed to stay on for a while in a face-saving, interim arrangement. Syrian civil society activists based here in Gaziantep, on the Turkish side of the Syrian border, unanimously agree that he shouldn't be even a temporary part of any new politics, and that he should go.
Quite what Assad's going means isn't entirely clear - some say he needs to leave the country in disgrace, be put on a plane to Russia, Iran, or somewhere else along with his family and the other cronies who are responsible for hundreds of thousands of deaths over the last five years. Others want him to be tried in the Hague or another court for his crimes. Others want something harsher still.
But the dictator shows no sign of stepping down, and is threatening to end the fragile ceasefire now that his soldiers have had a chance to rest. Assad's prime minister, Wael al-Halaki, warned on Sunday that regime forces "are preparing for an operation to liberate Aleppo and to block all illegal armed groups which have not joined or have broken the ceasefire deal." It's a re-declaration of war, despite peace negotiations due to resume in Geneva this week.
Given the mountains of evidence documenting his crimes, maybe Assad thinks his one remaining chance of political and perhaps even physical survival is to win the conflict outright so he can avoid facing justice.
There's an horrific logic to this - that the only way to escape justice for war crimes is to commit more. This kind of thinking would obviously be a tragedy of epic proportions - for Assad to try and massacre his way to safety. But he has few escape routes left.
He could flee to another country, but there's no guarantee he'd be able to live out the rest of his life quietly. No doubt Assad occasionally thinks of what happened to his predecessor Syrian President Adib Shishakli, another repressive leader whose security forces shelled the country's Druze minority. Shishkali was forced out of office and out of Syria in 1954, seeking refuge in South America. Ten years later he was found and assassinated in Brazil by a man whose parents had been killed in the shelling. He may also think of Bosnian Serb leader Radovan Karadzic who was recently convicted of genocide and crimes against humanity in a Hague court room, more than twenty years after he committed his atrocities.
Assad is in a crisis of his own making with few ways out, and there is no sympathy for him from civil society activists here. One quietly-spoken, middle-aged Syrian lawyer in Gaziantep who said Assad's forces had killed some his close family told me Assad has to go, that he couldn't accept Assad staying in power, even as an interim measure. "I know about Al-Nusrah, what they do. I hate them. But if Assad is allowed to stay, I'm going to them. I will ask to join them, ask them for a gun."
Calling all HuffPost superfans!
Sign up for membership to become a founding member and help shape HuffPost's next chapter