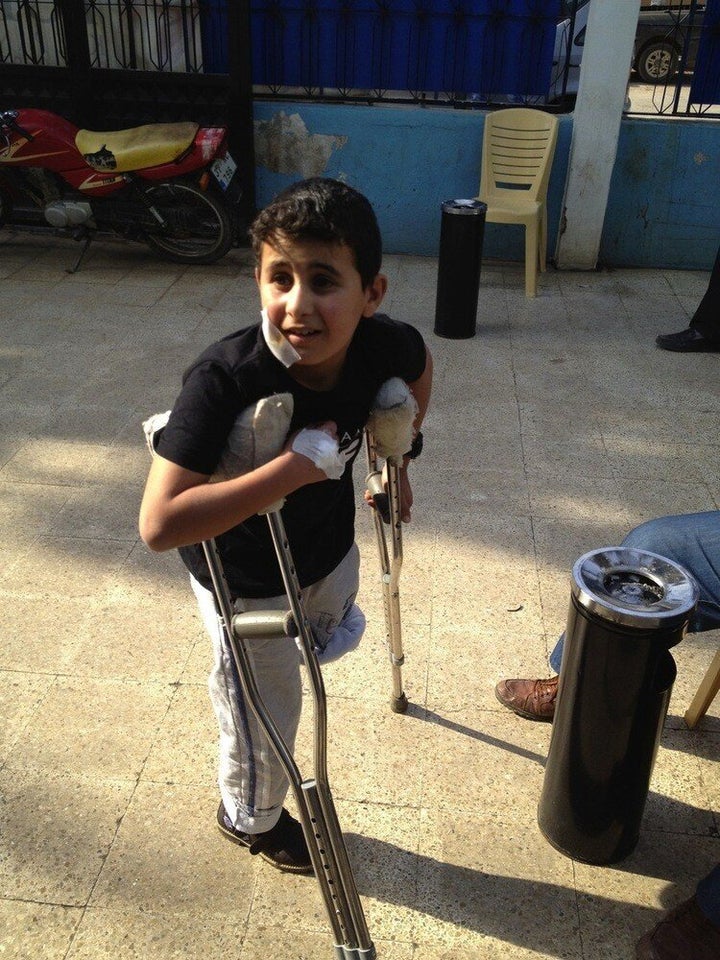 REYHANLI, Turkey –- Ten-year-old Malik lost his left leg because of shelling. Twelve-year-old Maysa is now paralyzed and won't be able to walk again after getting hit in the lower back by a sniper. Thirty-one-year-old Noor had her knee shattered by shrapnel from a bomb.
All three are Syrian patients in a rehabilitation center in the Turkish border town of Reyhanli, and all have been grievously wounded by their country's civil war, which has lasted more than 22 months and is killing and injuring civilians nearly every day.
Eighty patients are currently staying in this facility, which opened in August after Syrian expatriates transformed a girls' dormitory into a rehab center. The center takes in patients after they receive treatment from overloaded Turkish hospitals.
"In Syria, hospitals are sometimes targeted with rockets and shelling and any doctor that they catch treating casualties they immediately execute him and they tell Syrians those are terrorists and you are helping terrorists," says Yasir Alsyed, the manager of the rehab center.
If opposition activists have the bad luck of getting treated in government hospitals, they are sometimes tortured or executed, according to media reports. Civilians have been caught up in the violence because the Syrian regime is accused of indiscriminate shelling, massacres, air strikes on civilian activists and attacks on bread lines and bakeries.
Maysa, 12, had just left her house in Kafr Rouma in the Idlib countryside when a regime sniper operating at a checkpoint targeted her. "I went to play with my friends and I barely walked a few meters and he shot me," she says softly, recounting the day four months ago that one powerful bullet changed her life forever.
"They are traitors to snipe me and kill their own people," she says, adding she misses going to school and seeing her friends and brothers back in Syria. Her mother has not told her yet that she will not be able to walk again and will be confined to a wheelchair for the rest of her life.
Recalling the day her daughter was shot, she says: "I got mad and lost my temper. I didn't think that the sniper might shoot me. I just wanted to save my child. I carried her, ran and began to shout to find a place to take my daughter." She says Maysa's father also died by a sniper, and she and her family had to flee their house and live in a cave until rebels found them and helped get her and Maysa to Turkey for medical care.
Her mother says she lacks money for an expensive back operation for her daughter.
The manager of the rehab center, Yasir Alsyed, says most of the injuries he sees are broken bones, deep wounds and people who have been handicapped and paralyzed, mainly the result of shelling or snipers. He says that his center sometimes lacks enough money to send patients to get immediate surgery in local Turkish hospitals, and operations within 48 hours of an injury are critical to save people's limbs or eyesight.
"We need much more financial support because what we get doesn't fit with the need of Syrians. Mainly we need international government support to be able to cover this suffering and this medical situation," he says. The center relies largely on private donations, money from the Union of Syrian Medical Relief Organizations and some aid from Doctors Without Borders.
Noor, of Damascus and one of the patients getting help at the facility, says she and other civilian anti-regime activists organized a small celebration on New Year's Eve, to try to cheer up local children and mark the New Year.
At around 3 p.m., a Syrian Sukhoi fighter jet started hovering about 2 kilometers above them and soon targeted the group with a cluster bomb, she says. One activist died and around 12 were injured, including Noor, hit by shrapnel which shattered bones in her knee.
"I was shocked. I didn't understand what was going on because I saw all my friends lying down and I felt like it was raining because the bomb produced other small bombs and then I just fell down," she says. "It happened all of a sudden and I didn't realize that I had been hit. I didn't feel it at first. Because I just fell down and then I looked at my leg and I saw blood."
She was in "unbelievable" pain for three days until she managed to get to a Turkish hospital in Reyhanli, where they operated, removed the shrapnel and put iron into her knee to ensure she can walk normally in about three months.
"The guys here are so helpful and nice. They are trying to do their best," Noor says of the rehab center, where she has been recuperating since Jan. 9.
While there is an overwhelming sense of tragedy here, there are also deeply joyful moments at times when family members or friends see their injured loved ones for the first time since an attack. Mei, who has known Noor for eight years, rushed to greet her friend on a recent day with a big hug. She had last seen her the day before the attack.
"It's very difficult to describe this kind of feeling because it's a mixture of feeling happy because I see someone I like and am able to visit her while she's injured and make her happy," says Mei, a 26-year-old event planner from Aleppo. "And at the same time I feel pain because I am seeing her and she's injured."
Full names are withheld for security concerns.
Daniel Lippman is a freelance journalist based in Washington. He has written for The Wall Street Journal, McClatchy Newspapers, Reuters and The Huffington Post. He is on Twitter @dlippman and can be emailed at dlippman@gwmail.gwu.edu.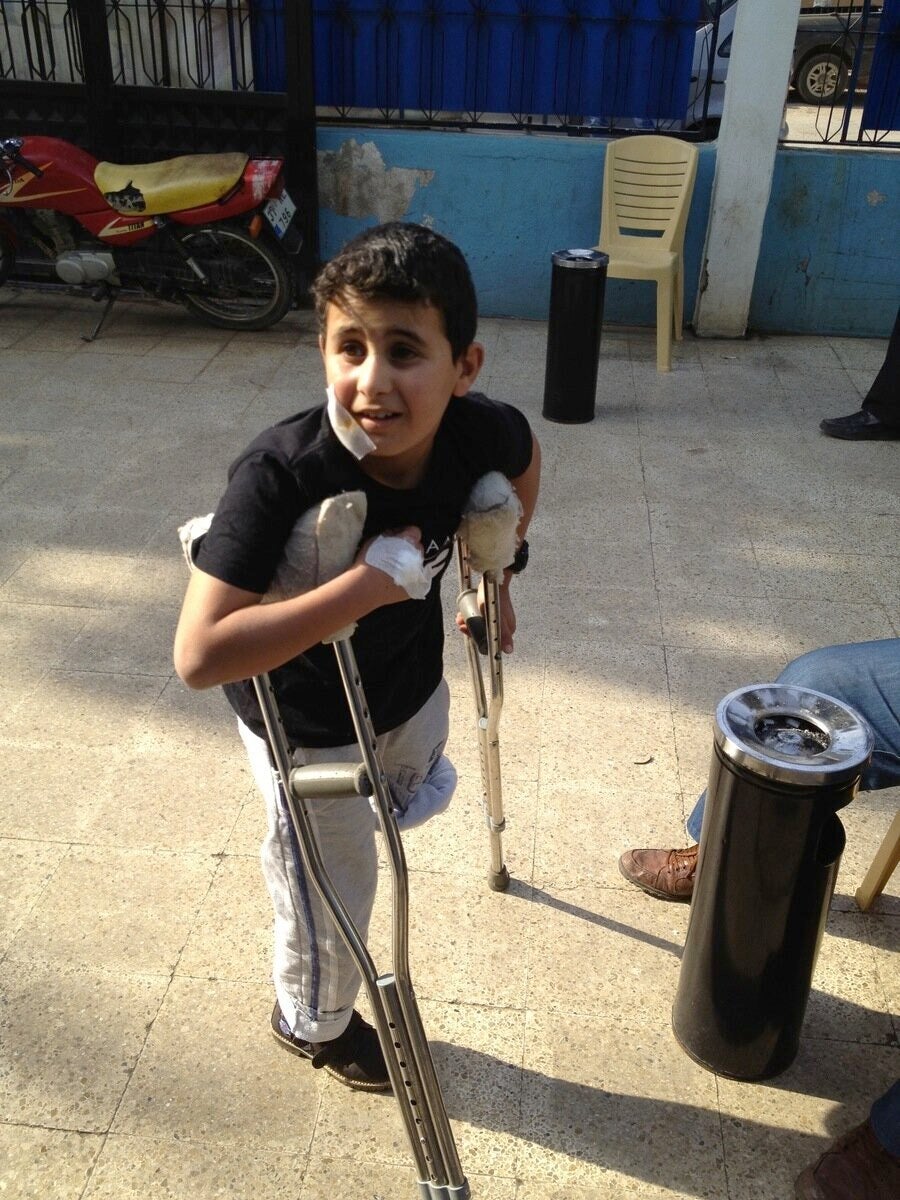 Syria's Injured Recover In Turkey
Support HuffPost
The Stakes Have Never Been Higher
Related
Popular in the Community