BEIRUT (Reuters) - A warplane on Friday bombed the Syrian town of Khan Sheikhoun, where a chemical attack killed scores of people this week and prompted U.S. missile strikes, a witness in the rebel-held area and a war monitoring group said.
The Syrian Observatory for Human Rights, a British-based organization that monitors the war, said a Syrian government or Russian warplane hit Khan Sheikhoun in rebel-held Idlib province before noon.
The Syrian army and the Russian defense ministry could not immediately be reached for comment.
The witness, an activist working with an air raid warning service in opposition areas, said the jet struck at around 11 a.m. local time (0800 GMT) at the northern edge of the town, causing damage but no known casualties.
The United States fired dozens of cruise missiles on Friday at an airfield from which it said the Khan Sheikhoun chemical attack was launched that killed at least 70 people on Tuesday.
Washington blamed the gas attack on Syrian government forces. The Syrian government strongly denies responsibility and says it does not use chemical weapons.
The Observatory and the witness said earlier this week that the aircraft which they accused of carrying out the suspected gas attack had flown out of the Shayrat air base, the one attacked by U.S. missiles on Friday.
The Syrian army said the missile attack on its airbase killed six people and caused extensive damage, describing it as a "blatant aggression".
Before You Go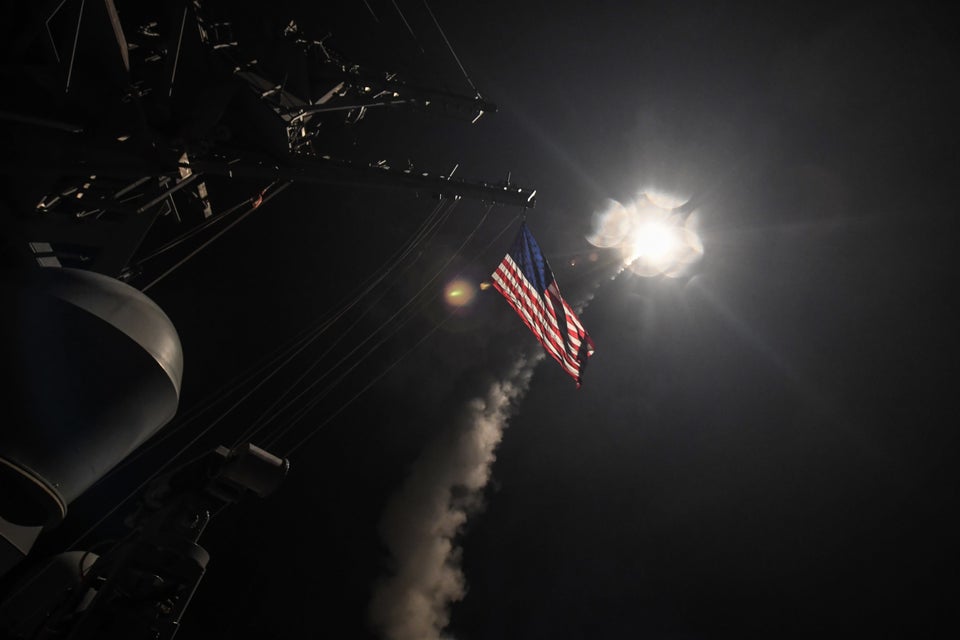 U.S. Strikes Targets In Syria
Popular in the Community