The Islamic State militant group moved into Yarmouk, a refugee camp for Palestinians on the outskirts of the Syrian capital city of Damascus, last week. Since then, hundreds of the group's fighters have been battling rival armed groups for control of the camp. IS militants currently appear to hold most of Yarmouk, resisting bombardments by the Syrian army as well as attacks from militias.
The fighting has reduced Yarmouk into a ghost town, with its civilians trapped inside by constant sniper fire and bombardments. Video footage purportedly from Yarmouk residents, collected by Reuters and other media outlets this week, showed the streets near-deserted and bombed to pieces.
But while the utter devastation portrayed in recent images of the camp may come as a shock to many, Yarmouk's descent into ruin actually started years ago. The latest round of fighting brings an already disastrous humanitarian situation in the refugee camp one step closer to full collapse.
"Yarmouk was already a place where women had died in childbirth for lack of medicine, where children had reportedly died of malnutrition. So things were already appalling," Chris Gunnes of UNRWA, the United Nations' agency for Palestinian refugees, told German news broadcaster Deutsche Welle. "Yarmouk was a hell hole frankly. And with the eruption of this intense fighting, things got dramatically worse."
Video purportedly from Yarmouk residents, collected by various media outlets, appears to show the camp's desolate and destroyed streets.
THE BACKGROUND
Yarmouk is located about five miles south of the Damascus city center. Established in 1957, the camp served as the main refuge for tens of thousands of Palestinians who had fled their homes during and after the Arab-Israeli War of 1948, which resulted in Israel's independence. Over the years, Yarmouk grew into a densely populated neighborhood outside the Syrian capital, housing tens of thousands of Palestinians and Syrians.
In the spring of 2011, Syrians took to the streets to demand reform from President Bashar Assad -- the start of the Syrian uprising. Around the country and in Yarmouk, Palestinian refugees initially tried to remain neutral. They were divided on the anti-government protests: Some identified with the rebels, while others supported the Assad government.
Eventually, pro- and anti-Assad factions of Palestinians in Yarmouk began to clash. On Dec. 16, 2012, amid the fighting, the Syrian air force hit several civilian targets in the area, prompting hundreds of the camp's residents to leave their homes and cross into neighboring countries for safety.
Things quickly went from bad to worse. The Syrian military put the camp on lockdown in the spring of 2013 and systematically tightened its control over the influx of people, goods and food. Yarmouk starved.
THE SIEGE
"I eat anything that I can get my hands on. I eat on average one meal every 30 hours, " one Yarmouk resident told Amnesty International in a report published in early 2014.
Amnesty's report detailed the deteriorating conditions in the camp after Syria's military began cracking down. By July 2013, the blockade was complete, and all people, goods and foods were barred from entering the camp.
Residents had to resort to desperate measures. Many were forced to forage for food. Reports circulated of civilians eating herbs and drinking water with spices in place of a meal.
According to Amnesty:
For months residents survived scouring the area for anything that might be edible, including cactus leaves, dandelion leaves and other plants. Hunger has driven many to expose themselves to government snipers while searching for food.
The United Nations said last month that more than a hundred people in Yarmouk have died of hunger or from illnesses made worse by hunger or lack of medical care.
Those who remained behind became completely dependent on aid from outside, but more often than not, the regime denied aid organizations access to the camp. In January 2014, UNRWA was finally allowed in. Shortly after, a photo showing thousands of residents lining up for aid distributions made headlines around the world.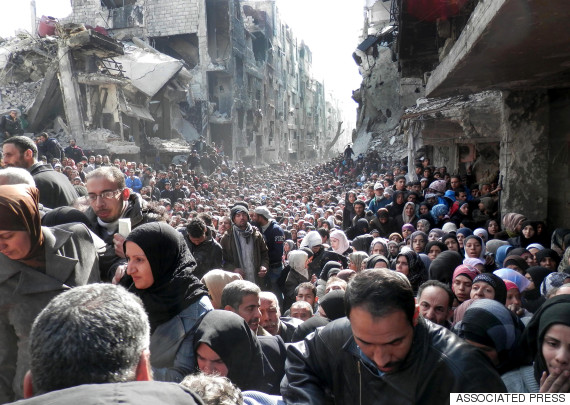 In this Jan. 31, 2014, file photo, released by UNRWA, shows residents of the besieged Palestinian camp of Yarmouk, queuing to receive food supplies, in Damascus, Syria. (AP Photo/UNRWA, File)
Even after it was permitted to access the camp in January 2014, however, UNRWA says it was only able to distribute aid 131 days out of the year. "Clearly not enough," UNRWA Commissioner-General Pierre Krahenbuhl said in March. The food and medicine that got delivered did not come close to meeting the needs of all those remaining in the camp. The agency has continued to face difficulties working in Yarmouk.
"My kids get up in the morning asking for a glass of milk or a piece of bread. I can only give them a radish or vegetables, and sometimes even this is not available," one father told UNRWA earlier this year.
THE REFUGEES
Yarmouk was once home to more than 150,000 Palestinian refugees, but aid agencies estimate that the population has been reduced to about 18,000 residents since the Syrian government's siege began in 2013. According to Amnesty's 2014 report, most of those left behind are too weak or too poor to seek shelter elsewhere.
Many who did make it out ended up in refugee camps in neighboring countries, including Jordan and Lebanon. They have became refugees for a second time -- first, they fled their homes in Israel and the Palestinian territories, and now they have been forced to leave Yarmouk as well.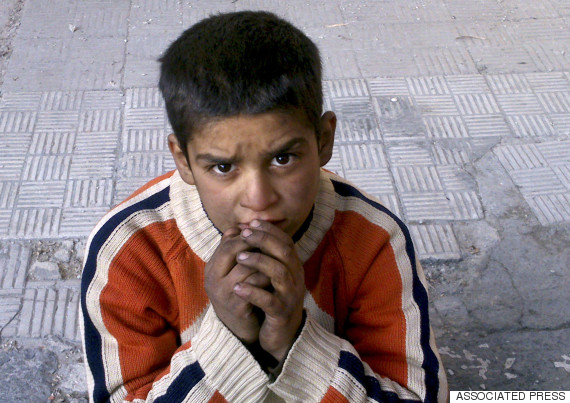 This Jan. 6, 2014 photo shows a child sitting on a broken sidewalk after hearing that Syrian authorities would allow civilians to leave in the Palestinian neighborhood of Yarmouk in Damascus, Syria. (AP Photo/Palestinians of Syria, File)
THE INFRASTRUCTURE
Over the past year, the Syrian army has attacked Yarmouk with mortars, artillery and grad-missiles. Gun battles have left buildings riddled with bullets. Much of the camp and its infrastructure have been destroyed by the attacks.
In April 2013, the camp's electricity was cut off. Residents survived this year's massive winter storm in holed-out houses, often burning clothes and furniture to keep warm.
The camp's main source of water was destroyed in September 2014, forcing residents to choose from an array of bad options: They can depend on unreliable aid convoys, pump untreated groundwater from wells when fuel is available or, when fuel is lacking, dig holes in the streets to get water.
The constant fighting has destroyed much of the area's medical infrastructure as well. While Syrian authorities allowed many of the severely ill to leave the camp in January 2014, health care workers still face devastating shortages of medical supplies and medicines, hindering their ability to serve those who remained behind. In addition, residents have repeatedly complained that the few supplies that were left were often seized by rebel groups.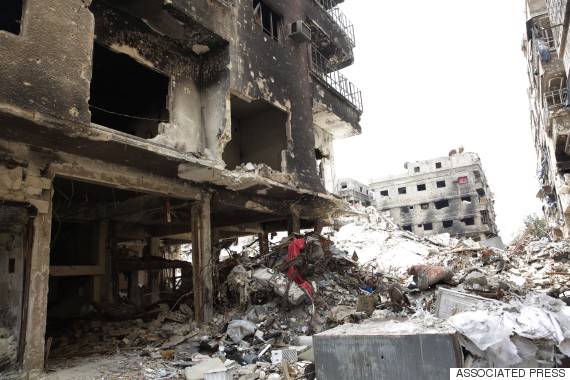 Rubble and heavy damage remain on a deserted street during a government escorted visit to Yarmouk refugee camp in Damascus, Syria, Thursday, April 9, 2015. (AP Photo)
On Thursday, in light of the Islamic State's efforts to take over Yarmouk, humanitarian organizations renewed their call for access to the camp. After similar declarations from the United Nations and Amnesty International, the International Red Cross called on all fighting parties to allow aid into the area.
"People were already worn down by months of conflict and constant shortages of food, water and medicine and they need urgent help," said Marianne Gasser, head of the Red Cross delegation in Syria.
BEFORE YOU GO
PHOTO GALLERY
Inside Yarmouk