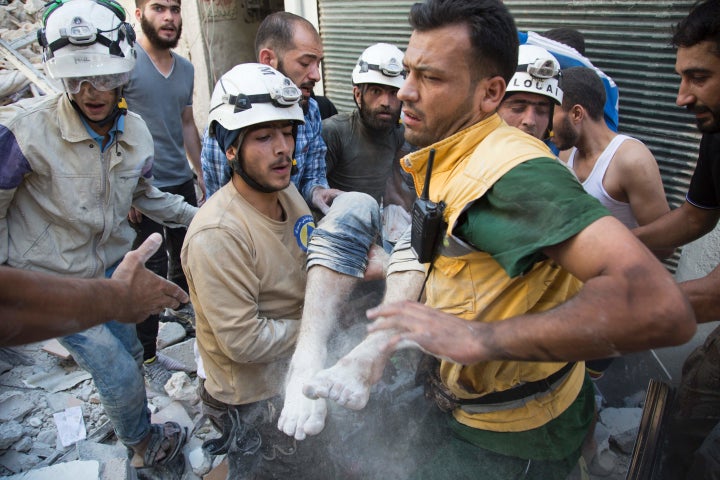 WASHINGTON ― People around the world have spent years celebrating the Syrian Civil Defense, better known as the White Helmets, for their work helping civilians affected by the brutal civil war in Syria.
So it's no surprise when well-intentioned outsiders ask how they can help.
But Raed al-Saleh, who once sold electrical equipment and is now responsible for 2,500 volunteers as the group's leader, wants those supporters to understand that he and his fellow Syrians have a bigger goal than receiving more emergency medical supplies.
"Our demand is not for support to continue the work of the White Helmets," al-Saleh told an audience at Washington's Atlantic Council think tank on Tuesday. "Rather our demand is to stop the killing and this awful work we have to do."
"Some people think it's heroic. But it's really depressing and devastating, not knowing if the corpse you pull out is your brother or sister."
Al-Saleh and Dr. Farouq Habib, the head of training for the group, are traveling through the U.S. to promote a just-launched Netflix documentary about their work, titled "The White Helmets."
As they hold events to share their message, the killing continues back home. One of the volunteers featured in the film has since been "martyred," Al-Saleh noted. And since an attack on an aid convoy scuttled the latest attempt at a ceasefire on Sept. 19, the White Helmets believe up to 1,000 more civilians have been killed because of renewed airstrikes by dictator Bashar Assad and his primary ally, Russia, who are bombing rebel-held portions of the city of Aleppo.
"There's nowhere that Syrian civilians can hide or take cover in Aleppo," al-Saleh said, speaking through a translator from the Syria Campaign. "They're all just sitting in their homes waiting to be killed."
Of 1,700 strikes the White Helmets have documented over the past eight days, about 200 have featured internationally banned cluster munitions and 19 have involved bunker bombs, which target people hiding in shelters underground, al-Saleh added. He believes the death count may rise even further as relief workers dig corpses out from under rubble and injured civilians die because they cannot leave besieged areas.
Despite promises from the Russian government, the Obama administration and others to bring peace to Syria, the conflict has dragged on ― with the regime's tactics only becoming more brutal and more and more Syrians deciding that their best bet for safety and an Assad-free future is to support radical groups. "Al-Qaeda's narrative is constantly strengthened by perceptions of American inadequacy," Syria expert Charles Lister wrote last week in Foreign Policy.
The U.S. has donated major humanitarian aid, to the tune of almost $6 billion, to help those affected by the conflict. But the Obama administration has not explained how its various other plans there ― including covertly supporting some anti-Assad groups and working with a Kurd-dominated force against the self-proclaimed Islamic State ― coalesce into a broad strategy for ending the war.
As Assad and his foreign supporters continue to target rebel-held areas like those in Aleppo, it's that kind of strategy ― not one solely focused on ISIS ― that experts say will ease civilian suffering and prevent the continued flow of refugees out of Syria.
"What we need is a political will and a moral will to end the violence," al-Saleh told the Washington audience.
Calling all HuffPost superfans!
Sign up for membership to become a founding member and help shape HuffPost's next chapter