BEIRUT, Aug 17 (Reuters) - The Syrian air force bombarded an area northeast of Damascus on Monday, keeping up its attack on a rebel-held district where close to 100 people were killed on Sunday in an air strike on a market, the Syrian Observatory for Human Rights said.
Sunday's air strike on Douma, 10 miles (15 km) northeast of Damascus, was one of the bloodiest attacks of its type in the four-year-long war that has killed an estimated quarter of a million people and driven 10 million from their homes.
The Syrian opposition group, the National Coalition for Syrian Revolutionary and Opposition Forces, said the attack aimed to inflict as many civilian casualties as possible. The dead included children.
"Any talk of political and peaceful solutions in the shadow of massacres and excusing the criminal from punishment will have no meaning in realizing stability in Syria," Khaled Khoja, president of the Turkey-based coalition, said.
 A United Nations commission of inquiry into the Syrian war has previously accused the government of indiscriminate shelling and aerial bombardment, including the use of barrel bombs regularly dropped on crowded areas.
A Syrian military source said the air force attacks on Sunday on Douma and the nearby area of Harasta targeted an insurgent group, Islam Army, and were a response to recent attacks on nearby government-held areas.
The Observatory reported that at least 96 people were killed. After rescue workers arrived following an initial attack, the warplanes bombed the area again.
Rescue workers said 95 bodies had been identified and a further nine victims had yet to be named. The Observatory gave no details of casualties in Monday's air strikes.
U.N. officials condemned the attack.
"The government's bombing of Douma yesterday is devastating. Attacks on civilian areas with aerial indiscriminate bombs, such as vacuum bombs, are prohibited under international law," U.N. envoy Staffan de Mistura said in a statement.
"Hitting crowded civilian markets killing almost one hundred of its own citizens by a government is unacceptable in any circumstances," he said.
The attack followed "the indiscriminate shelling of Damascus last week by armed opposition groups and the cutting of water supplies, all measures which affect civilians and are also unacceptable," the U.N. statement said.
The air strikes and fighting raging elsewhere across Syria underscore huge challenges facing a new diplomatic effort to advance potential solutions to the conflict.
At a meeting of their two foreign ministers on Monday, Russia and Iran, whose support has been crucial to President Bashar al-Assad's survival, said his future must be decided by Syrians. Moscow also said it opposed any pre-negotiated exit of the Syrian president as part of a peace deal.
A rare ceasefire between the warring sides crumbled at the weekend, when fighting resumed in the town of Zabadani near the Lebanese border and two villages in the northwest.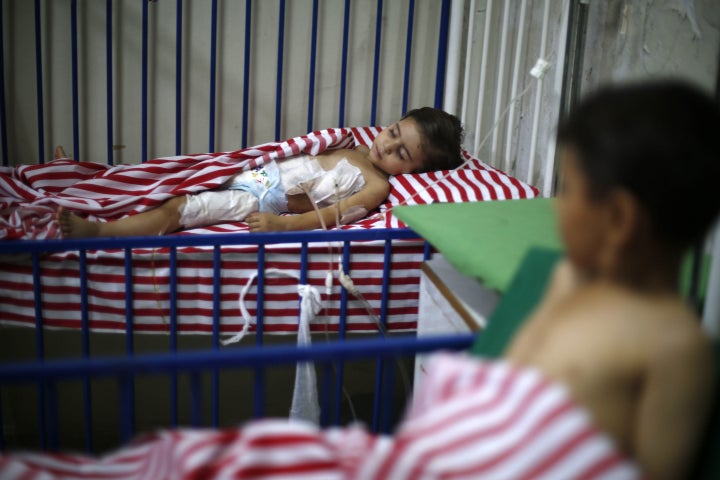 The war in and around Damascus - Assad's seat of power - has also escalated. Islam Army, one of the most powerful rebel groups in the eastern Damascus region, attacked government positions in Harasta on Saturday, capturing a building from the army.
Last Wednesday, a barrage of insurgent rockets killed 13 people in Damascus, and government air strikes in the nearby Eastern Ghouta region killed 31 people, the Observatory said.
The Syrian military source said "any escalation towards Damascus" would be met by a "very strong and decisive response," and denied that civilians were targeted on Sunday.
The source said rebel groups had sought to position their headquarters in residential neighborhoods. A spokesman for Islam Army denied that. "We do not have any presence in the residential areas," spokesman Islam Alloush said.
An insurgent rocket attack on the government-held coastal city of Latakia meanwhile killed at least three people, in the second lethal attack there in four days, the Observatory and state media reported.
State television said the rockets fired at Latakia came from insurgent-held areas to the north of the city. On Thursday, rocket attacks killed at least two people in the city. (Writing by Tom Perry; editing by Dominic Evans)
PHOTO GALLERY
War In Syria
REAL LIFE. REAL NEWS. REAL VOICES.
Help us tell more of the stories that matter from voices that too often remain unheard.