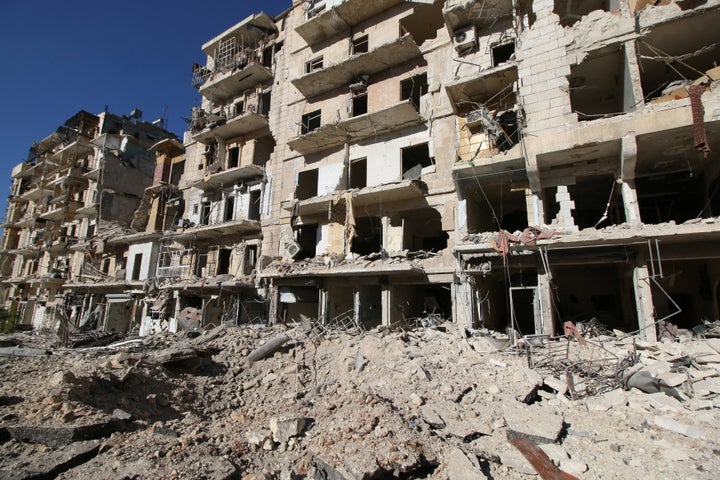 BEIRUT (Reuters) - Hundreds of residents of rebel-held eastern Aleppo fled shifting frontlines, sources said on Sunday, after an advance by the Syrian army and allied forces that rebels fear could split their most important urban stronghold in two.
The army and its allies took control on Saturday of the large Hanano housing district, on the northeast frontline of the besieged eastern part of Aleppo. On Sunday they said they had captured the neighboring district, Jabal Badro.
Neither area was heavily populated but the advance, accompanied by Russian and Syrian air strikes, has raised fears among the insurgents that the northern part of east Aleppo could be cut off from the southern part. That would weaken their control over the east and bring more residents closer to frontlines.
Capturing all of Aleppo would be a major victory for Syrian President Bashar al-Assad after five and a half years of fighting that has killed hundreds of thousands of people and displaced 11 million others.
The Syrian Observatory for Human Rights, which monitors the conflict, said about 400 people traveled into government-controlled Hanano from neighboring rebel-held districts, from where some were transferred to government-held western Aleppo.
Some are also crossing into an Aleppo district held by the Kurdish YPG militia, which has largely avoided fighting the Syrian government and has been spared air attacks. The Observatory said about 30 families entered this district, Sheikh Maqsoud.
Russian news agencies, citing the Defense Ministry, said on Sunday more than 900 civilians, including 119 children, had left Jabal Badro in the last 24 hours.
FLEEING BOMBARDMENT
"We left Hanano because of the bombardment from the Syrian army during their advance, and the chlorine gas," Muhammad, who declined to use his full name out of fear for his safety, told Reuters.
He was waiting with his wife, mother and three children at a minibus stop, hoping to travel on to government-held west Aleppo. He said Hanano had contained about 200-300 families, but they had come and gone throughout the war depending on the intensity of strikes.
A 13-month inquiry by the global chemical weapons watchdog and the United Nations concluded that Syrian government forces, including helicopter squadrons, were responsible for the use of chlorine barrel bombs against civilians. Syrian authorities deny having used chemical weapons in the conflict.
Aleppo, which was Syria's biggest city before the war began in 2011, is divided between the government-held west and rebel-held east. U.N. officials say at least 250,000 people are under siege in the east.
There were fierce clashes in areas adjacent to Hanano, the Observatory, rebel sources andSyrian state media said. Rebel sources say they are fighting back with difficulty in the face of sustained aerial bombardment.
"The revolutionary forces are reinforcing their defense lines on the edges of Hanano, steadfast in the defense of our people in Aleppo ... But the planes have destroyed everything, stones, trees and people, in a systematic policy of destruction," said Yasser al-Yousef, from the political office of the Nour al-Din al-Zinki rebel group.
People are also being displaced internally within east Aleppo. Hundreds are moving south within the besieged sector to avoid being trapped in the smaller northern part should the government split it in two.
"Many people are being displaced from the eastern to the western neighborhoods of besiegedAleppo. There were about 300 families which moved, but there are families who are exhausted and the army is advancing in a very big way," Ibrahim Abu Laith, an official at the civil defense rescue organization in east Aleppo, told Reuters from the city.
He said the civil defense was giving aid to those displaced, but the service was coming under extreme strain because of the bombardments and displacements. It has said its supplies and equipment are running very low, with few if any medical centers left to take people for treatment.
Related
Before You Go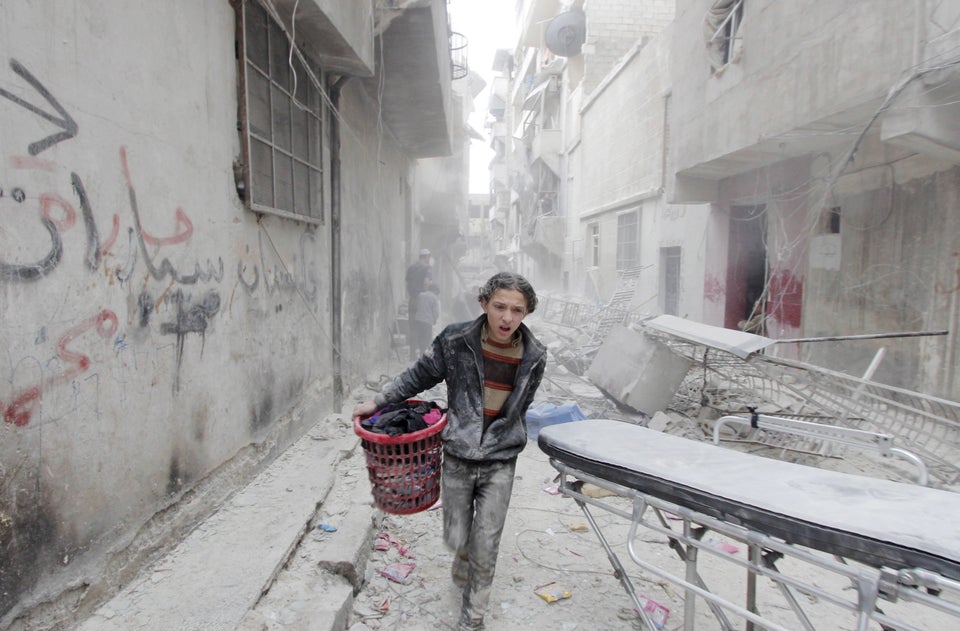 Aleppo, Syria
Popular in the Community