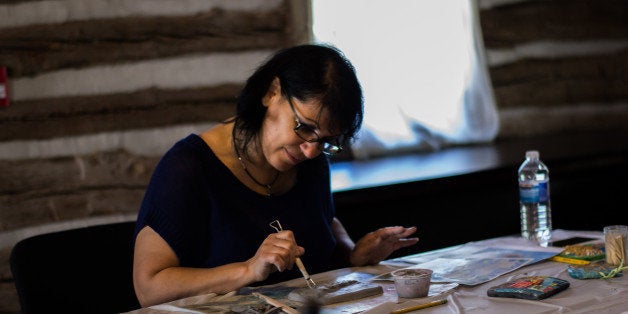 Nisreen regularly bounds into the Mississauga Arts Council office, full of news from her latest art project. She always enters with a smile and a flurry of bright colour. She talks animatedly in heavily accented English about the paintings she's creating and the students she works with. Her speech is peppered with "Sweeties!" and praise.
Nisreen can't recall when she first decided she wanted to paint. When asked the question "When did you start to paint?" she retorted, "I just fell in love with the colours."
Nisreen's dream is to open an art school in Canada. She learned art and loved teaching in her native Syria, where she worked at a large arts academy.
Nisreen came to Canada for a better life, but left behind her entire arts career. She was a sought after teacher, had received accolades from Syria's Prime Minster, and is trained not only in visual arts but also drama, theatre, and costume making.
Artists like Nisreen are surprisingly common here at MAC. We hear about artists who left war torn countries, who left small towns, and even who left other lucrative art careers to pursue life in a new country. Every one of these artists is looking to turn their passion for art into their career.
We at MAC offer that to our artistic community great support in their journey to turn their creations into valuable opportunities. Through our soon-to-launch MAC Artepreneur program, we're teaching artists like Nisreen how to turn their passions into viable small businesses through workshops, mentorships, and connecting them with both patrons and corporations who are interested in purchasing their work.
As a new immigrant, one of Nisreen's first visits was to MAC where she learnt about the various opportunities and we connected her to the Living Arts Centre. Within two weeks she was taking classes there to learn new styles. "I had to get the Canadian experience," Askar explained.
That first class opened up the city to her. She explains, "I can get everything here, I can learn, network and teach." Her advice: "You have to build yourself; you have to connect with others."
Nisreen has gone from a new resident to a MAC volunteer, a visual artist who exhibits all over the city, a volunteer with a mayoral campaign, and a teacher in her own home. She has a long way to go until she's ready to open her own school, but she's well on her way.
Nisreen is also volunteering with us for our #GivingTuesday donation drive. There are many ways both artists and art supporters can support #GivingTuesday in their own communities. Arts supporters can donate their time or money to their local arts institutions, and artists can donate their work to local institutions for fundraising. Giving to the arts contributes to vibrant careers for local artists, opportunities for the general public to get creative, and thriving communities where people want to be.
The arts allow us to connect with one another in vibrant ways. It's important to support the arts because a legacy of art isn't just more public art and theatres, a legacy of art is a vibrant community, where anyone can succeed and feel at home.
This post is part of a series produced by The Huffington Post and the 92nd Street Y, founders of #GivingTuesday, a global day of giving that will take place this year on December 1. These stories highlight the work of organizations and people around the world who are committed to giving back and doing good this #GivingTuesday.
Calling all HuffPost superfans!
Sign up for membership to become a founding member and help shape HuffPost's next chapter