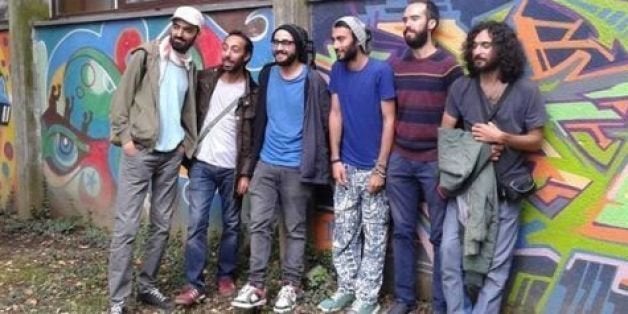 "In the dark, only victims and prisoners survive, and the free soul builds nations," are lyrics that echoed across the Croatian border, as a guard listened closely. Despite the song being in Arabic -- a language that sounds nothing like his own -- he seemed to enjoy it.
The eight members of Syrian rock band Khebez Dawle found themselves at the border on their journey of migration and gifted a copy of their record to the Croatian police guards, as a way to introduce themselves and their stories.
"Music is the language we use to say that we are civilized people, we always used to take planes to travel abroad, but circumstances have forced us to go on this smuggling trip across sea and land," Anas Maghrebi, one of the band members, told HuffPost Arabic. "But it was a fun trip!"
To embark on this journey one has to take as much money as possible and pack light. That's exactly what Maghrebi and his friends did. They sold their musical instruments and met in Istanbul, making their way from different destinations, among them Lebanon and Syria.
It wasn't an easy decision for the band members to sell their instruments, but they did what they had to do. "The boat trip from Turkey to Greece terrified us, and it was impossible to risk taking our large equipment on the boat," Maghrebi said. "Plus, we needed the money!" They each paid $1,200 for the boat trip from Izmir, Turkey to Mytilene, Greece.
Maghrebi described that boat trip, which they took earlier this month as the "easiest stop on our journey." He said that they were able to overcome the fear they experienced "after hearing all these drowning stories." It helped that there were only 16 passengers on the boat, while "other boats carry up to 40 passengers."
On the Mytilene shore, the migrants were received by tourists, who were sunbathing or swimming. The group's music broke the barrier between the band members and the tourists. They sang some of their songs and passed around CDs, and were able to make new friends before they moved on to their next stop.
The band members spent three days on the island, and then decided to buy a guitar. They made a deal with a Greek smuggler, who helped them travel toward the Macedonian border. Then they continued to the Serbian capital, Belgrade.
After Maghrebi and his friends arrived in Serbia, they decided to move on to Croatia instead of Hungary, where clashes between refugees and police had broken out. But they weren't aware of the minefields in Croatia, which date back to the Balkan conflict in the '90s.
"The most difficult part of the trip was the vineyards that we were forced to enter to escape the police," Maghrebi said. "It was freezing cold and raining. We were shocked when we arrived and received the warnings about the minefields. We thought grapes were our biggest enemies!"
The Croatian police detained the band members and forced them to register as refugees in Croatia, despite their aspirations to reach Germany and launch their music project worldwide. They had no idea they would find an audience there. The band performed a live concert in Kutina, Croatia, on Sept. 20, for almost an hour, singing songs from their first and only album, Khebez Dawle.
"The refugees in the audience hailed from every country except Syria. We were the first eight Syrians in that refugee center," Maghrebi said. "We used instruments that belong to Croatians who were impressed by our music, and asked us to put on this concert." The band members felt that they could express themselves through the music.
The band, first established in 2012, is made up of professional musicians, aged between 25 and 30. On their Facebook page, the band says that they also like Pink Floyd, Radiohead, Bob Marley and The Beatles. The name Khebez Dawle, refers to "the bread produced by the state-run bakeries in Damascus," Maghrebi explained. "The songs are exactly like that bread, they are accessible and affordable to all segments of society. Bread is a staple of life and its availability means stability, security and an honorable living."
This post first appeared on HuffPost Arabi and has been translated into English. It has been edited for clarity.
Support HuffPost
The Stakes Have Never Been Higher
Related
Popular in the Community