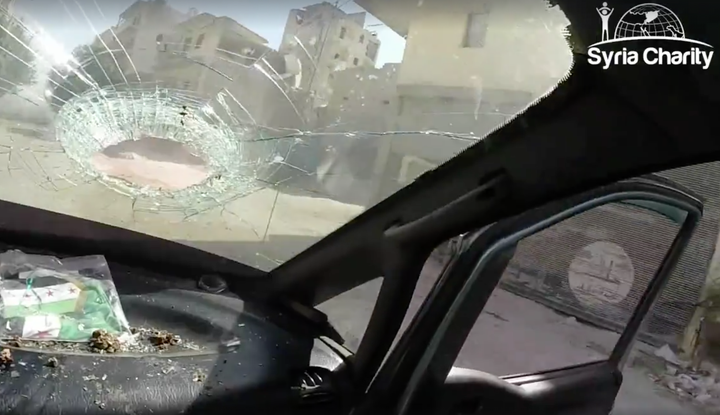 Driving frantically through the empty, dilapidated streets of Aleppo's Al-Salhin district, first responders race to reach victims of the community's latest airstrike, in a heart-wrenching video that offers a rare glimpse into Syria's raging civil war.
Tires screech and the ambulance swerves wildly as a building explodes, sending rubble smashing through the windshield. A voice coming in over the medical team's radio warns of aircraft circling above, requesting information on their movements.
Two men scramble out of the emergency vehicle and into a cloud of white dust, asking petrified onlookers peeking out from behind their doors if they are hurt. They run past heaps of ash and wreckage toward a wounded man who is slowly crawling along the ground, blood dripping down his debris-covered face.
The rescue team lifts him into the ambulance beside a limp, bloodied child who appears to be unconscious. As they recover more people from the destruction, some are treated for their injuries while others are pronounced dead.
Syria Charity, the Paris-based NGO that produced the first-hand footage of its rescuers in Aleppo, operates within Syria to offer medical and humanitarian assistance to those affected by the ongoing violence.
Warning: The footage below contains graphic scenes that some may find disturbing.
At least 22 people died and 11 were wounded during the filmed attacks on July 19, when suspected Russian military jets pummeled the city and surrounding area with at least 20 airstrikes.
"It happened in a complete civilian area ― there were no military bases, nothing," Syria Charity president Mohammad Alolaiwy told The WorldPost. "There have been so many [airstrikes] here recently, far more than usual," he added, noting that Russian forces have been helping Syrian President Bashar Assad besiege the city of Aleppo, which has been torn between rebel and government control for five years.
Alolaiwy founded the NGO after the civil war broke out in 2011, because "nobody else was there to help." It currently has more than 200 food deliverers, hospital workers, nurses, ambulance drivers and rescuers risking their lives to help Syrians in need. Just days ago, a Syria Charity rescuer lost his leg during a mission to save people after another aerial attack.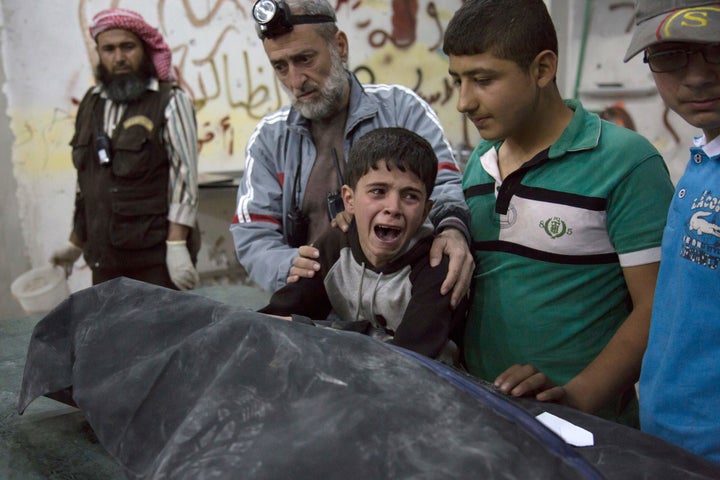 Thousands living in besieged areas are in desperate need of foreign aid, but the Assad regime has relentlessly blocked humanitarian organizations like the United Nations from accessing civilians. Some people living in Daraya, an opposition-held suburb of Damascus, have even resorted to eating grass so they don't starve to death.
Dejected and frustrated by the lack of support from beyond Syria's borders, people in Aleppo were photographed carrying signs begging for extraterrestrial aid. Others in Daraya created a giant "SOS" message with their bodies in March.
Organizations working from inside the disaster zone like Syria Charity may have a better chance of reaching people who need help, but are scarce and often lack adequate resources, Alolaiwy explained.
Syria Charity's latest video has been viewed more than 4.5 million times in a week, and is just one of several devastating clips the organization put together to reveal the scale of loss and heartbreak endured by the people of Syria every day.
"We make these videos to help people understand that the Syrian conflict must be viewed as a humanitarian crisis; a humanitarian disaster," said Alolaiwy. "That's the message I'd like to share: When thinking of Syria, think of the people there, not about ISIS or Assad."
Calling all HuffPost superfans!
Sign up for membership to become a founding member and help shape HuffPost's next chapter
BEFORE YOU GO
PHOTO GALLERY
Inside Syria's War