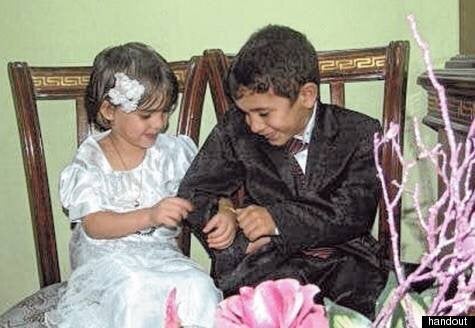 While their peers are still focused on playground games and cartoons, a pair of Syrian children have become the talk of their country as possibly the youngest couple ever to get engaged, CBS is reporting.
Five-year-old Khalid is said to have "popped the question" to Hala, age 3, following a family vacation in the resort town of Latakia. According to reports, the engagement ceremony and ring exchange took place in Horns, about 100 miles north of Damascus, in front of friends and family members.
Though the pre-pubescent union was undoubtedly arranged by the children's parents, family members say both Khalid and Hala are in love and have consented to the betrothal. According to Khalid's father Juma, family members had always anticipated his son would wed at an early age. "I vowed to have my child engaged at the age of 5 if he was a boy, and to marry him to a woman of his choice at the age of 15," he told Gulf News. He went on to note that he believed Khalid and Hala had truly "fallen" for each other over the course of the vacation: "He was so lovesick after parting from his young girlfriend that he refused to go back to his nursery unless little Hala came, too." The wedding is expected to take place in 10 years, when Khalid will be 15 and Hala not yet 13 years old.
Though Syrian marriages are traditionally arranged at an early age for both boys and girls, the country does not rank among the UN's list of countries with the highest rates of child marriage, according to CBS.
REAL LIFE. REAL NEWS. REAL VOICES.
Help us tell more of the stories that matter from voices that too often remain unheard.